Continuing to slowly update and post all the unblogged trips since personal tragedy followed by global pandemic halted my participation in this silly travel blog project. But I'm back, baby! Slowly. But back, nonetheless!
The "How Did This Get Made" podcast was going on tour near me, so I got tickets to see them in Canada as part of the Just For Laughs west coast festival. And I'm lucky enough to have the type of friends who are down for adventure, and enthusiastically agree to an overnight roadtrip to Canada without knowing anything about the show. This is how Liz and I were set to travel for laughs in a few months. And then there start being all these news reports about this strange new virus, and a few cases in British Columbia (as well as our home in greater Seattle area). Lots of discussions about what this means and if we should cancel. But this was still early early days. Nobody was really using the "P" word (Pandemic). Consulted some medical pals, and it truly seemed fine. So we went. And we made the most of our day and a half. Almost as if we knew it might be our last international travel for awhile. (We did NOT know that. Not even an inkling of that being a real possibility. We just made the most of our time, and dined like royalty, because that's how we do it!!)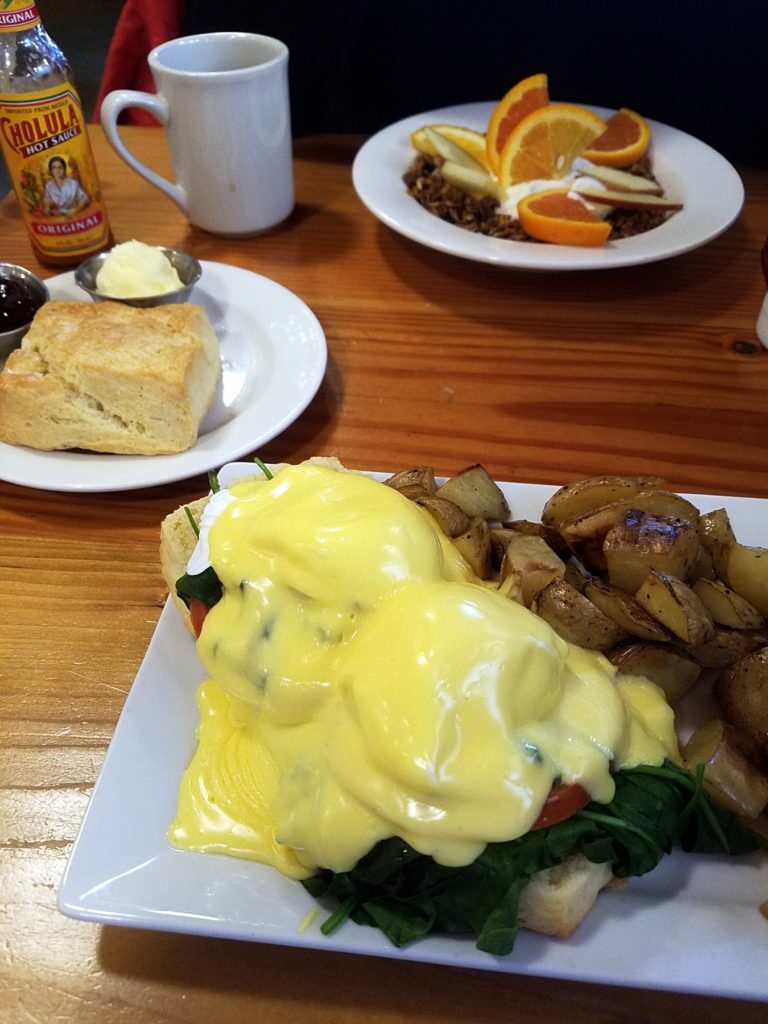 Restaurant Breakfast is an important part of any roadtrip, and so we stopped at the adorable Third Street Cafe in Mount Vernon, WA on our way. Delicious way to fuel up for the drive. And in no time at all, we're in the long border lines, which always give gorgeous views, including the Peace Arch.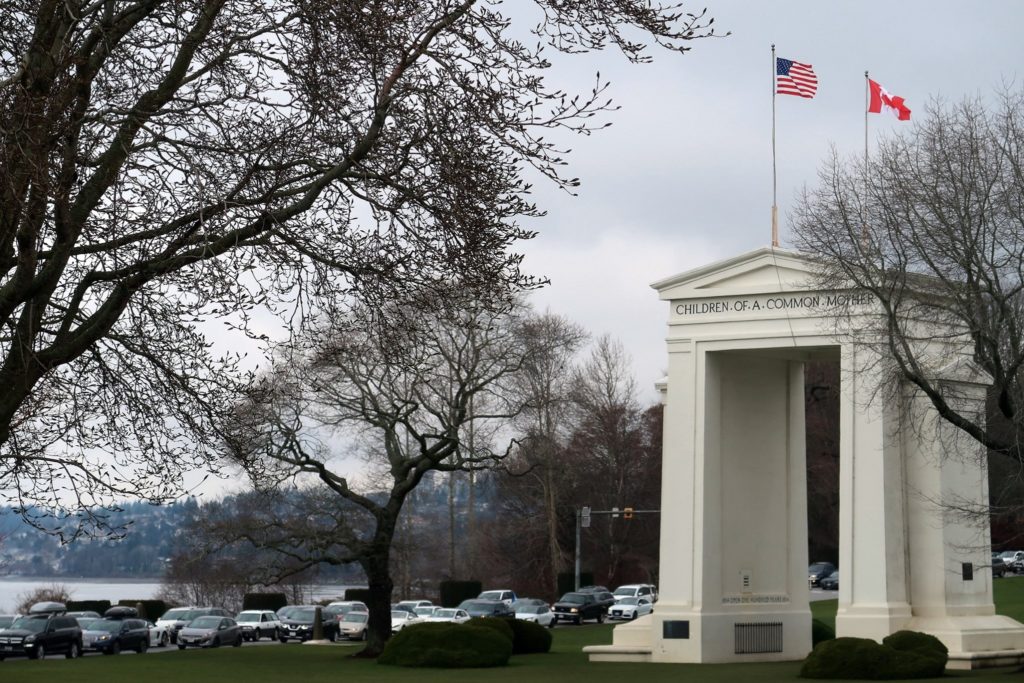 Wandering downtown Vancouver, we encountered some type of festival. There were Morris Dancers, someone dressed as the Queen of England, and other British things. We thought maybe it was an early St David's Day celebration, but never found out for sure.
After buying the comedy tickets, the very next thing I did (months before) when prepping for this trip, was to make reservations at Vij's restaurant. I've had friends and everyone extol the virtues of this Indian restaurant for years and years. But only relatively recently had I learned that they'd started TAKING RESERVATIONS!! Game-changer! And so, we got to have a truly wonderful meal (everything was delicious, and service was wonderful, too. Great vibes. Still dreaming about that lamb). Best pre-show dinner ever!!
Then off to the Queen Elizabeth Theatre to see the "How Did This Get Made" show. That night's bad movie for discussion was "Abraxus: Guardian of the Universe" and it was truly something else. But most distracting was the HORRIFYING live fuzzy mascot costume they made of their terrifying cartoon Just For Laughs Festival mascots. *shudder*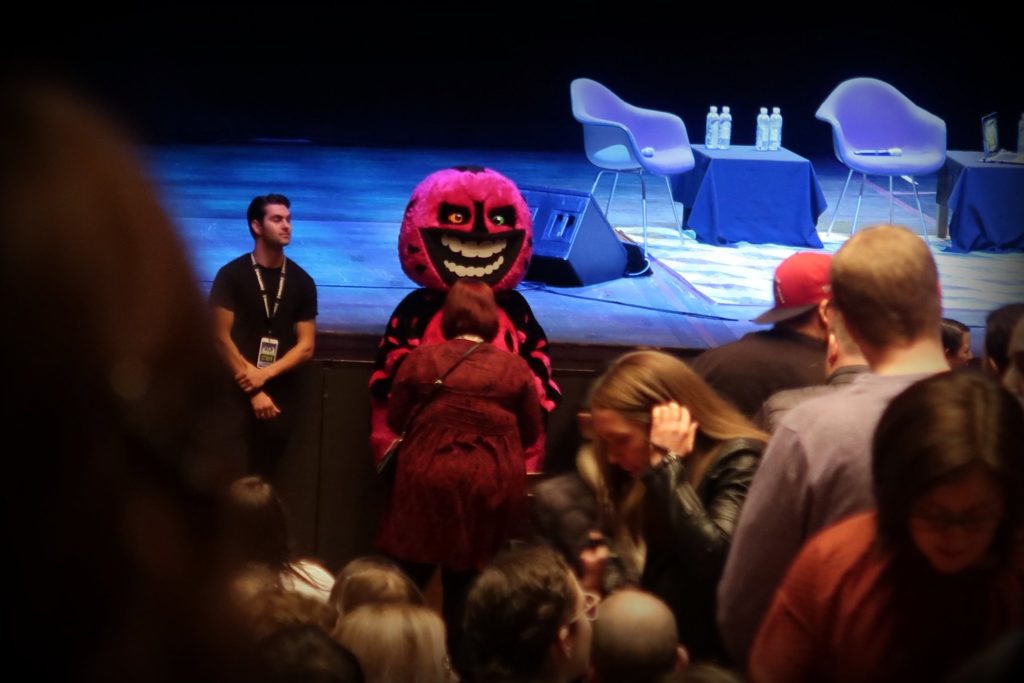 Honestly, this pink owl monster reminds me of those early 2000's Quizno's commercials where the copy/paste dead hamster things sing a song about loving the subs and "they got a pepper bar." Not a fever dream, but a Real ad campaign for a big national chain. The early aughts were a strange time, my friends. You can see the video here: https://youtu.be/FhfcdqMTtU4
Slept well at the hotel, and no nightmares about that messed up pink monster mascot, happily. Then off to the Medina Cafe for breakfast! There was a bit of a wait (they don't take reservations) but it was worth it! Plus, they took our number and sent text updates about our place in line and estimated wait time remaining, which allowed us to wander in the surprise sunshine, grab a coffee, and see some cool stuff. Then back for a truly amazing Restaurant Breakfast.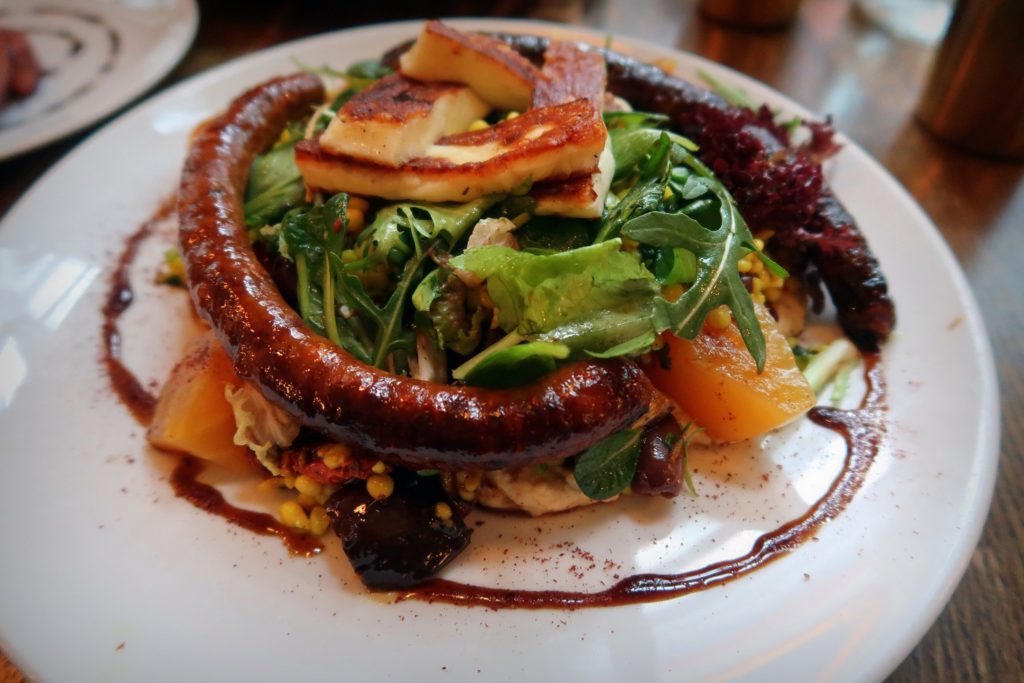 Wandered some more around Vancouer, explored Train Engine 374, which apparently pulled the first passenger train into Vancouver. And enjoyed the occasional sunbreaks along the waterfront before driving home. It was a really lovely 36 hours. We just hadn't realized it'd be our last international trip For. A. While.