Ah, good morning London! After just one afternoon/evening in Dublin, we caught a discount RyanAir flight to London, to explore for 2 nights and to meet up with my cousin Eileen and her husband Rob who've been living here the last 2 years. Yay. I've had about 7 hours sleep now, and I feel glorious. (For those keeping track, 3 hours sleep Mon before leaving for Seatac, snagged 1 hr nap at LAX, around 2.5 hr Tues on the flight, and then a generous 6 hr weds in Dublin. So this morning feels amazing. Even better that we're going to lounge/sleep in a bit further. Huzzah! slso, lord, I hope nobody is keeping track. Creepy).
The RyanAir flight experience was fine. Thanks, internet, for providing ample explanations and tips. As long as you follow all of their fine print rules, it's a breeze. And €49 roundtrip dublin to London is great!! Carryon baggage is limited and size restrictions are fiercely enforced. Online check in and printing boarding pass at home (or hotel) is mandatory. It's €40 "printing fee" if you get it printed at airport. Seats are assigned by airline unless you pay an up charge. But it's only 1.5 hr, so fact that legroom is so tight my knees were at my shoulders didn't matter. Ha. Here's a great site for anyone planning to use this discount airline through Europe
http://thepointsguy.com/2014/03/top-10-ways-to-survive-a-ryanair-flight/
London's mass transit system continues to be amazing. (Come on, Seattle. Get it together. Our lack of comprehensive mass transit always seems to be the missing step from our truly becoming a top tier city). Train from London Gatwick airport was a breeze, and underground system is so slick for getting around. It's actually easier to get to/from Gatwick then it is from Heathrow Airport. Just 30 minutes by train, direct to Victoria Station. Where we walked out to see Buckingham Palace. There was a flag flying atop the palace, which I think means the royal family is at home. But I may have invented that anecdote. Lizz was particularly amused by all the unicorn statues. I blew her mind with fact that it's Scotland's national animal. Whimsy!
News flash. It's cold in winter time. Weather has been flirting with below freezing each evening. Hooray for layers, and wrapping ones scarf around ones face. So, as much as Lizz initially wanted to wander through Hyde Park, the brisk temperature we instead took a gambol through St James Park, on our way to Trafalgar Square. Waterfowl for days. I kind of lost my mind when I saw a black swan!! When I was little, I had the most gorgeous black swan plush animal, with crinkly iridescent turquoise wing details. Imagine a Lisa Frank drawing made real, and something that took me months to save up to purchase. Prized possession territory. And then, unexpectedly seeing a real one sent my mind back to memories of being 8 years old. Lizz was underwhelmed. So it was particularly satisfying to hear, as Lizz told Eileen and Rob about my black swan excitement, that Eileen had similarly freaked out when she saw one and took 40 some photos. Ha.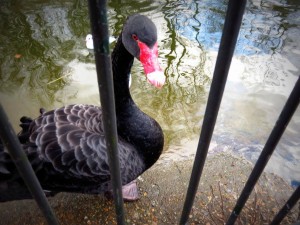 Wandered through town, stopping for a pint or a bite whenever our faces felt too frozen. Lovely time spent at National Portrait Gallery, in which I discovered that Lizz is a huge Queen Elizabeth I fanatic. She started spouting anecdotes left and right about her namesake. It was Tudor-tastic! (Hmmm. Doubtful that adjective will catch on). Then we were off to the theatre.
On Thursday morning, when I woke up 2 hr before the alarm for our flight to London and couldn't sleep further, I discovered an annual 2 week discount theatre promotion. The "get out to see london theatre" (honestly the name is something very much like that) has tickets as much as 50% off. So we saw new West End musical "Made in Dagenham" last night at the Adelphi. Great fun. The set was super clever. Cast was solid. Pretty good jokes. Nice story. It's gotten good reviews but I hear it's not selling so well and may close early, which is a shame.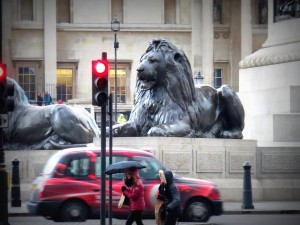 In the afternoon, our wanderings rook us near a giant sign of James McAvoy. Seems my favorite Glaswegian is in a play. We asked after tickets, not holding my breath, as the star-driven vehicles tend to sell out way in advance. And yes, they did not have any tickets for Friday. "But what are you doing tonight?" he asks us. ('He' being the box office attendant, not Mr McAvoy. Oh man, the often imprecise nature of English pronouns now has me all atwitter. Ha. Had it been James McAvoy himself asking us if we were free Thursday night, you can damn well bet I'd have cleared my calendar. *swoon*). It was with a twinge of regret that we couldn't grab tickets for Thus, as we already had some for the musical. Still, that's the most McAvoy-adjacent I've ever been.
After "Made in Dagenham" it was off to Belsize Park to meet up and crash with my cousins. They're in a rather posh neighborhood as Lizz observed, pointing out the quality of car parked along the way. 🙂 we were greeted joyously, and with a cup of tea, by Eileen and Rob (and their two dogs). Our gifts of Seahawks swag and hot sauce were well received. Rob was particularly overjoyed at the Tapatio. So thanks to Eileen's sisters for the suggestions. We then were treated to an Icelandic whiskey that was really lovely. And has some Seattle connection, as Reykjavik is a sister city and they're using some newer production techniques from Woodinville Whiskey distillery. So that's cool.
Today is our only full day in London. We'll explore the Tower of, then who knows. Probably Camden Market this evening. Adventures await!