Fri morning, off to a food and history tour with Manhattan Walking Tours. https://manhattanwalkingtour.com/ Beginning with a tour of the Highline, and then food tour of Greenwich Village. Our guide Claire was a total delight. Hilarious and full of wonderful anecdotes, and lots of bouncing energy. "Did you know there's a supply chain issue with Adderall right now? There is!" *Points at self* Ha!
Air quality is not great all day, bouncing between "unhealthy for sensitive groups" to just plain "unhealthy for everyone." But it's so hot and muggy, it's extra brutal to be wearing our N95's outside. The hazy smoke from the Canadian wildfires definitely is blocking the views that are allegedly normally available. "if you look down that street, you can see…well, you could normally see…" :/
Walking through the meatpacking district and we're shown a building where Beyonce used to live. Woman asks, "is that where Solange beat up Jay-Z in elevator?" Yes. Then we all gossiped about the Lemonade album forever. Ha.
We stopped at a lovely French bakery (Aux Merveilleux du Fred. Which just entertains me, because I find it hard to say "Fred" with a French accent). But Fred really knows his stuff. The Merveilleux are these chilled little puffs of deliciousness. Maybe cream and merengue? I'm not sure of ingredients, but definitely order the coffee flavor one. Soooo good.
At Myers of Keswick, we had a tasty English pasty! And our choice of strange English soda. ("Nobody tell me what Burdock is. I love it and don't want to know any more.") I got a black currant drink, which I always enjoy.
Plus this tiny English grocer and deli has a deli cat named Gracie, and has customized bunting (of the cat's face wearing a birthday hat) decorating the window. "This is more decorations then they put up for the coronation." Ha.
Bleeker Street Pizza. This elderly man (Greg) is original owner's brother. He comes out to talk about their family recipe, etc. Then, in a move that is totally On Brand for New York, he demands we each hand over our phones, and starts to take pictures of us holding our slices. Starts to chastise the couple next to us 'Hold up your pizza higher!" "Be sure to mention my name in your review!"
Next door is the delicious Taco Mahal, where we have delicious Indian Tacos (as in India, not Native American), so it's fresh roti, filled with delicious Indian food!! Soooo many flavors and sooo good. More wonderful stories all along our route, from Stonewall to John Wilkes Booth to Taylor Swift to Bob Dylan, and everything in between. Learned lots of fun new historical tidbits. Claire keeps checking in that it's okay she's running behind schedule. "Y'all are so fun and I'm enjoying telling you All the Things!" Happily, none of us had firm afternoon plans, so we got to keep laughing and learning.
Final stop at Rocco's is for cannoli. Apparently one of the few spots that still makes their shells in house. I've always been underwhelmed by cannoli in general, and this was no exception, so can't fairly judge. Ha. Claire encounters the other tour guide from her company working that morning (small company, only 7 or 8 employees total) and ropes him into telling us "the proposal story." He shares about what happened once on one of Claire's tours. Nearing the end of the tour, a woman announces that they've eaten So Much Food that she just cancelled her and her boyfriend's dinner reservations, because they'll be way too full. Then she goes to restroom. The bf turns pale. He was planning to propose at that restaurant!!! They'd made reservations 3 months in advance. He calls restaurant in a panic, but their table has been given away. They can be put on wait-list but no guarantee. He's freaking out, but says he has the ring with him, and could Claire find them a special spot in Central Park where he could propose on tour? So she scrambles and changes their intended Park tour path, finds a lovely place. He proposes, she says yes, everyone cheers. Thus ends the proposal story this tour guide tells us. Then Claire says to us, "Here's the thing. NONE of that happened." *We gasp* "What happened was a couple was on their honeymoon. Big Food Network watchers. Made reservations at some restaurant 2 months ago and ended up canceling because they were too full. The end." Ha. The male guide is laughing. He doesn't know how, but his brain mixed up this story, turned it into something way more dramatic, and he genuinely thought the proposal thing was true. And he told that story to his groups for three years until one day Claire overheard. Ha! Memory is a fickle beast.
It's a small group tour (8 people max). Mostly adults but two girls (age 10 and 13). The 13 yr old was mostly unimpressed by everything (which is on brand) until we passed a building and learned a Taylor Swift connection. Then she got excited and made her dad take lots of photos of her, while she posed all cute and was excited. Glad she got that moment!
Back to hotel to get ready for seeing "Lizard Boy" the musical written and starring Seattle's own Justin Huertas. We start to take a selfie as Laurena tells me air quality is now deeply unhealthy for everyone. And the selfie managed to catch my "unimpressed by that news" face!!
We meet up with Joseph and Michelle again, which is always lovely. Theatre Friends!!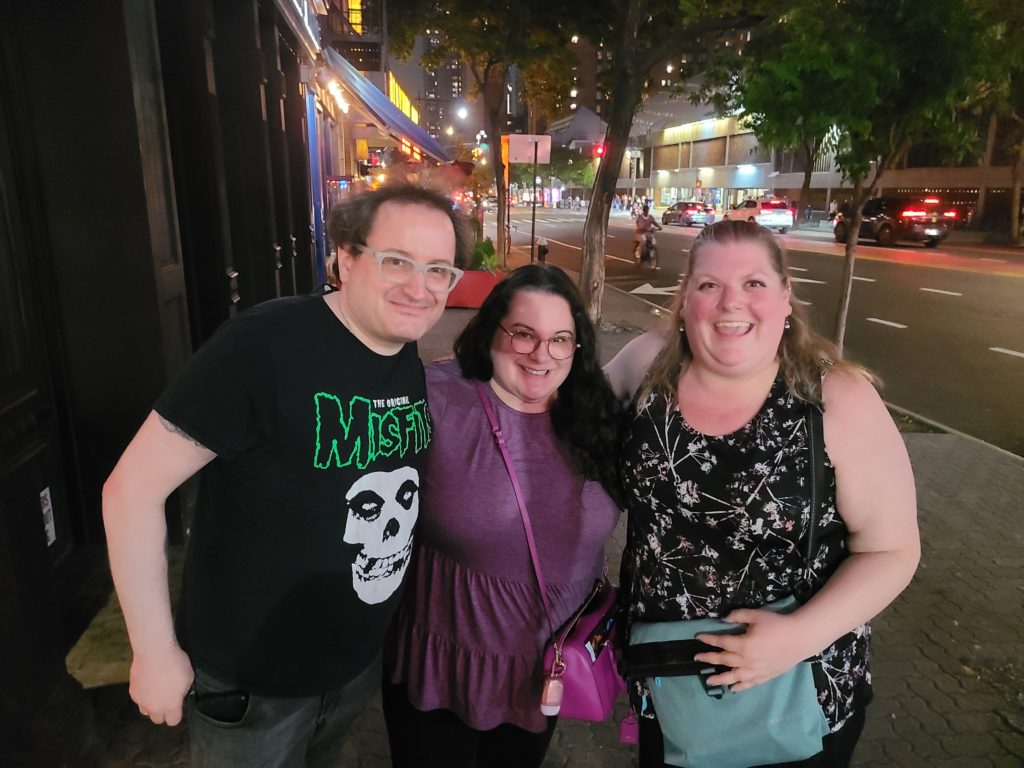 The show Lizard Boy is great!! Saw it ten years ago when it was first performed in Seattle. And through social media have seen updates over the years. Fun to see and hear the changes in person. Hope their month of performing off Broadway was super successful for them!
And what a fun excuse for Laurena and I to take a trip to NYC! Because we'd been on food tour until 3pm, too full for an early dinner before the show. But now at 10pm, we are looking for the nearest spot. Which is how we ended up eating some thoroughly mediocre middle eastern food. The man running the shop was super friendly. But a decided lack of hot sauce or spices. Which, come on! Still, it was edible and open and on our route, so that was just fine. We'd also been spoiled with some truly excellent food that afternoon.
Saturday morning, and Rena's down to go to the delicious Kopitiam (Malaysian place Alison found last time I was in town). So we explore Chinatown a bit, and eat all the different things (savory and sweet and spicy and mild. Luxuriating in different textures and flavors. Yum!), along with some strong and delicious hand pulled coffee! Then make our way out to Astoria Queens. The plan is to wander, see a museum, and eat lots of different great food for dinner. Little Egypt neighborhood, and lots of great Greek places. Honestly, so many options!
First we explore the Museum of Moving Images, on Michelle's advice. Didn't quite know what to expect, but it was great. Lots of historical items and film equipment through the ages. Starting in 1700's with magic lanterns and through today. And had lots of different interactive sections, letting you try your hand at different jobs related to film making. I'm enjoying myself at the Make Your Own Stop Motion Station. (I should be able to upload a short video in a few days, so check back). A very excited teenager sees it, sits down at a booth and says to his friends "okay, I guess I'll see you all in about 12 hours!!" There's an Additional Dialogue Recording booth where we got to practice dubbing over different movies. Rena was power tripping on her director/producer role while I was doing my best Eliza Doolittle. Got to add our own Foley sound effects to a clip from Jurassic Park. Chose a new score for some films. Just fun! Then there was a big Jim Henson exhibit (I wanted to take a selfie with Big Bird, but there were always too many kids in the way. Ha). Labyrinth and Dark Crystal puppets. Some cool special effects exhibits.
Now it's mid-afternoon and so hot and muggy outside. Hey, there's a Tiki Bar called Highwater with good reviews. And so we spent a fantastic time, relaxing in the fake tropics and having delightful conversations with the bartender and staff. Really great adult cocktails. And then ended with a delicious (and strong!) boozy slushie version of a passionfruit aperol spritz).
Talked dating apps and knowing yourself and claiming your life in your 40's. Bartender mentions she's 45 and Rena is having a freak out (as bartender looks amazing). Throughout the rest of the trip, at different moments, Laurena will, out of nowhere, exclaim "Forty Five!!!!" Ha. Genetics (and moisturizer).
Rena says she's feeling that buzz "in her hips." I give her a quizzical look. "The alcohol gives me loose hips" and she demonstrates by wiggling down the sidewalk!! Not exactly how I experience it, but delightful to watch.
Because air quality is still bad, we look for another indoor activity. And see the Noguchi Museum is nearby. And this is how we learned that Laurena is not a fan of these Japanese stone sculptures, although I am.
The hard part is the strict No Touching rules. I mean, I get it. But these often giant sized stones are just Begging to be touched, especially where there are interesting smoothed sections or fun ridges. So that's sad. There are info cards in each room, and I create a game where we quiz each other, trying to guess the year each piece was made. There's lots, spanning four decades, so you can sometimes get close to the year/see a progression or theme emerging. There's a lovely garden/outdoor sculpture section too. Afterwards, Rena says, "thanks for making a super boring museum Way Fun." Ha. Her main complaints are #1: it's harder for her to see the effort and work that went into creating some of the pieces, as many are boulders with minimal obvious "sculpting." And #2. No touching. Which feels like a waste when they so obviously want to be touched. I agree with #2. But then I learn another way in which we are different people: whereas I want to rub my palms along the marble and stone, feeling the different textures, she is instead drawn to the shapes. When she sees a carved or smoothed bit, she sees which body part seems the same size, and wants to insert her knee or shoulder or thigh or head into the similarly shaped hole. Ha!
For the record, I didn't think it was a boring museum, but since it's just one artist, if you aren't into his stuff, it ain't gonna be for you. Now we're off to wander along the river. Parks are full of families having cookouts. It's a great vibe.
We wander the Socrates Sculpture Park, which is a very different vibe/types of sculptures. Some amateur-ish looking statues of athletes. And big wonky pieces. And small colorful pieces. It's a big mix.
I met an amazing English Bulldog named Daphne. Wearing a hot pink spiked collar. Just covered in tons of gold spikes. I asked if I could say hi. Owner (wearing black leather jacket with spikes and fringe) says absolutely, but know that Daphne is often unsure and takes awhile to warm up. I let her sniff me, and she wiggled down low/submissively, but crawled right up to my legs. Then stood up for good pets/scratches. Then settled in, sitting on my foot and leaning her whole body weight against my knee and thigh, which also meant pressing her many many spikes into my knee and thigh. Ouch! But worth it. And while i did discover that I had a few broken skin pricks, I didn't bleed. Ha. If I end up getting tetanus or something, worth it!
We wander some more and are thinking of heading back to the Little Egypt area for foods, but a restroom is needed and Laurena would rather not use porta potty at the park. We come across the Arcadia kitchen and bar. And Rena likes the look of the menu, so that ends up being dinner (and a nice clean restroom). And it was great. The zucchini fritters (with mozzarella) are lovely.
And the burger is huge and tasty, too. So we did not do the self guided World Food Tour we'd initially thought to do (sharing one dish at a few different places). But a lovely and tasty respite.Then it's more leisurely walking back towards Manhattan, checking out the neighborhood and vibes.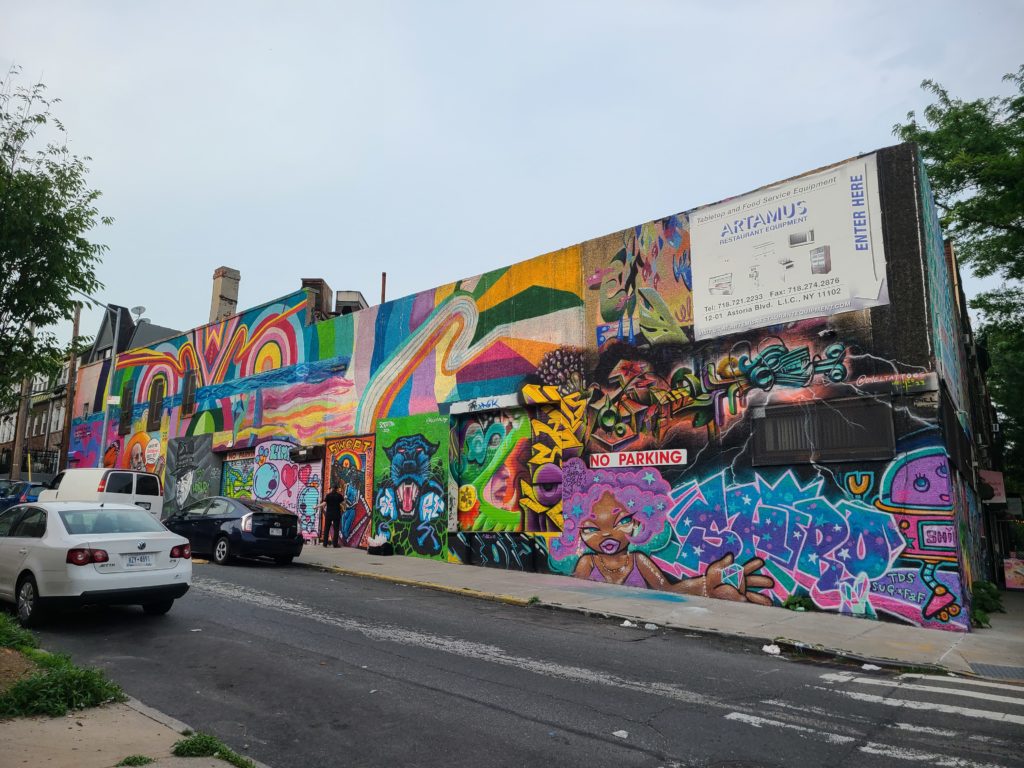 Until we finally decide we've done enough walking (and a Google search says our plan of walking across Queensboro Bridge isn't actually that nice, because you're too close to the cars). So we get a ride back to the hotel. Shower off all the muggy sweat and hazardous air, and go to sleep.