Oh! Just realized I could blog about my overnight on the Seattle waterfront in November, so here goes: Some dear pals and I were going to see Cafe Nordo's new show "Sauced," set in a 1930's speakeasy and including a cocktail flight. There just are not many affordable ways to get home to the north end after a night of drinking in Pioneer Square. ("Drinking in pioneer square" could mean lots of things, and it doesn't immediately conjure the swanky cocktails evening we had). Serendipitously, Kimpton Hotels sent an email about their annual sale, and I realized that Hotel Alexis was only 0.4 miles from the Cafe Nordo theatre. Woohoo! A roundtrip Lyft would have been almost $80, so for only a few dollars more, why not enjoy a fancy hotel room and amazing customer service? (To economize I could have taken the bus to Pioneer Square and just had the $38 Lyft home, but taking the bus solo in my formal wear and heels didn't appeal). Then, when booking the hotel room, their system cleverly offered me an AMAZING DEAL on an upgrade to an Executive Suite…for only $30 more, would I like over 700 sq feet?!? Yes, yes I would!!
Arranged to leave work early, grabbed my overnight bag and dress, and headed downtown. Now, my only planning fail was not thinking about parking. Guess what, there aren't any decent overnight parking options down there. Darn. If I'd thought of this ahead of time, I could have driven to a good overnight parking garage and then just bused (or taken Lyft) a few miles to the hotel (as I was in my street clothes and would be changing into formal wear once at the hotel). Instead, I found myself obligated to pay the $42 (yikes!!) for Hotel Alexis valet parking. Aw well. Suddenly this evening was no longer the screaming financial deal it had started as. Still, life is short and there wasn't anything I could do about it at this point, so I handed over my keys and went to check in.
The Kimpton staff was lovely, as always, and provided us 4 champagne flutes so we could celebrate before the show. The room was very nice, with a lovely dining table area and nice living room area, too. Although it wasn't nearly as nice as the Executive Suite photos listed on the hotel website.
http://www.alexishotel.com/seattle-waterfront/hotel-suites.html  Oh well, that's what you get for booking at their "deal" rate, I guess. Melissa and Alex were able to meet me at the hotel, and we had a lovely pre-party, including gorgeous "dark and stormies" (with my own pumpkin-spice-infused rum…tastes like the holidays). My sister ended up joining us. I'd initially invited her to make use of the spacious room, as it would be empty from 7pm to midnight, but she'd been uninterested. As the date got closer, however, her schedule changed, and so she came by to visit with us and then do her homework in some fancy digs. *smile*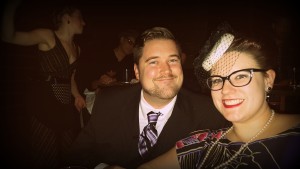 The Cafe Nordo show was great fun. The songs were wonderful and well performed and the band was great. Folks were committed to their characters and our waitress "Kitty" was a delight, taking excellent care of us and bringing some old-timey charm to the event. Some of the plot and characters were overwrought and messy, but overall a unique and great night out. Predictably, as it's Seattle, 2/3 of the audience were in jeans. But those of us who had dressed up were having more fun. (And I don't begrudge folks being comfortable. Just always excited to see folks at live theatre events, with no need for a dress code. Although this is definitely a setting where dressing up adds to the fun). The meal was mostly amazing, and always at least decent. Their cocktails were interesting and tasty, although the portions were smaller than anticipated. This is probably better from a legal and inebriation standpoint, and also in case most of the audience had not made designated driver/hotel arrangements. But my pals were a bit bummed. Of course, Cafe Nordo always allows you to purchase additional full sized cocktails, but that's on top of the $95 for dinner and show.
This November evening was pouring down rain and cold, but being all dressed up, seeing a great show with dinner, and having a swanky hotel, turned a night in my hometown into something super memorable.