There's been so much we've done already, but at the same time, rarely have we felt rushed. Which is the perfect way to vacation. The Alena Resort in Ubud was beyond amazing. We extended our stay there by two nights, we liked it so much. And they upgraded us to a villa with private pool!!!!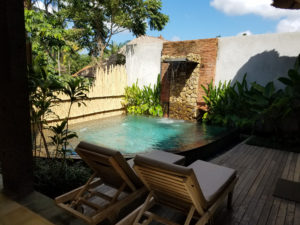 But really, it was the people that made it perfect and feel like a home. In fact, they'd say, "welcome home" whenever we returned. I think that experience is going to be hard to beat. Yanni, who works in reservations, was so excited to meet me (because we'd been emailing) that when I said my name was Tracy, she yelled "Tracy Middlebrook" & ran over to give me a hug. She was so genuinely grateful that my emails had been very clear and simple to help explain the situation. (With Jessica's missed flight, we needed to book an additional airport pickup for the next day, but I wanted to make sure they understood I would still be needing the original airport pickup for myself. This seemed like a situation that could be messed up even when everyone speaks the same language, so I wanted to make sure we all were on the same page.) I'd also emailed to make our original reservation, asking about the ability to book directly (many smaller places really appreciate this, as they don't lose the fees to Expedia and other 3rd party sites). She was very appreciative of that, and gave us a discount for booking directly.
For meals, we mostly just wandered around town and picked a random place to eat. And it's all been pretty damn tasty. Our last night, we had a destination to try the barbecue at Naughty Nuri's. Yum! Super crowded. No frills. You share tables. And they serve you amazing grilled meats.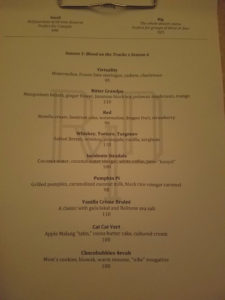 Next door was "Room 4 Dessert", run by a celebrity dessert chef from Manhattan who moved to Ubud. It's super swanky. The styling was great. They have a rotating selection of fancy dessert creations each night.  We ordered the sampler (which gave us a small portion of all nine dishes). 
They were a little horrified that we wanted to be done within one hour, but reluctantly agreed to serve the desserts two at a time, instead of individually. They were all beautiful and interesting, but I only loved 3 of them, thought 3 were okay, and 3 were just not for me. You can see some photos on Jessica's Instagram.
Our final morning in Ubud, we headed to Ibu Oka, famous for their suckling pig. They open at 10:30am which is about when we arrived. We weren't exactly hungry yet (having had breakfast at 8am), but we both managed to clean our plates. Yum!! The pigs are roasted off site and delivered by motorbike each morning. So tender. And crispy pork skin. Ridiculously good.
At the end of our 5 nights, many of the staff came running up to get a group photo and Yanti was even crying a little bit. Like I said, a little overwhelming, but so genuine and lovely. They expressed sadness we couldn't stay one more night because they wanted to invite us to the gardener's wedding. And a part of me thinks that that was a sincere invitation, rather than a nice thing to say. Wish we could've, but it was time to head to the coast!!!
Ubud makes for a great base. It's a cool town, lots to see and do. And plenty of day trip options. We did spend one day exploring, visiting jatiluwih rice terraces, and several temples. And the cooking class we took with the chef at Alena Resort was lovely. Apparently we were the first to book the class (they just started offering it). It was a learning experience for everyone and so much fun. The chef is super sweet and a very good cook. He took us on an early morning tour of the market in Ubud, which sells food until 7am for the locals, and then switches over to arts and handicrafts for tourists. Really interesting to see. And then at the actual cooking class, we made so many dishes (5 courses), which we then ate. Well, ate some of. Delicious but too much food. One of the managers took many photos (as we were first to do this) & said they'll email them to us. Some may be posted on their website, too. Jessica says we're now famous in Bali. *laughs* The Resort printed out certificates that the chef signed, and even gave us printed recipes. Very cool.
But we needed some ocean time. Which is how we're now in Padangbai, at an eco-resort on the cliffs above the harbor. 
The view is amazing, and it's an open room. Basically, like fancy camping. We have a roof and 3 walls, but the space is open to the environment.  Outdoor toilet and shower, too. Last night I realized there was a sizable lizard on the rocks a few feet from my showering self. He was cool. But he scurried away before I could dry off and return with my camera. Definitely the kind of place you've got to wear your house sandals and bring a flashlight when walking around at night. And there was nothing between me and the harbor last night of except a mosquito net. Very cool.
We wandered through the small town (maybe 30 little shops, food stands, and restaurants). Had poolside drinks at the swanky place in town, and a kitty came by to join us. 
Lovely relaxing evening.
Also very glad I packed earplugs and a sleep mask, just in case. While I might have been able to sleep with all the noisy frogs and insects, the ferry horns and harbor loudspeaker announcements would have been tougher to sleep through.
I'm off for a massage shortly, which should be amazing (& hopefully helpful because I tweaked my back yesterday).