Off for an extended weekend in NYC with my good pal Laurena. She's never been before, and as a teacher, end of June worked best for her. Even better, local Seattle actor and composer Justin Huertas is making his Off Broadway debut with "Lizard Boy," the indie rock musical he wrote. So plans were made! At Seatac, I say to the woman at the lounge bar: I'll take a tonic with lime please. Her (in an almost affronted tone): Oh, come on! Me: Fine. Let's add some gin, too. Her: Now we're talking! Bwahahahaha. This trip is already off to a fun start.
Rena, showing off her sparkly nails: "I wore my most "Tracy Nail Polish" for this trip." She's not wrong.
Severe thunderstorms had delayed/cancelled several east coast and NY flights the last few days, so I was a bit nervous about our flight. And we did end up flying through some extended lightning flashes (when I get home, I think I can upload the Snapchat video I took, so I'll add it to this blog in a few days). Because it was just lots of flashes without turbulence, it wasn't too scary. Still, with the stormy weather, our arrival was a bit delayed. Which meant we were stuck on the tarmac for almost an hour waiting for a gate to become available at JFK.
So it's after midnight when we finally are waiting for our bags and then join the line and extra chaotic taxi queue. There's only one employee and he is grumpy and disaffected. Eventually we're at the front and he tells us to walk to position #1. As we start to walk that way, the next taxi driver stops by us (we're only at position 3), gets out and aggressively takes our luggage to start loading it. The queue employee is pissed at the driver, because him not pulling to the front blocks all the taxis behind him. Both men are yelling at each other and slinging insults. "I've been taxi driver for 40 years!" "And yet you still don't know how the airport queue works. That's embarrassing for you. I wouldn't be telling people that." It is awkward!! For most of our ride, our incensed (and very Greek) driver is sharing all sorts of factoids and stories, and weird brags about some of the important people he knows. It's wild!
Also, when he'd pulled up initially, I'd initially thought maybe there was some crumpled damage to the taxi hood, but as we got closer, it was a splotchy paint effect. Sort of like camo paint but in two slightly different shades of taxi yellow. Weird but okay. Then partway through our ride, he starts telling us how he has an upcoming taxi inspection so he'd gotten the taxi paint sprayed but it didn't look good and he'd already spent $300. In my head, I'm agreeing that it does not look good. And I'm saying he should definitely talk to the folks who did the spray job to see about getting it re-done. Thinking he went to some cheap Maaco spot. At the hotel finally, he removes our bag from the trunk and then calls me over. He pulls out a can of spray paint, and shows me the nozzle. Says this is supposed to be Expensive good paint and it's $20 per can, but it hasn't looked good when he sprayed it on the car. OMG!!! My man used spray paint cans to try to paint his hood/front end. That would explain why it looks like those crappy home-made spray paint camouflage paint jobs. Just, woah!
The doorman/bellhop is one of the most attractive men we've ever seen. Infectious smile, twinkling eyes, and a glorious afro. It's 1:30am and we're just happy to have arrived. And then he was a wonderful addition. Super friendly, and helped point us to a tasty late night pizza option. Rena "I don't care if it's just for tips or whatever, but he can keep calling me love and smiling at me all day long!"
We picked more non-traditional Pizza slices. "Um, I'll take a slice with the pasta on it" (turns out it was Baked zita pizza). And the veggie pizza was covered in chopped broccoli and spinach. Unexpected vegetables as toppings. Also, when we got back to our room, I found a bonus pizza slice in my box. While the man helping Laurena was much chattier and got her whole life story, apparently my taciturn employee thought I was looking extra hungry. Ha.
Set the alarm for 11am (as we didn't get showered/to sleep until after 2:30am). So it's close to noon when we hit the lobby and we meet the day crew. "Dang, does this hotel exclusively employ beautiful black men? Not mad about it. But it's like they're all cast from a modeling agency."
Look at this gorgeous pina coloda croissant square. Sort of impossible to eat, but tasty!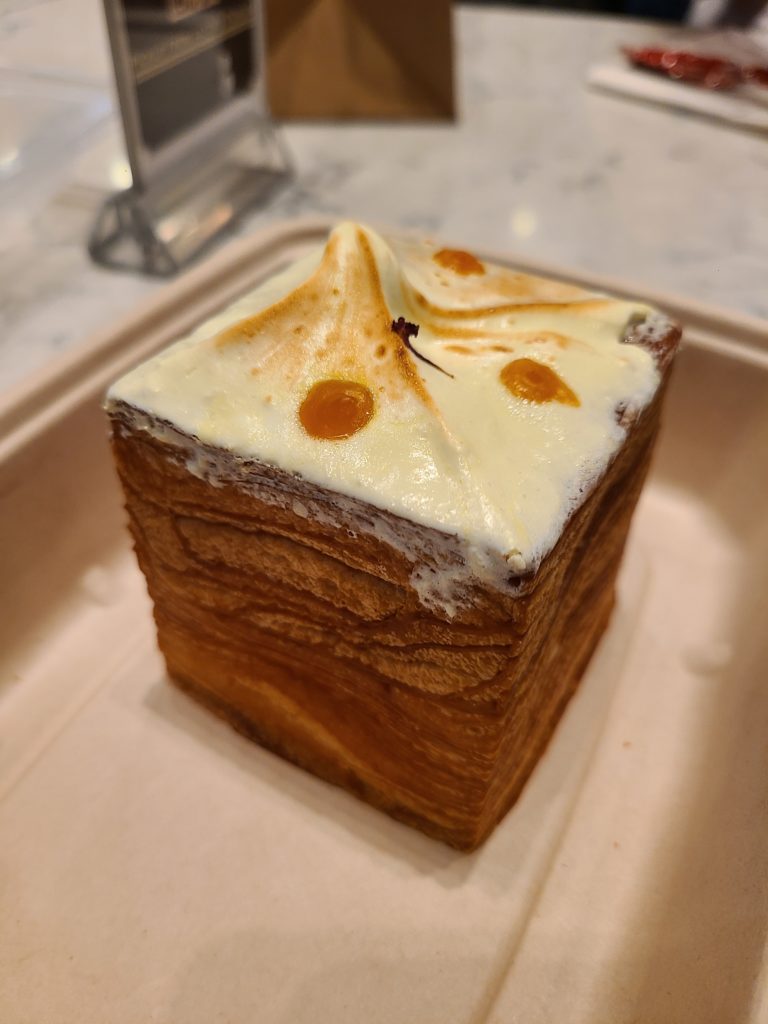 We wander to the Morgan Library and Museum. It is very cool. Some truly impressive architecture. It's grandiose and ridiculous. What a giant marble structure to JP Morgan's wealth and ego. But cool that it's a museum now. Fun to see the gorgeous three story library room.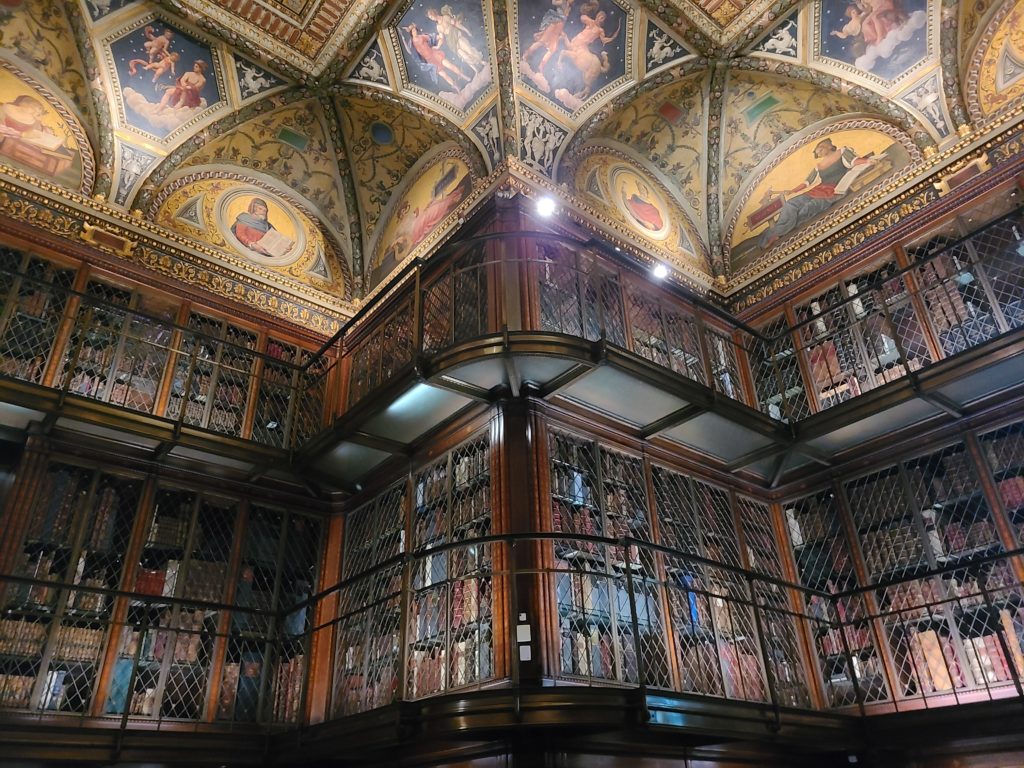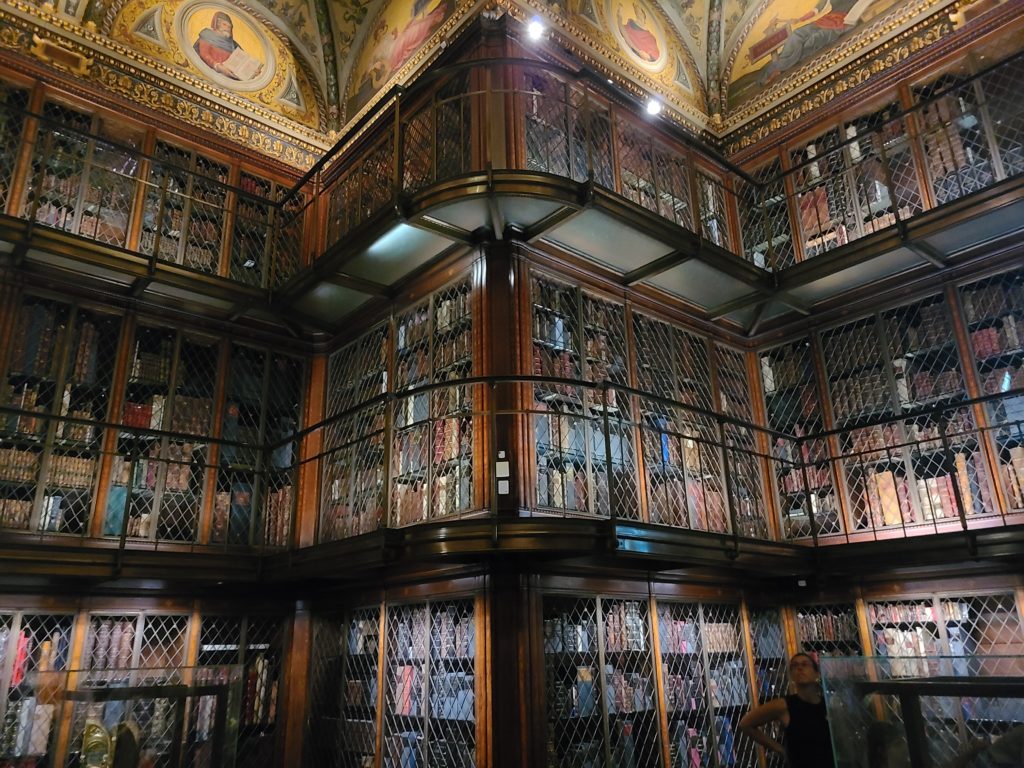 And some really interesting art exhibits too. And a lovely relaxing tea stop at the cafe. Plus, I am always a sucker for a museum gift shop.
That night, we go to Mom's Diner and meet up friends Joseph and Michelle. "It's a glorious rainbow cartoon of a diner" and they're not wrong. Michelle's favorite item is the Pancake Burrito. Amazing!! Why have people only been putting the pigs in the blanket? Why not put All the breakfast foods wrapped up in a pancake!!!
(Although I'm firmly in the "nobody feels good after eating pancakes" camp, so that didn't seem the right choice for me before being in the dance pit for our show that evening). But they had a fun mocktail menu too, and my drink came with a small inflatable flamingo! We are making good choices!!!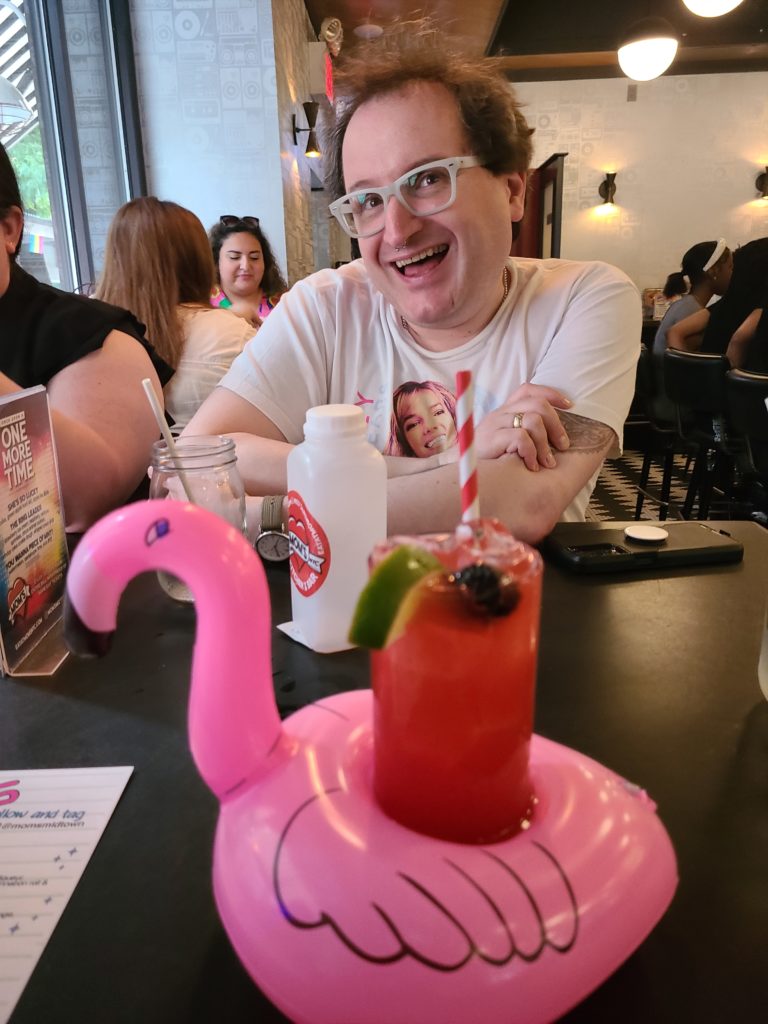 Then it's off to see "Here Lies Love." So excited. Saw this show during some of its pre-broadway run, in Seattle in 2017. And it was Even Better now. Just Bloody Fantastic! Rena and I had the dance floor tickets, where you stand and dance for the 90 minute show, and the actors are on moving platforms around you.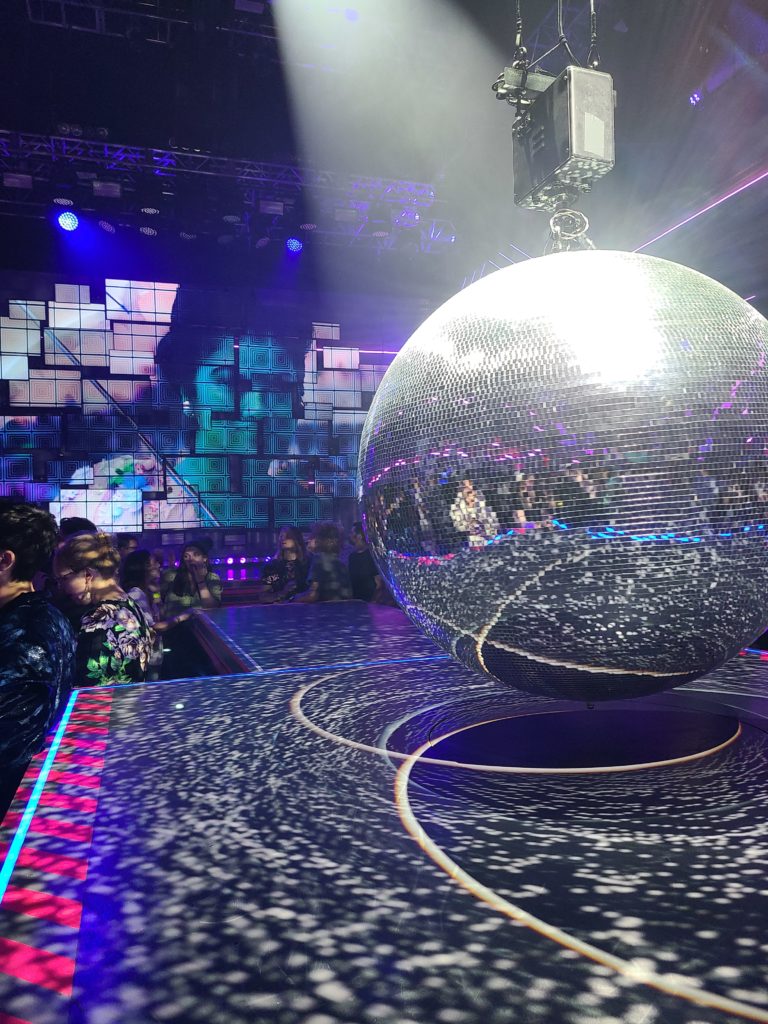 It's wild and a bit chaotic but mostly amazing. And managed very well (crew in hot pink jumpsuits with glowing airport traffic cones direct us as a group when we need to walk/dance to a new location because a piece of the stage platform is rotating. (Joseph and Michelle were in the mezzanine seats, but the stage design is really clever. And there are video screens throughout. And actors in the ensemble often show up in the Mezz seats too, so everyone can feel part of the action. It really was so much fun. Giant disco balls. Great songs. Fantastic acting.
Even without Conrad Ricamora (we had an understudy that night). I saw him do the role in Seattle and he was fantastic. And after seeing him in the Mr Darcy role on Netflix's adorable "Fire Island" movie, I'd been looking forward to it. But really, it's the tiniest of sad faces. It was a wonderful show.
Walking the 2 miles back to our hotel, so fun to see all the rainbow lighting still throughout the city, celebrating the end of pride month. Feels so exuberant.
And we got 22,000 steps in (not bad considering our day didn't start until noon!!)