Continuing my slow updates/posting the skipped blog posts from 2021 and 2022. Here we are, last week of June, and my dear cousin Rozine calls to ask if I'm free on July 3rd. Then she asks if I still perform weddings (I was the officiant for Rozine and Eric several years ago). Yes, I reply, with a little more trepidation. Turns out her stepson is getting married on the 3rd and their officiant fell through, with only a week's notice. Eeek!! But yes, I can help out. And actually, the tight timeline proved to be less stressful in some ways. I often worry about making sure the couple LOVE the script and so can go through several drafts. Or as more often happens, I send a rough draft and never get any feedback (because, ya know, planning a wedding is intense and all-consuming and folks just don't have time). But in this case, we didn't have two months of back and forth emails and drafts and revisions. I had one really lovely and helpful zoom with Nick and Lindsey. We agreed that they'd need to reply to my draft script ASAP if it was on the wrong track or there was anything they disliked or needed added. Wrote up a nice script and sent it off and got a positive response fairly quickly. Yay. It was great, as the tight timeline had me sending some focused questions and they responded promptly. Bit stressful as I'd just met both of them via Zoom a few days before. I know most couples probably don't know their officiant very well. But I've been friends or family to most of the 14 couples I've married. So it's been a really different vibe for the three couples where I didn't really know them (they've all been friends of friends, or family of family). As one of the bonuses of having a friend perform the ceremony is getting to have something tailored to who YOU are as a couple, ya know? Happily at this point (been doing this since 2014) I've got a good list of prompts and questions to help gain insight and great anecdotes from the couple. And it worked really well.
The wedding was going to be up in the Mount Vernon area of Washington. And then my cousin Courtney invited me to a BARN PARTY (and Birthday celebration) for July 4th, up in Bellingham. With timing, it made sense to look into just continuing north after the wedding, grabbing a hotel room, and then heading to Barn Party late morning. And Hotel Bellwether had a decent deal offered (as they were sold out for July 4th…their property overlooks the water and fireworks, but had availability for just Saturday July 3rd).
And so, a lovely wedding and celebration happened for Nick and Lindsey. Truly special. And the inevitable laugh so hard my belly hurts whenever I get to hang out with Rozine. Please enjoy this delightful candid shot of us emphatically telling each other something. Ha!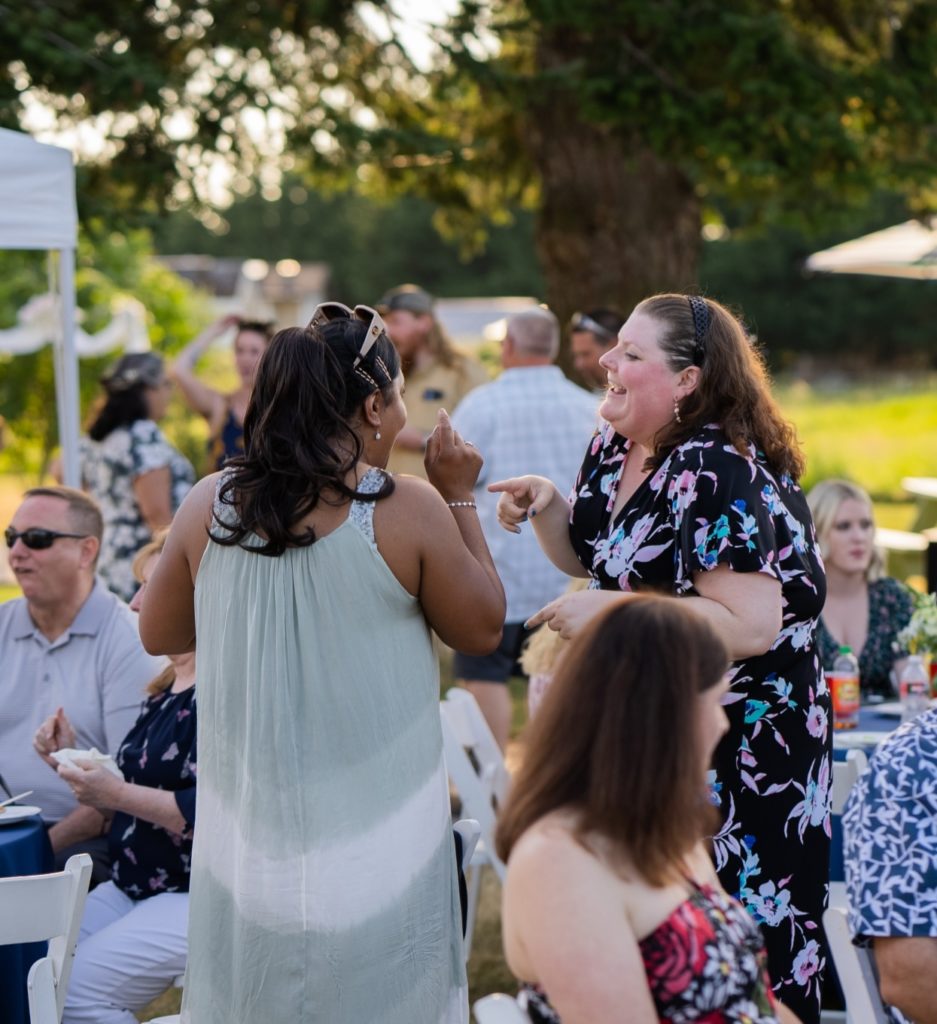 And now, the award for cutest wedding guest goes to: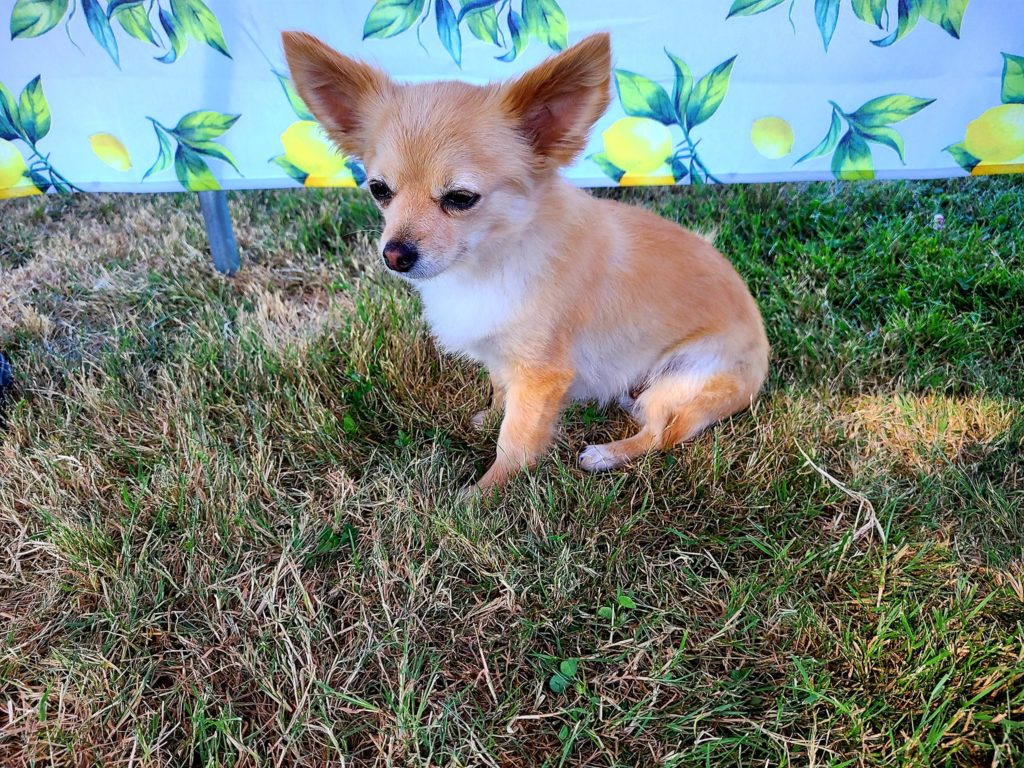 Then up to Bellingham. Check out this view!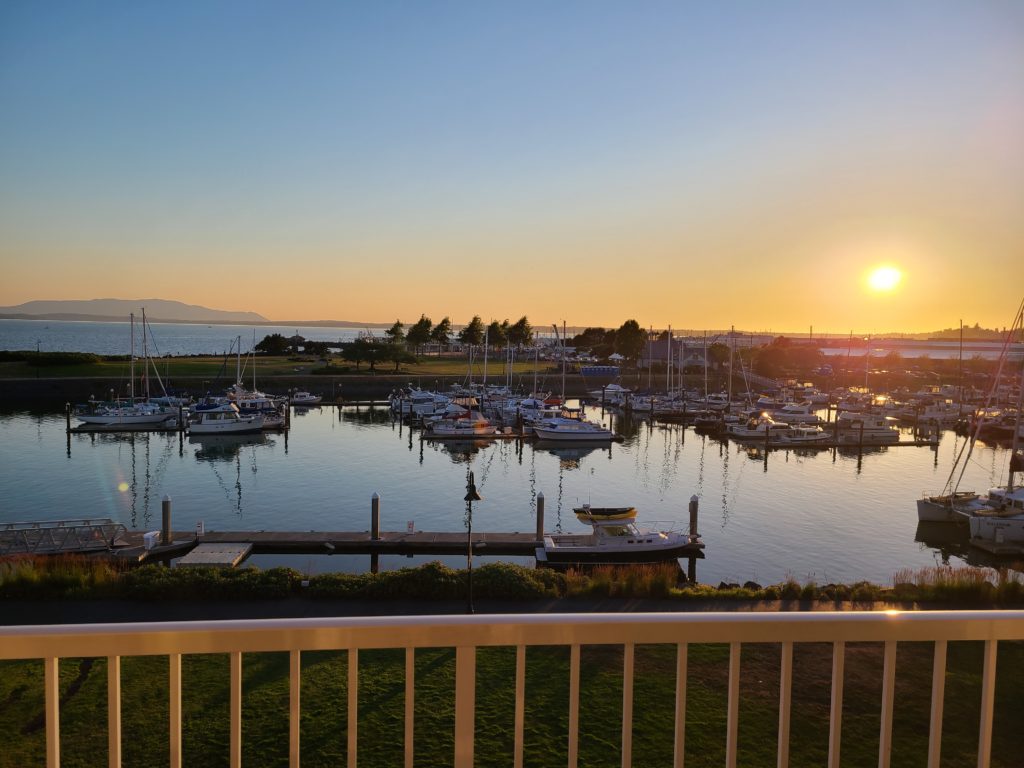 Reading on the balcony through sunset and twilight was just wonderful. So relaxing. Although I got the bummer update from Courtney that she was feeling poorly. Her kid had been sick a few days ago, and now Courtney was feeling sick and one of the other kids on the farm had a bad cold. She'd let me know in the morning whether Barn Party had to be canceled.
In the morning, the expected but understandable cancellation text went out. No Barn Party. No playing with llamas and horses. No kick the can. No music around a campfire. Deep sigh. But yeah, nobody wants to host an event when they're feeling sick. Also, remember this was July 2021. So while most people were vaccinated by now, and most of the party would've been outdoors, we were all still being SUPER CONSCIENTIOUS about germs and cancelling things when we were sick. As we should. 🙂
So I went off to explore Bellingham a bit before the drive home. Truly gorgeous whether for walking along the waterfront.
There was then a series of unfortunate events in my quest for an epic brunch and/or bakery takeaway before heading home. Some things were closed or under renovations. Others didn't offer their normal savory sandwiches because of the holiday "only cookies." So I ended up getting grocery store deli wrap sandwich to go with my cookie ice cream sandwich, because I needed more than just sugar to send me on my drive back home.
Still, made the most out of it that I could. Weather and setting was gorgeous. Much celebration of love and commitment and laughter at the wedding. And because I spent a night in a hotel, this totally counts as a "trip" for purposes of this blog. Ha.