So, autumn 2022, my sister asked me if I'd be willing to be her "backup" for the upcoming JoCo nerd cruise in March. She'd always wanted to go, and had booked a cabin. But her boyfriend Kevin has reservations about the Covid protocols (or lack thereof, as it says they'd basically be following Holland America rules, which are THERE ARE NO RULES). And if he's still nervous about it in a few months, would I be willing to go with her instead? I'm hesitant about lack of Covid safety as well, but agree. Although I asked if she'd be isolating when returning home, as she and Kevin live together and share a bed. Nope. I suggest then that it doesn't really matter whether Kevin goes or not, he'll be sharing the same Covid risk as Reagan will return to breath on him. So maybe he should just go with her? But I can be her backup.
In December, it's confirmed that Kevin doesn't want to go, so Reagan and I book a flight to Florida (ugh. Florida). I lost the "what time flight we take" decision. Reagan wanted the 8:30am departure (even though that means arriving airport 3 hours early for checked luggage these days. Even domestic flights. Ugh again). Which means getting up soooo early. I join the Discord and FB groups for cruise attendees. While going on a cruise has never really appealed to me (it's not the way I like to travel), I am excited to hang out with 2,000 friendly nerds for a week. And everyone is lovely. Super enthusiastic and welcoming. Sharing information about "in jokes" and activities that have become part of the cruise lore. I share info with Reagan, so she can sign up for the gift exchanges and other activities, if interested. There are also costumed cosplay themed days on the ship. All of it is optional, of course. But I do enjoy a chance to wear costumes. This causes some personal worries about packing. It's harder to wrap my brain around packing for what feels like three different events: costumes for themed days, outfits for wearing on the mostly air conditioned Boat, and outfits for wandering the Carribean port cities. It works out, but I do end up checking a large backpack in addition to my checked suitcase (with a full pirate costume for "Captain Day" and this ridiculous it-got-larger-than-I-intended hat for the "Fancy headwear" party, as well as Afternoon Tea and Retro day). First time I've traveled with two checked bags before. Not sure how people who did ALL of the costumed days managed to pack everything!
6 weeks before the Cruise, and the official Holland America activities will be available for booking soon. We have a zoom to discuss what appeals. I share the information I've researched (including an amazing nerd-created volunteer opportunity with dog rescue on British Virgin Islands. PAW BVI. We'll be walking several of their rescue dogs along the beach, giving them exercise and socialization). I also share the mediocre reviews of the Puerto Rico official tours, but some fun sounding tours offered independently. Reagan starts shaking her head and repeating "Not Safe!" I ask for clarification (is she worried about food safety, or being kidnapped?). She doesn't feel that it is safe to walk anywhere in a port city. The only safe way to go anywhere is to join an official tour, and have that tour guide bring her directly back to boat afterwards. ("You're not comfortable getting lunch or wandering the art market? Because the tour ends at an art market for shopping." Nope. Not interested. She feels the locals are resentful of cruise crowds and there's a threat to walking around. I ask if she could trust that I've traveled a bunch, and that I'm not asking us to just hop in a random unmarked taxi. That this walking historical food tour has literally over 2,500 reviews on TripAdvisor. "You have different risk tolerance than I do." Which, I mean, is demonstrably true based upon this conversation. But was a real surprise to hear. All I could picture was all of my previous travel companions learning that I am the Risk Taker in a couple! Because my inner Safety Monitor is STRONG! But Reagan's is even stronger, clearly.) Still, she says she's okay if I want to explore and do things without her. So we book one of the official walking tours through the cruise ship for the morning, and then she'll head back to the ship for lunch, and I'll explore San Juan, and do the food tour that evening. I share the food tour info on the social pages for Cruise attendees. And it's quickly booked up by other nerds. (In fact, they end up filling up several of the afternoon time slots. Ha). And Reagan's keeping herself a maybe for the dog walking event, so we'll see how she's feeling when we get to Tortola.
So I've already prepared my expectations for not spending a lot of time with Reagan on the actual Boat. Because of her strong introvert needs, she needs a lot of down time/alone time (in the past, she's generally only good for about 3 days of shared vacation time before needing a break). So by doing separate things most of the day, and just meeting for dinner and main show seemed like it'd work well for her needs. This whole cruise seems great for that. Full schedules of possible activities, with lots of "quiet room" areas for those who need them, as well as the ability to hide in our room or balcony for her. And I can be doing all these events and meeting new people. I had been thinking, however, that we'd get to wander a port stop together, going souvenir shopping and sharing a meal. Most of our family vacations were spent along Washington and Oregon Coast, so it felt like a fun tropical twist on the activities of our family trips. Bit of a bummer to learn she doesn't feel safe doing such a thing. Ah well. Also, we've "book-ended" our trip with an extra day in Fort Lauderdale on each side of the cruise, in case of flight delays, so we'll have that first day in Fort Lauderdale to wander the beach, look at souvenirs and share a meal.
Then suddenly it's March and we're taking our "butt crack of dawn" trip to the airport. So early!! On the ride, Reagan tells me that she's made plans to meet up with her Ex Dan (who moved to Florida 2 years ago) tomorrow for dinner, so I'm on my own tomorrow evening. Well, darn. Learning this, I did reach out to a pal I met years ago in Borneo. Brian is an actor and currently in a production in Boca Raton (internet tells me it's only 30 min away) and maybe I can hang out with Brian tomorrow evening, then. Turns out it's too last minute to make it work, unfortunately. He tried but couldn't change his rehearsal schedule with such short notice. Still, fun chatting virtually with him and knowing we were nearby. On our flight across the country, the flight attendant makes an announcement over the intercom to tell us we're flying over Tulsa, Oklahoma. All of us are bemused. Like, cool? Then she went on to say she grew up there, "and if you look out the window, you can see how flat it is!!" Ha! Only the most important of updates. Hope the people who were sleeping appreciated it extra. *smile*
Also, FYI for anyone flying Alaska Airlines. Total new Game Changer in the drinks game. They have these silly citrus flavored powder packs for drinks (in lieu of an actual lime wedge). But when I ordered my seltzer with lime, attendant asked if I wanted to try it with Grapefruit. I didn't even know that grapefruit was an option. It was tasty and felt more special, somehow, than just lime or lemon. Fancy!
As we land and are headed to our gate, they announce: "It's going to be close to 90* today. Sounds good, doesn't it? (My brain: no, it sounds too hot!) We're going to ask those of you seated at the window to please close the shades to make it just a little more pleasant in here for the next lovely guests we'll be having. But those passengers probably won't be as good as you all, though." Ha. These flight attendants were a hoot! Then it's waiting for our luggage. I ask Reagan if she has any ideas of things she wanted to do tomorrow during the day, before her dinner with Dan. That's when she tells me that she won't be hanging out with me tomorrow, because this is a "working trip" for her. She's going to be doing programming on the app she's building. So that is both a surprise and a bummer. But not a lot I can do about it now. (If she doesn't feel safe doing things in the Ports, and already needs lots of alone time on the Boat, and now needs to spend all of her spare time working on her app, I'm left wondering why she asked me to come along). She tells me she can hang out with me tonight, though. I point out we won't even get to the hotel until 8:30pm or later, so it'll just be checking in and dinner. Not exactly interested in the 11pm Spring Break crowd. Ah well.
As our taxi driver pulls into our hotel, "Oh, I remember this place now. A customer broke my finger here." Oh my God!! "Yeah, she shut the door on my finger." Yikes. So we got to watch this very nice lady have a traumatic memory. It did result in a larger tip. Just, yikes! (Made me EXTRA careful about all car doors I closed on the trip). Anyway, at check-in, I successfully charmed the front desk employee into giving us coupons for a free breakfast in the morning. Woohoo! By which I mean, I was just a basic level of human decency. Like, DO BETTER, everyone else. This poor woman was the only employee that evening and working her butt off. I just recognized and comiserated. And voila, unexpected free breakfast (in addition to the free drinks coupons we already got for my hotel member status). So that's exciting!!
Kimpton Shorebreak has embraced this kitschy Blue Flamingo aesthetic. We check into our room and start looking at dinner options. Apparently we're off the fancier and trendier portion of FLL strip. Most nearby restaurants are expensive!! And also booked (it's Friday night) or don't offer outdoor dining. Rather than walk the mile towards cheaper outdoor dining or waiting over an hour for the places that don't take reservations, we grab a table at the hotel restaurant. Which has outdoor tables next to the pool, and a live musician. It's nice.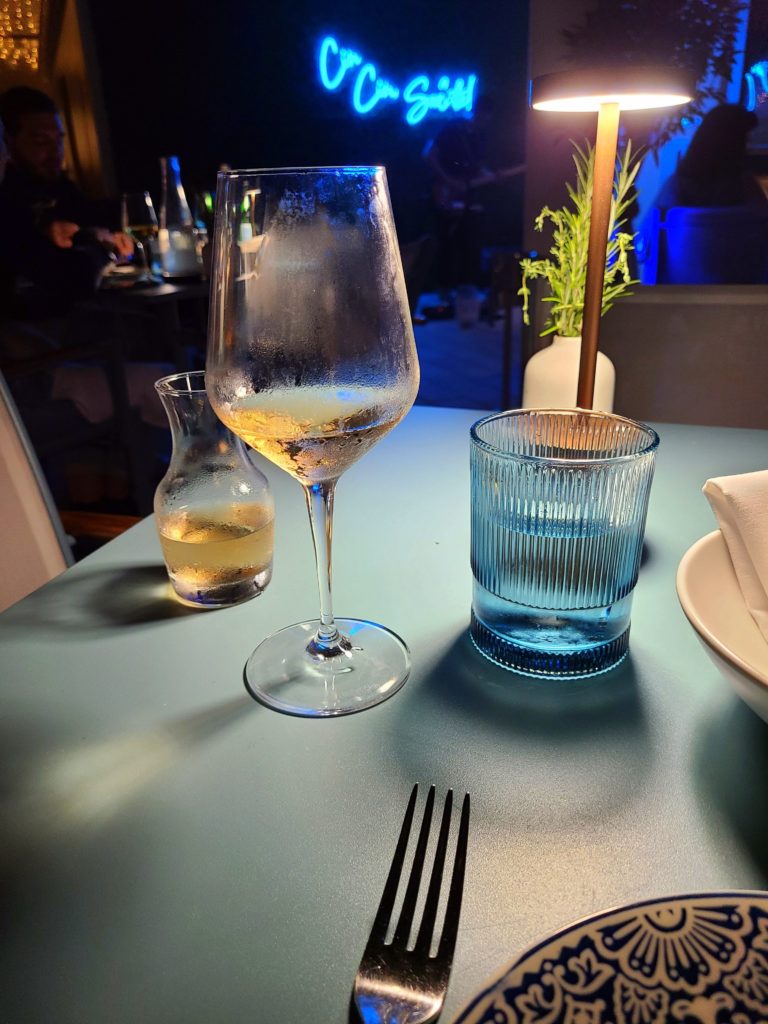 We enjoy our free wine (yay) and a decent Italian meal. Then it's time for bed (especially considering we started our day at 4am!!).
Next morning, Reagan says she can delay working on her app until 1pm, so we can hang out in the morning. We enjoy the FREE breakfast at hotel. Yay. Then I realize I forgot to sew a chin strap onto my pirate hat (and with potential winds on the cruise ship deck, need to secure my hat!). So we wander along the beach and shops, in search of a drug store. Come across an adorable little arts market. Very cute. If anyone's in FLL ever, check out local independent baker Michael Oliver at Oli's Bakeshop. His rum cake was delicious! And he gave free samples of his new experiment Guiness Cake…also tasty. And he was so nice. And check HorrorBLVD on etsy for fun horror movie gear. She'd just started up her business. Then more sunshine walking (very little shade. I was glad of my large floppy hat).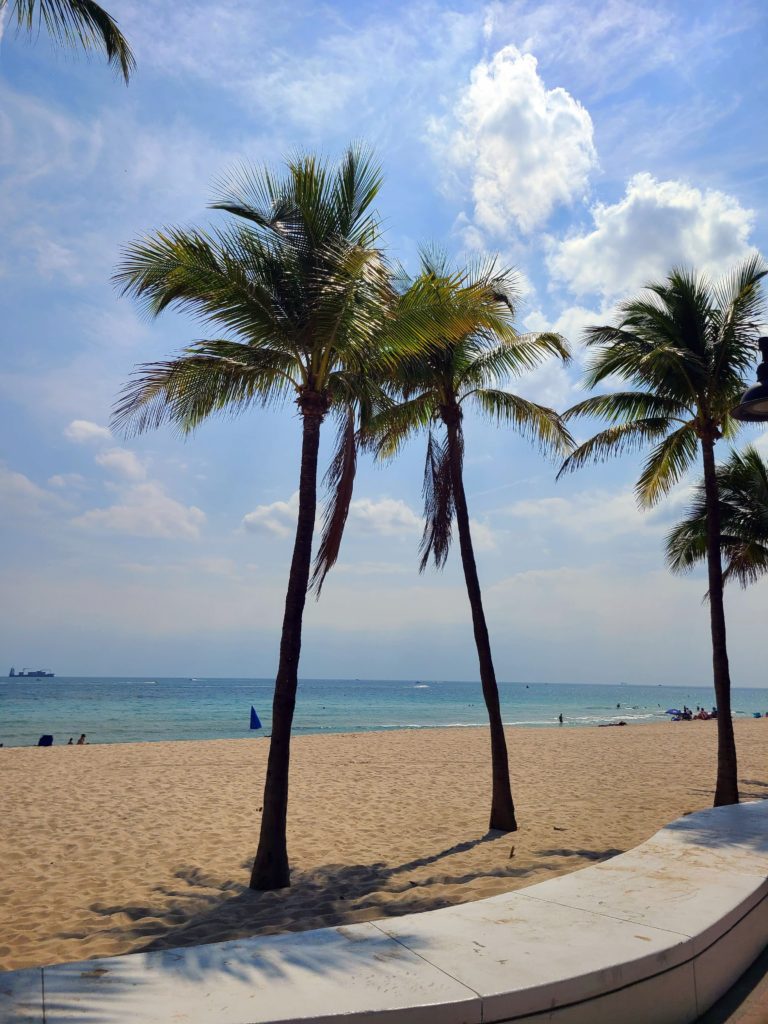 Found CVS. Where I ended up buying a pair of shoelaces to use one as a chin strap. I'd already packed my travel sewing kit, so ready for emergency crafting!
It's getting close to noon, so time to walk back so Reagan can do her programming work. As we approach the hotel, I point to a window and say, "That's our room." Reagan stops walking for a moment, shakes her head, and says, "You're a wizard, Harry." Bwahahahaha. This girl has zero cognitive map skills. She was honestly flabbergasted at how I could possibly know such a thing. *laughs* Later that afternoon, Reagan reached out by text to say her crudite eyes were bigger than her crudite stomach (she ordered a second crudite plate at the swanky rooftop bar but couldn't finish it), so I was invited to the rest of it. And that's how I ended up emergency crafting at the rooftop pool deck in the afternoon. Ha. Then Reagan's off to 6:30pm dinner reservations with Dan (asking me not to eat at hotel restaurant so she can have alone time with her friend). I explain that's not a problem, as I'm planning to explore.
Wandering along the water, lovely sunset. So many little lizards!! Wearing my anthropologist hat, there is much interesting Spring Break people watching. Yikes, but entertaining. Multiple emergency vehicle responses (and it's not even 9pm), and drunken dudes stumbling. I get delicious takeout from a Cuban restaurant. All the tostones! Wandering some more and alarms start going off to announce the drawbridge is about to open. And I see a jeep run through and around the guard rails. Yikes! Driven by an older white guy in a tropical shirt and flip flops, with one foot on the dash board. Peek Florida, baby!
Back to the hotel room. At 9:30pm Reagan texts to say that Dan's train was late and then he had to check into his hotel, so they're still at dinner. I wish them a good night. At 11pm, I text to let her know I'll probably be asleep when she gets back. We make our timing plans to meet in the morning so we can head to Port. That's a wrap on Fort Lauderdale for me.
So, the exciting thing (to me and about 2/3 of the attendees, per the online discourse) about the nerd cruise is that, a few weeks before sailing, they announced that they were going to require masking for indoor spaces. Phew. Huge relief for more vulnerable folks, and good covid safety in general. Some people were bummed, but still willing. Nice to have a boat full of nerds, who are science and community minded. We basically had to sign a Kindness Pledge to attend. (Be respectful of other people, of staff, of people's pronouns, look out for each other, don't be a dick). At the port, so many colorful hairstyles, and different nerd shirts. Everone is enthusiastic and friendly. It's lovely. Made the mundane and tedious check-in process much more entertaining. Finally on the boat and we get to check out the view from our tiny balcony!
There's a basically mandatory "how things work" show on the main stage. During soundcheck, someone on stage says, "Let's just kill the house for one sec, okay?" And about 30 people in the audience all dramatically scream in pain or terror or holler "I don't want to die!" Ah, theatre nerds. I'm among my people. During the actual show, Paul (of Paul and Storm) basically tells everyone to pace themselves, and points out you literally CANNOT do all the fun things.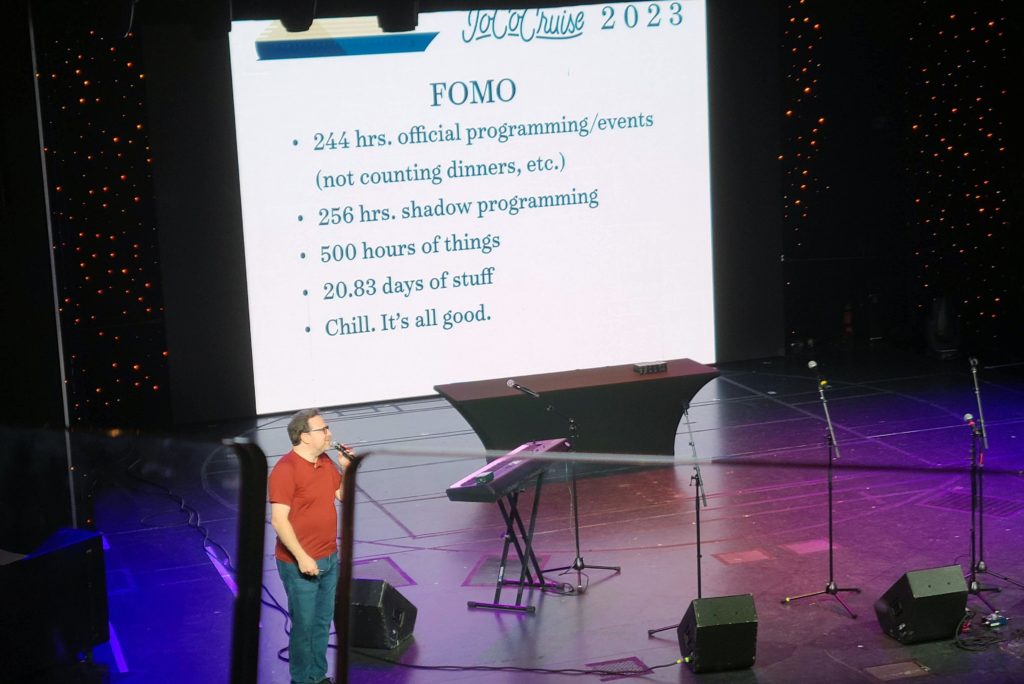 This is a stacked festival/nerd convention schedule, plus there's an official "shadow cruise" of events run by attendees on a wide variety of topics (Everything You Ever Wanted to Know About Guide Dogs. Secret Life of a Cruise Ship Employee. How Book Covers Are Designed. Crafting Workshops. Improv Workshops. Concerts and Karaoke. 24-hour board games. Arcade game section).
Then it's time for the "Sail Away" party (Reagan chooses to stays in the room). It's the only time the ship offers free drinks (although I'm pretty sure the bloody mary was just tomato juice. Perhaps the glass was waved in front of a bottle of vodka, but there sure wasn't much in there). And DJ Riz Rollins (from Seattle's KEXP) is the JoCo DJ. So that's wonderful getting to see him, and hear him picking songs. Parasocial relationships are strong and all the KEXP folk feel like family, so learning Riz would be on the cruise was delightful. When "Come Sail Away" plays, everyone sings along. It's silly and wonderful.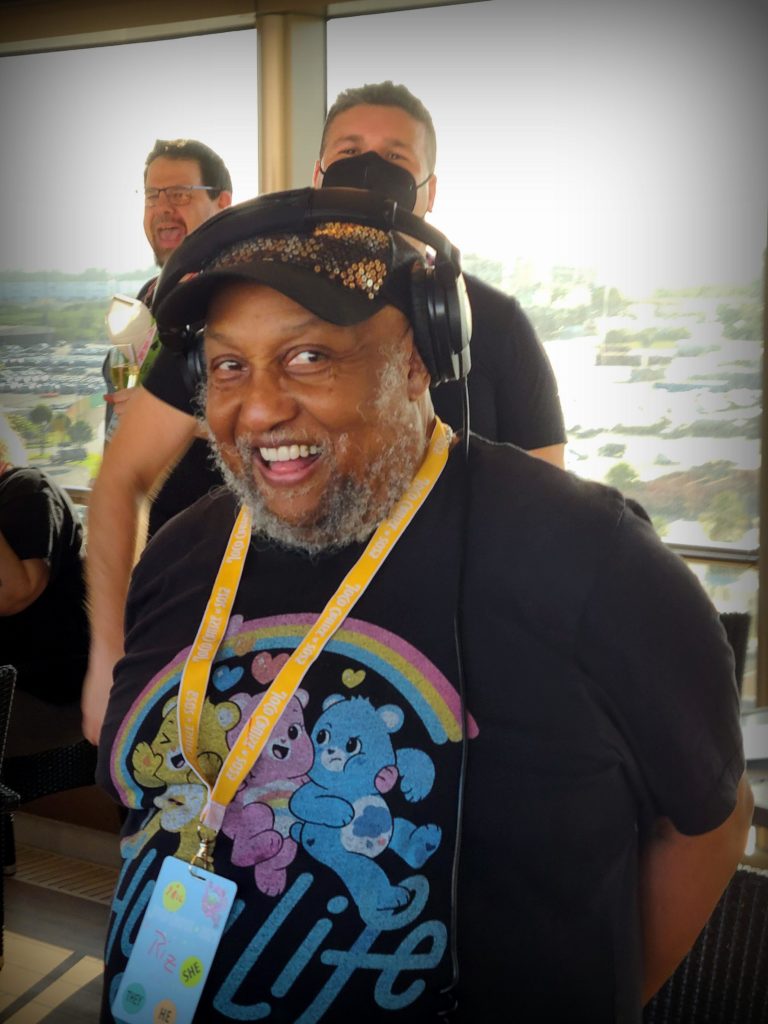 Our name tags have an "ask me about" section to help foster conversation with strangers. And everyone is given "Yes" and "No" buttons, to indicate whether someone wants to "do friendship" right now, or not. The cruise is super friendly to the introverted and neurodivergent folks. I was also "treated" to a lecture on IPA beers from a white guy in his 60's. He was super enthusiastic and excited (also his first time on the cruise). His daughter goes every year, but he's recently retired and so he and his wife could now join. Honestly, it was just fine. I could occassionally get a word in. (and y'all know that's impressive, when even I can't get a word in). But he was so excited, and so supportive of the cruise and everyone on board, it was lovely to see. Proudly pointing out his adult trans daughter and all her friends. His "ask me about" was cars, but I suggested he add "beer" to it, which he did. *smile*
After a few more "sing along" sailing songs, it's time to head to the dining room and meet Reagan for dinner. Promenading along deck at sunset. Then it's the opening night show. Best comment taken out of context goes to Aimee Mann, "There's no way I'm NOT getting into those panties by the end of the Cruise." Ha. Paul and Storm have a song about being the opening band and how nobody tosses panties on stage. So of course their fans bring underwears to toss on stage. And Paul grabbed the pair away that Aimee had been inspecting. It's just a bunch of silliness. Plus Marc Evan Jackson cast himself as official villian, and would wander onstage to offer his brand of dry criticisms. After the show, Reagan walks up to a nearby bar. Orders a glass of milk, pulls her mask down briefly and chugs the whole thing. Then heads off to bed. Ha! The JoCo folks have made a variety of funny custom elevator rugs for the Boat. And there are nerd decorations everywhere. Some provided by the official team, others from attendees. Including these inflatable animals everywhere. I decide to try to get a selfie with as many as I can. At karaoke of Nirvana's "All Apologies," the "everyone is gay" line gets the biggest applause ever. It's a very free to be yourself cruise, safe and celebratory space for people in all their delightful varieties and truths. Lovely.
The next day is "Captain Day." Guests encouraged to dress as the Captain of their choosing. I dressed as a pirate.
Captains I saw: Picard. Kirk. Caveman. Kangaroo. Crunch. Planet. Davenport (from The Adventure Zone podcast). Marvel. Stubing. Aquatic Life with Steve Zizou. Mighty Ducks Conway. Stede Bonnet (both solo and in couples costume with Blackbeard). Two different people in Nemo (the fish) costumes with captain hats. Captain Obvious from the commercials. Leela from Futurama. Malcolm Reynolds. Some Star Wars Captains (I don't know enough to know which full armor outfit is which). Also a couple wearing a stack of ten baseball hats "Cap #10." Well done!
At the Schmanners podcast panel "Recently at work someone said 'cow-tipping is a rich man's sport' and it ground a meeting to a halt. When queried further, she elaborated, 'you'd have to be pretty rich to know where a cow is.'" WHAT?!? It's a month later and I'm still thinking about this.
Walking the hallways is basically like Nerd Trick-or-Treating. In addition to the gift exchange sign ups (see this amazing knit alien on a headband someone made for me),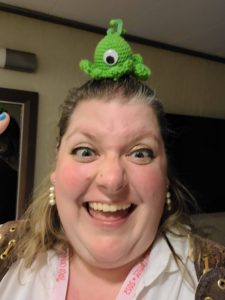 there are all kinds of giveaways posted on different people's doors. There's a "Pharm-a-Sea" where people are offering a variety of over the counter medicines. The onboard ship forums are full of a barter and gifting economy. "I have stain remover." "Safety pins and ginger candies available at my room." Small felted frogs. Custom flavored salts. Charm bracelets. Knit toys. Book and art exchanges. Just wonderful.
Chatting with a staff member, he says to me, "This is the Most Fun this ship has ever been!" I concur. And explain all the guests basically have to make a kindness agreement to come along. He sincerely touched his chest over his heart and says, "it makes ALL the difference. The costumes are pretty great, too." As the cruise goes on, several wonderful interactions with staff. A young non-binary person working the theatre door, has gotten to add the JoCo They/Them stickers to their name tag (as it's not a thing Holland America offers). They were so excited, having met so many kind people, gained lots of new resources, and a huge list of Etsy sellers based upon different cool outfits and accessories everyone is wearing. "It's a good thing I get paid tomorrow!" A bartender tells me this is his third JoCo and it's one of his favorites. A couple I meet walking the deck have been attending since almost the beginning. And they said some staff ended up booking to be passengers on future cruises because they're such a celebration of fun and silliness.
Speaking of, that afternoon is the Fancy Pants Parade. The Jonathan Coulton song can be played here. Basically, anyone wearing Fancy Pants is encouraged to join. And they play this short silly song on repeat, while folks parade and dance around the pool. It's so silly. And everyone is smiling.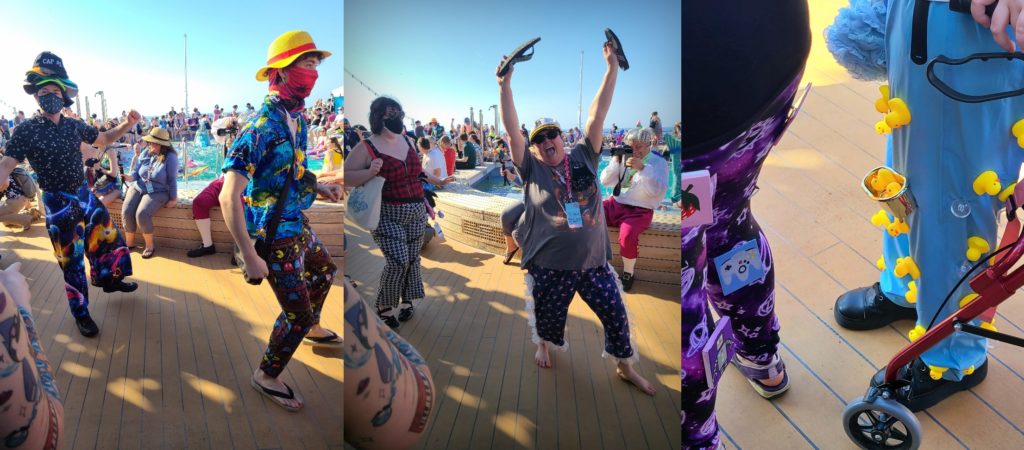 ALSO, several guests are big into Mermaid Cosplay. So there are always several full-on mermaids at the pool (or the beach) which is magical, too.
Reagan booked us dinner in the fancy steakhouse. And ordered this "hanging candied bacon" appetizer that bemused me.
At the time of booking the cruise, Reagan had to pick Gold or Red Team. She arbitrarily picked Red Team and it was totally the right choice. That first night we learned that things get hyper-partisan (in fun competition) between the two teams. Everyone starts chanting "Red Team" and we quickly join in. The Rainbow Girls band relay how Paul warned/described the two teams to the performers. "Gold Team are all very sweet and timid but trying to be supportive. Total Hufflepuff energy. And well, Read Team. *meaningful pause* We picked the wrong color, because they're totally all Slitherins. Agents of chaos." Bwahahaha. Gold Team sees the concert at 5pm and has dinner after. Red Team has dinner at 5pm (which is admittedly early) but means it's a 7pm concert, which leads to a more party atmosphere. The first night they draw a random name to be team leader. Our leader is a red haired white woman named Robyn. It's her first JoCo and she's here on her honeymoon. On Halloween costume themed day, their pre-packed costumes were Jessica Rabbit and Roger Rabbit. Amazing choice in general, but especially as it now meant Red Team Leader is wearing a long red sequin dress! Too fun. She totally took to the assignment, and would wander the crowd, hyping people up before the show. Even walked onto stage a few times to get the crowd riled up. Judging from actual performer reactions of surprise, I'm guessing Gold Team Leader was not performing on stage. Ha!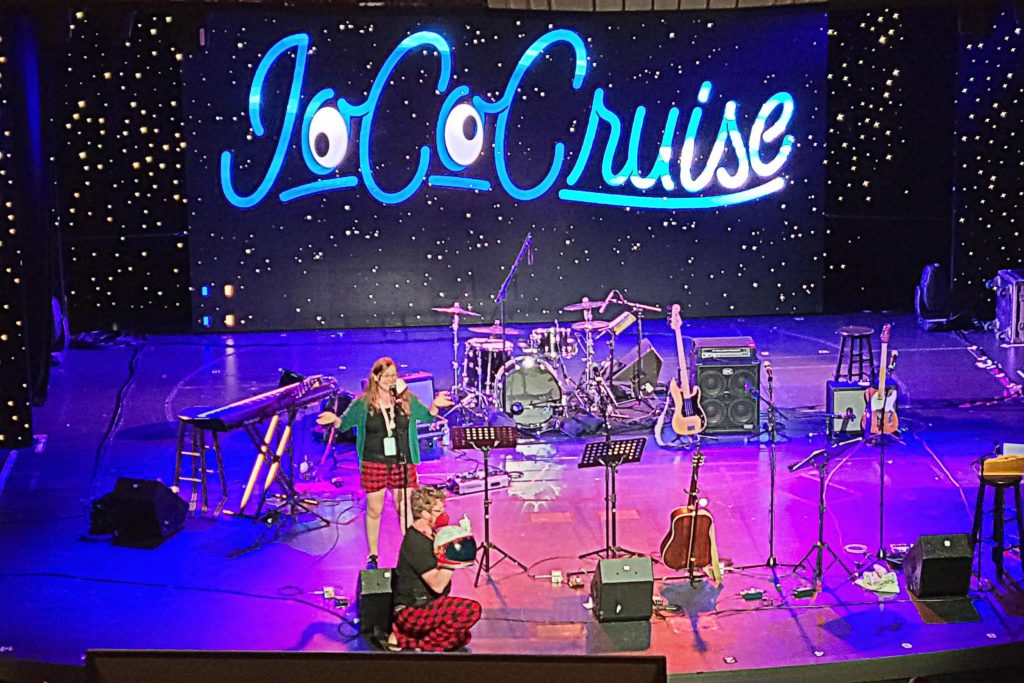 During Josh Gondelman's comedy set (on Captain Day), he reacts to the energy of Red Team vs earlier Gold Team. "Y'all are like, Fuck Cosplay, We're Pirates for Real!" Later, Gondelman says anytime we see him pause and stand still on the stage, it's not because he's forgotten the next joke. It's that he's trying to decide if the swaying is because of the three drinks he had, or because Boat is rocking. Basically the whole audience started chanting "Both! Both! Both!" right away. At a speed of collective agreement that impressed and disturbed him, with our mighty groupthink!