First full day in Lisbon, and only day with predicted sunshine (*shaking my fist at tropical storm Danielle, although guess I'm glad it downgraded from a Hurricane before getting to landfall). Off to explore, sunscreen and protective hat in tow. (My dermatologist would be proud!) Our hotel is near the Avenidas da Liberdade (lovely large boulevard, with mosaic tiles sidewalks, cool old buildings, and tons of fancy high end shops. Someone described it as the Champs Elysee of Portugal), so it is a pretty wander. At the waterfront, there is a stall full of pineapples. Fresh juice sounds great, and we (or rather, I) made the classic tourist mistake of Not asking the price before ordering two. (No prices were listed). After machines whir, the woman hands us two hollowed pineapples full of juice. Oh, we'd expected regular cups. Then tells me it's €20 for the pair. Eek! (There's no alcohol involved and Portuguese prices are normally super cheap. Example it's been €3 for wine and coffee at many streetside cafes). Ah well. So we take obligatory photo to commemorate.
And I hide from the sun in the small shadows cast by the few trees while I drink mine 🙂 Made our way to the Time Out Market (a trendy tourist stop, sponsored by the Events magazine, full of pop up food and drink stands). Erin had learned there was a spot selling gluten free peri peri chicken. Unfortunately after wandering the whole place, that stand seemed to be gone. 🙁 But she got some tasty sushi and I had a decent sandwich. Then off to see Belem Tower.
On the ride over, we're noticing this strange fog obscuring the land across the bay (river?) and other half of the bridges.
By the time we arrive, Belem is shrouded in thick fog. It's mystical and cool, but definitely means we don't need to pay to wait in line to climb to the top. As the view would be non existent. Ha.
So we wander over to check out the monastery. I'm not sure what to expect, but it's been on all the lists and is only a half mile away. Lines to buy tickets and then two big lines to enter. We just get in one of the queues. Turns out one goes inside to the cloisters/monastery, and the other is for the big chapel/church part. We inadvertently picked the inside the monastery line and that was the right choice. It was flipping gorgeous. Intricate carvings everywhere. Lacy stone archways creating beautiful views in all directions.
And the sunshine is creating beautiful shadows. Truly a special place.
And amazing exploring the building, too. Some internal shrines and confessionals, etc.
And several tombs to prominent people. All of whom seem to be famous poets and writers, which is just super cool.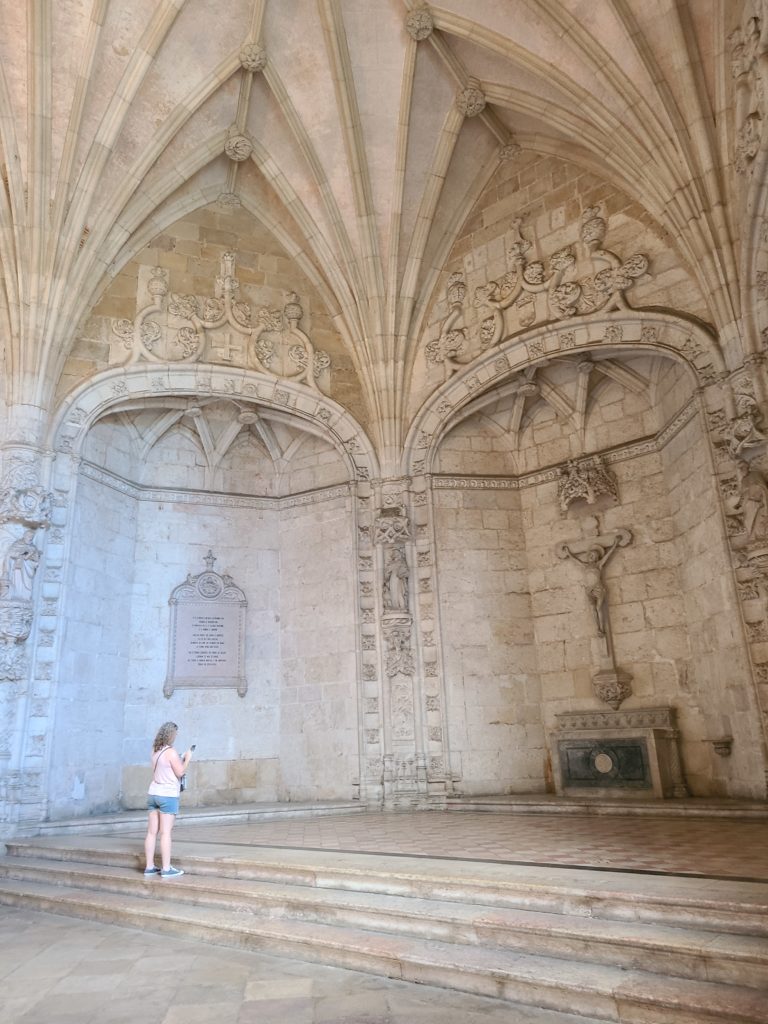 Once we're done exploring, we can peek into the chapel doors as we exit. The line to enter the chapel is even longer. And that mid-day sun is no joke. We decide we don't need to wait to see it, and head back into main part of town, so we can explore the Castle of St Jorge (George). Took an Uber back, and the driver was super excited about that weird fog/mist we'd seen earlier. Said it only happens a few times a year. So…yay, I guess? It was cool, although I'd have liked to see the view from Belem Tower, instead. :)The Uber can only get so close to the castle, up the winding cobble alleyways. Many of these roads sure don't feel like they'll fit one car, but the drivers manage it, somehow.
Then we hoof it up the remaining hills!! Ominous grey clouds overhead, and the fog across the water, but some lovely views across Lisbon.
Recipe for Portugal: Step 1: Find the tallest hill. Step 2: Build a Castle. Step 3: Repeat. Also, the castle has free ranging peafowl, which is still magical. And the white necked peahens are particularly lovely (maybe just their uniqueness to me, as I'm used to the peacocks more). It was a very nice day.
The next morning is predicted thunderstorms and rain showers all day. We breakfast at the hotel, grab our books, and then wander in the rain to a nearby coffee shop. Covered sidewalk patio makes for great people watching and nice relaxing, watching the rains pour down in bursts.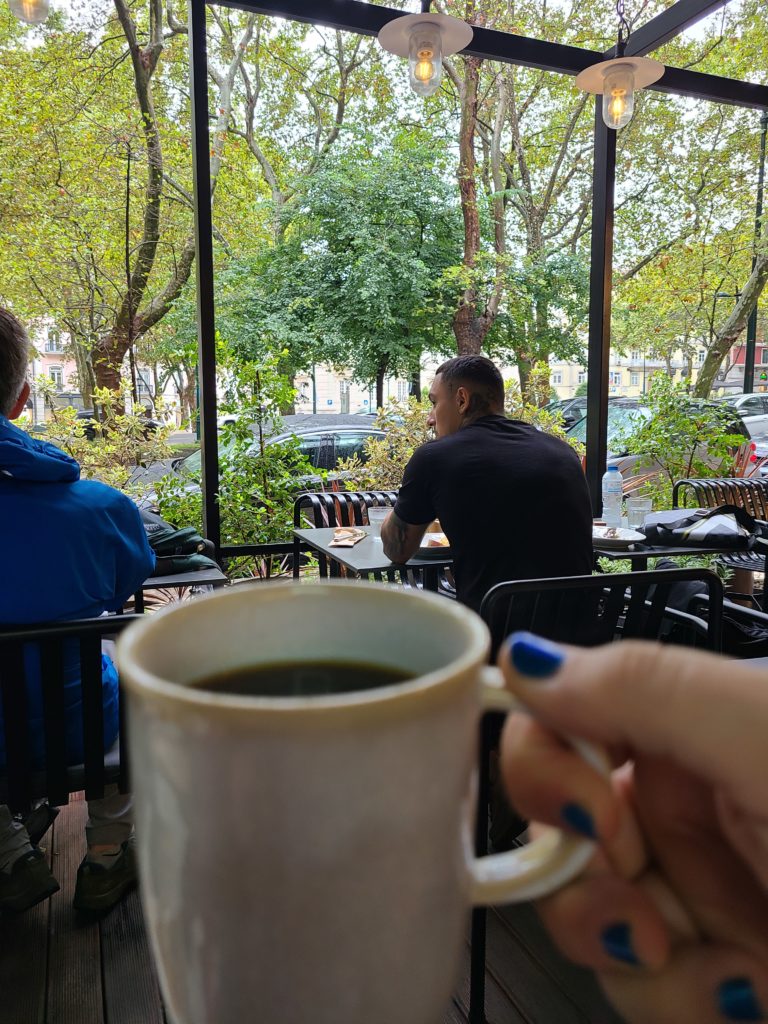 (The rains make the tiles mosaic sidewalks extra slick…which I. Do. Not. Like!!!!) After a few hours there's a break in the weather, and we wander under grey skies to find a lunch spot. Also, I've discovered that my longtime packable rain jacket has lost some of it's rain proof coating (taking jacket off at coffee shop I discovered one arm and the other shoulder were soaking wet). A bit of Googling confirms that Plus Size clothing isn't super available here (I'm not sure I even want to spend €200 on a North Face jacket here, and am getting mixed info on whether the European XXL is actually only a USA XL size. Ha). But several forums suggest the Cortes de Ingles mall. As it's not currently raining, only ominous clouds, we walk the 20 minutes to get there. The sporting goods store is busy, with big crowds around the zip up rain jackets. Turns out many people weren't prepared for these unseasonable rains. The largest sizes are sold out, and so are the ponchos. 🙁 Off to explore more of the mall, then. Which is Large (10 stories, 7 above ground and 3 basement levels) and many of it is very fancy, and the quest for a men's plus size jacket isn't going so well, but it is interesting, wandering through all the different sections (it's like one Giant department store, and every 10-20 sq feet is a different designer or section. Didn't feel like paying €280 for a Lacoste brand zip up. Ha. But actually lucked out and found, when exploring the purses and umbrellas section (Erin's idea), a small cash register display of €5 plastic ponchos. Done! A wistful moment as I have 4 ponchos at home (durable cold weather, durable warm weather, UW Huskies, and Seahawks). None of which I packed. Why would I, when I brought my rain jacket. Ah well. Mission accomplished!
Then more exploration of the other floors of the mall. Interesting food court in the basement and then a super fancy food court at the top level. Portuguese version of a Target in the basement, and then a bougey foods store up top (in addition to caviar and other imported finery, there are some canned escargot sold in a package with empty cleaned snail shells (so you can presumably stuff the shells and pretend you didn't get your snails from a can!!!).
We've still got over an hour before our dinner reservations (Erin found a gf Italian restaurant that looked tasty), so we wander nearby garden parks. Great view of town.
Then we spy more interesting castle-ish buildings (atop another hill) at Golden Hour.
Wandered down a large avenue full of graffiti street art, including a gentleman actively spraying and painting one. Not a thing I normally see in broad daylight. Although I was bummed to see that, while street art is still plentiful in Lisbon, it is all mostly decorative names and words/tags. In Porto, it was actual pictures and images, which I find more interesting. Ah well.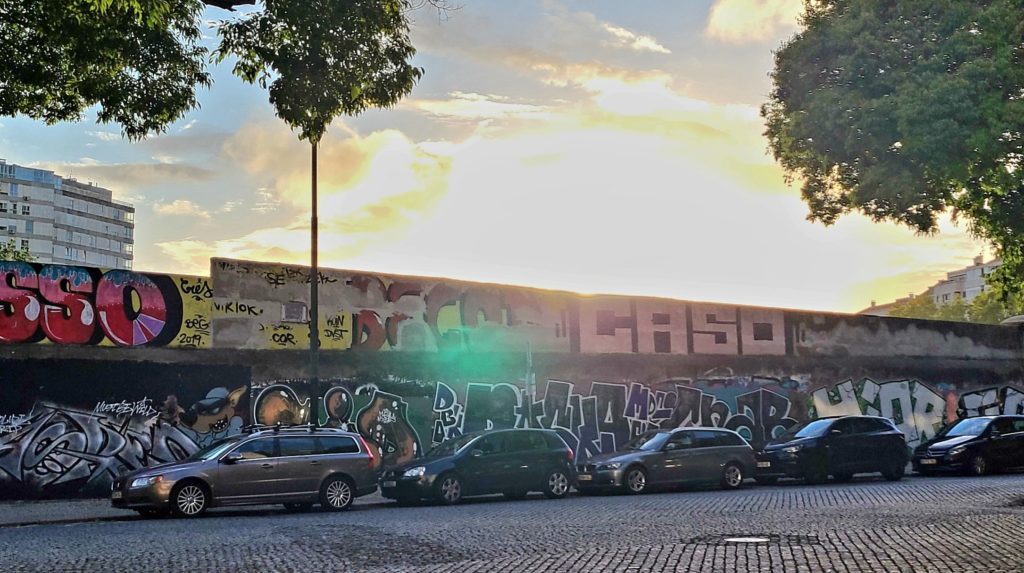 Lovely Italian dinner. For dessert, I had a lemon and basil flavored gelato, that was green!! And delicious. Tasted bright and acidic and perfect. Walking the 25 minutes back to our hotel in the dark evening. Erin notices all the traffic lights (& crosswalk signals) are out at a Very busy intersection. (A four lane highway meeting a four lane highway). Now, Portuguese drivers have a well earned reputation, and crossing the road has always been a bit "exciting," but this is something else. Instead of power outage means it becomes a 4 way stop, no working traffic lights means it is a Free For All. Like the road version of "The Purge." All drivers, including the buses, are going full speed through the dark intersection. Eek! We're able to find a gap in traffic and make it across the street. But for those few blocks, it's wild observing the racing cars. Somehow it all worked without any accidents, at least while we were there.
Up early the next morning for our full day tour of Sintra, Pena Palace, and surrounding areas. More rain and thunderstorms predicted. Now, I've been to Portugal once before. In 2003, lucky enough to spend 3 days in Lisbon, and we did a day tour to Sintra then, too. During that trip, there were horrendous rainstorms and the Palace had a power outage, so we were not allowed to enter. And I have distinct unpleasant memories of being scared slipping my way down the rain slick steep paved and tiled walkways. 20 years ago I had a moment where I was convinced that I'd just live in that part of the Palace grounds forever, as it was too scary to keep walking. And now, with the tropical storm forecasts, I feared I'd be repeating the experience. And the skies were Dumping Buckets of rain when we arrived at the Palace grounds. Our guide and driver were both very surprised and worried. Said they've Never seen it like this before. Debating whether the tour should even try to continue or not. 😮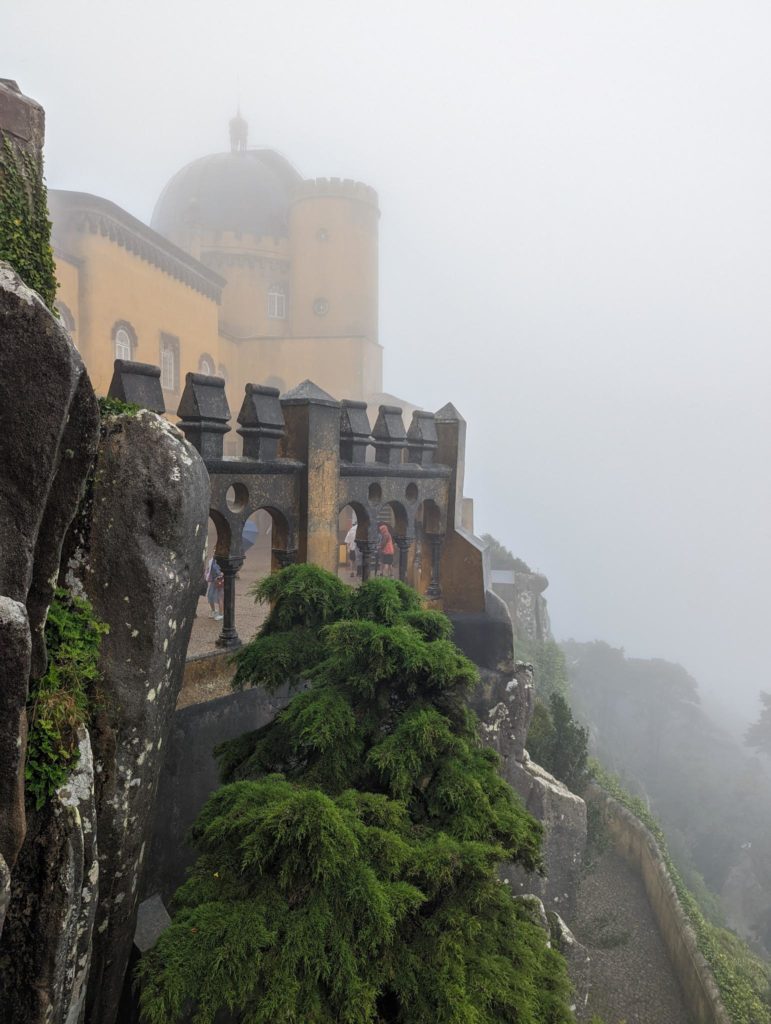 But it's decided we'll all attempt it.And we made it through! And they didn't lose power so I was able to actually walk around inside. It was cool (and the inside parts were lovely). Although I definitely had mid-level thrumming anxiety the entire time, knowing I'd need to walk my way back down that steep slippery hill. Ugh. Any photos taken during this stage are entirely from Erin. I kept my head down (covered by my poncho) and focused on survival. Ha. Which I knew, even then, was likely overly dramatic, but it was my internal Truth. 🙂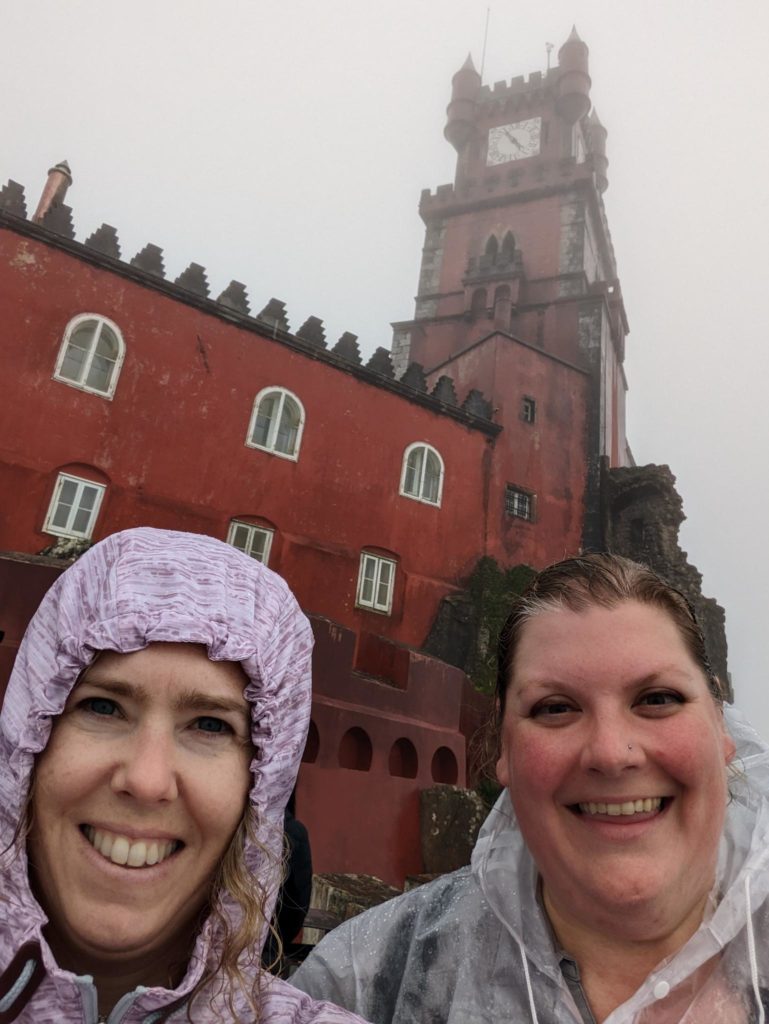 And happily the Heavy Dumping rains let up. But the hills were still damp and slick. Still, did it!!
Then off to the town of Sintra where we had 90 min of free time. The road through town is mosaic tiles and straight up. Once we got to the top, I stopped. Erin explored more but I just waited for the restaurant to open. Only gonna attempt walking back down the one time. Have I mentioned Erin's a great (and supportive) pal? At lunch, when finished eating, she smartly suggested I could start making my scared slow way down the hill, and she'd stay behind to get the bill and pay. Very smart. 🙂 The sun even started thinking about coming out.
Next we were off to explore a millionaire mansion. (*Insert name here, when I look it up). Our guide said the extensive gardens and grounds were the real treasure and we'd only spend about 10 min inside. She was right. The garden spaces were super cool. Designed upon the theme of Dante's three works, so we've got Inferno, Purgatorio, and Paradiso about. Plus TONS of symbolism from Knights Templar and Masons.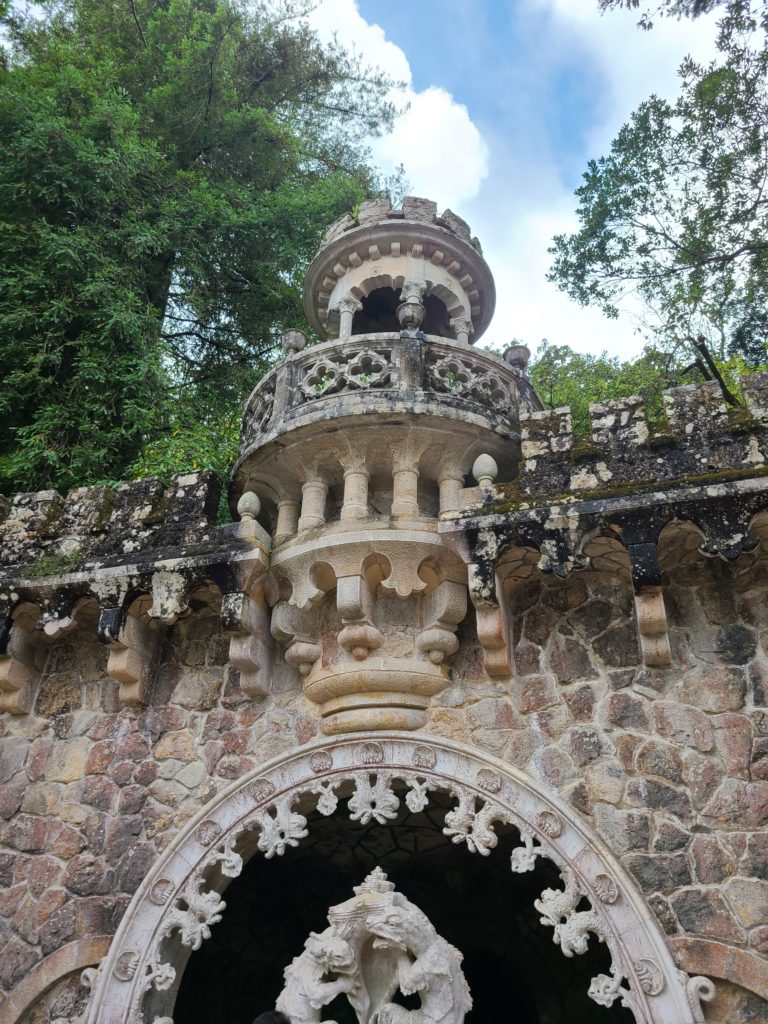 Super interesting and lovely things, everywhere we look. More hills and slippery, but not as bad. Then this 9 level circular stairs well tower.
We did descend down the 9 circular levels of the well (which had the slick marble stairs in near darkness on the last few levels, as we were so far from the sunlight at top). But Erin again was a rockstar, and waited with her flashlight to help me see the steps on the final two levels. Yay! Then exploring some of the manmade caves and the four wells themed on the elements of fire, water, earth, and air. When we emerged, Erin turns with a big smile, "Tracy, you survived Hell!!!" Ha. I did indeed.
Last tour stop was Cabo da Roca (I heard our guide say "Cabo da hot tub" but new that couldn't be correct). It's the westernmost point of European continent. Driving through some twisting mountain roads…that are supposed to be one way (except for police/ambulance). But we passed several cars going the other way. Sometimes Very Fast around blind corners. And often only room for one car, so some sketchy choke points as others try to squeeze past. Our driver was quite exasperated. Even had a big flatbed hauling a mini excavator try (and barely succeed) squeezing past the Peugot in front of us!! The "end of the world" spot was lovely. Sunshine and intense winds!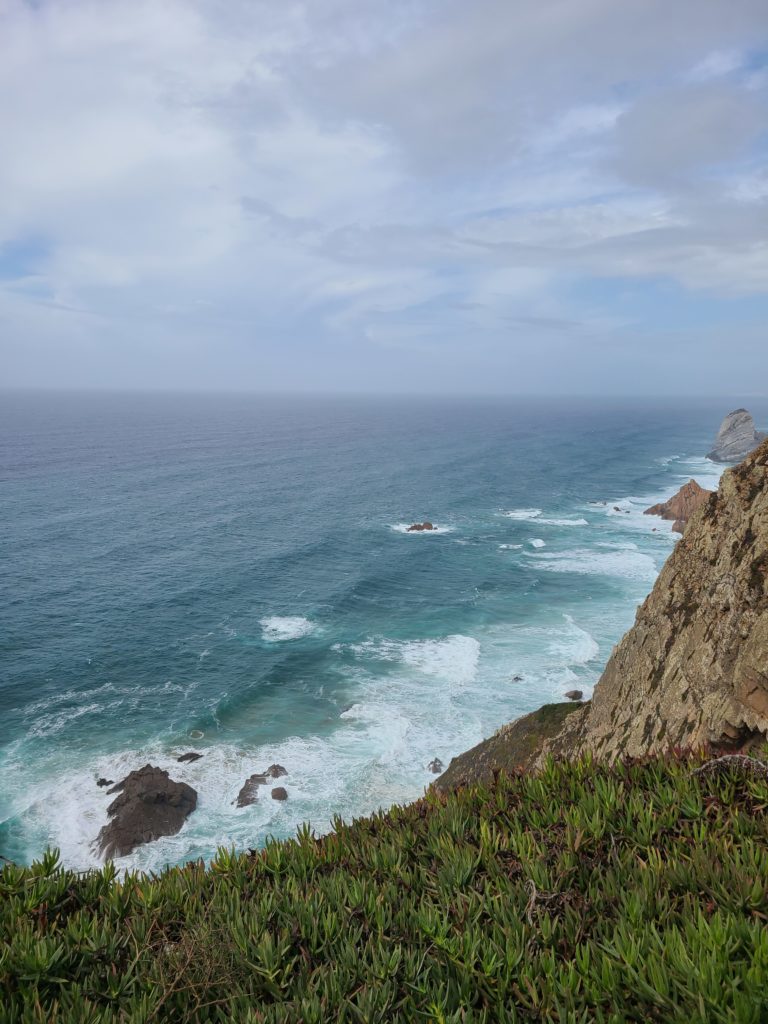 Nice weather and beautiful ocean. On the hour drive back to Lisbon, I was basically group nap time. Ha.Final dinner in Lisbon. Brazilian shrimp stew for me. Marked as spicy on the menu, but I think they gave me the white lady version (or Covid gas secretly attacked and stolen my heat taste buds!). It was still flavorful and delicious. Lovely night time walk through Lisbon. All the buildings lit up looked fantastic. Erin found a late night gelato place that was 100% gf, so she even got to enjoy her ice cream in a cone! Street performing dance troupe. Cool pleasant vibes all around.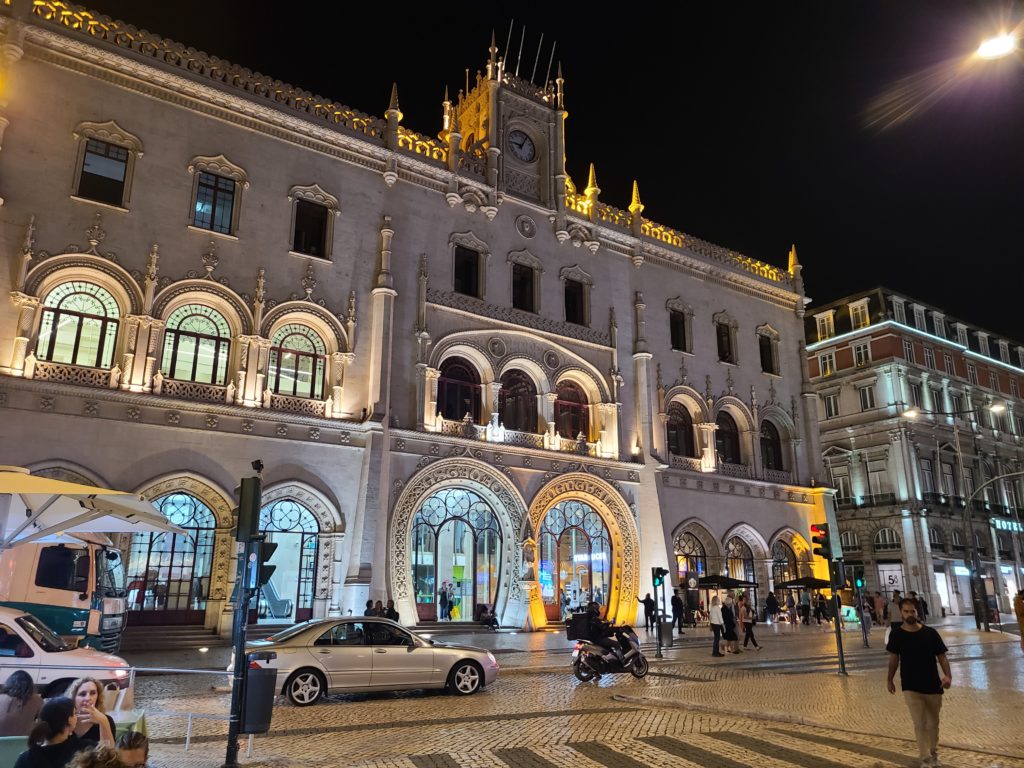 We didn't have to leave for the airport until 3pm, so got to have a leisurely morning. Then off to find some Portugal futbol gear for Erin's prizes. Then we hit the aquarium. (Oceanario). Very cool area along the water, was built up for 1998 World Games. Some interesting large statues and things.
Brilliant unexpected sunshine (was supposed to be more rains), so I wasn't wearing my sunscreen, as we walked the boardwalk along the water, nary a patch of shade to be found anywhere. Don't tell my dermatologist! (I at least had my hat, which I'd brought for rain, but still provided some protection. *Smile*) The aquarium was cool. Penguins and sea otters and artic terns, as well as the expected Lots of Fish.
Not quite as cool as some reviews had led me to believe (but perhaps my expectations were too elevated?) It was still a decent way to spend a few hours. And had a lovely gift shop (I do enjoy a zoo/aquarium store). Plus I had €50 left in cash that I'd been planning to have to spend at the airport. So this was a way more fun way to spend it. Plus I was supporting their scientific research. 🙂
Then lots of predictable airport waiting. Delays. Then off to the gate. Then down two flights of stairs past the gate. To get on a bus. To a bit of tarmac where we're told it'll be 20 min+ before we can actually board the plane. A man asks if they'll at least open the bus doors, as it's quite hot. Driver is worried. We all Promise To Stay On the Bus!! So he agrees. (the other 3 buses that came after us didn't get to have their doors open, so we're presumably more sweaty and unpleasant. Ours wasn't too bad…just very crowded. And it as a a Busy section of tarmac, with vehicles whipping about all around us. Finally onboard. Then we're informed another 20 min delay or more because of thunderstorms. Ah well. We eventually make it to Heathrow. Delay getting our luggage. By the time we make it to airport hotel, we've got about 6.5 hours before we have to leave the next morning for our flight to Gibraltar. But that's okay! Final few days of holiday are about to begin. Yay!