Remember that first covid winter. Vaccines have just become available for frontline workers (I think) but it's still gonna be a few months until civilians are eligible. And it's been a long dark and isolated winter. Craving some type of getaway, I found an Airbnb in Oak Harbor. So my housemate and I, having been trapped together for months and months, are excited to mini-roadtrip together. Lovely cliffside view of the water, private, and they even have a hot tub. So in early January we book for two nights mid-Feb and have this lovely thing on the horizon, a candle of hope in the future. As the date is approaching, we are getting excited, but still nervous about going places in this covid world. Then, weather disaster. The Seattle area gets hit with Valentine's weekend snowstorm. My heart just breaks for all the restaurants, who somehow managed to stay open on TakeOut only, and who planned elaborate Valentine's Day takeout meals (with fancy, expensive ingredients). And now folks are trapped at home, those ingredients are going to spoil. It just was such a kick in the teeth after a rough year. Also, our reservation started right after Valentine's Day, and my little Prius is NOT a snowmobile. My older sister let me borrow her pickup truck, and I'm frantically checking road reports. Found an adorable Oak Harbor traffic group on Facebook, offering realtime updates on the icy snow-capped roads, offering snow plow services, and tractors that can help pull the spun-out trucks out of ditches. It's a sweet little community, and I'm just hoping things will be better/more melted before we're supposed to leave. And the universe obliged. Awoke to sunshine and melting snow. The road reports are slushy but not icy. So we pack up the truck and head out.
We arrive to some INTENSE winds. Intense, rip the truck door out of your hands type winds. Intense poor neighbor's dog is just trying to squat and do her business but the winds are blowing her over. Intense it takes two of us to get the house door open winds. But that sunset view from the cliffside was amazing!
Here's a windy video:
We'd gotten some pre-trip communications from Airbnb host about winds and how to keep sand out of the house, but we're flabbergasted at the intensity. There's a house under construction down the block and I'm not sure how the workers wouldn't be blown over the cliff while trying to put the frame up! Turns out, this was an actual WindStorm and not their normal cliff top regular winds. Phew! Our next two days are much calmer. But we don't know this yet. Instead we head into town to pick up TakeOut Thai food for our evening Vacation Feast. (Also, you could tell you were more than an hour outside Seattle. It's been years since I've seen styrofoam containers in use. Like, is this 1982?!? Oak Harbor, y'all haven't heard of the environment yet?
Good playlists led to an indoor room dance party, too! And then sleeping with the sounds of the windstorm battering the little house, hoping we won't have an Aunty Em situation.
The morning provides calm gorgeous weather. We head off to explore. The Price Sculpture Forest in Coupeville is great fun.
This free to visit bit of forest land, with walking trails and various art along the way.
It was great fun, and we appreciated that it was outdoors and isolated, as it was a weekday.
'twas enjoyable, even if this one person in the guest book was NOT impressed.
Bubba's Burgers food truck provided a tasty lunch, and the view from this beach in Freeland was hard to beat.
And we found some deer friends! I know folks with lots of wild deer around consider them pests, but I still think they're magical, even if they do eat all the roses.
At Golden Hour, we found ourselves exploring Possession Beach. The Red Winged Blackbirds were so vocal and so active, and the lighting and scenery just phenomenally gorgeous.
Felt really special. We just live in the best state, hands down. Also, this unseasonably warm sunshine felt extra precious as we'd literally been under several inches of snow 36 hours before. Wild.
Exploring the beach. Smelling the smells. Just lovely.
Ended our Island roadtrip in Langley, where Nichole made a new friend.
And I was super super tempted to ring the "Ring This Bell If You See a Whale" bell, but I did not. Tempting though. Part of me felt that the very act of ringing the bell would Manifest a whale sighting. Who knows?
Back at our rental, we get to enjoy the hot tub and starry skies. After my shower, Nichole gives me my first haircut since lockdown. I tell her, honestly, that I'm not precious or concerned about it. I just would like to lose several inches. Just hoping for maybe collarbone length, enough so I can still pull it back into a tiny ponytail. She agrees, but is nervous about it. And keeps chanting "tiny pony" under her breath while I get my outside haircut. Ha! And she did a great job. It was nice to lose some of the length and freshen up. And we then retreat to our rooms for our final night of the getaway. The place was decorated in all kinds of beach kitsch, and so Crab Throw Pillows and Seahorse mirrors lulled me into dreamland.
Final morning, not a bad view for coffee.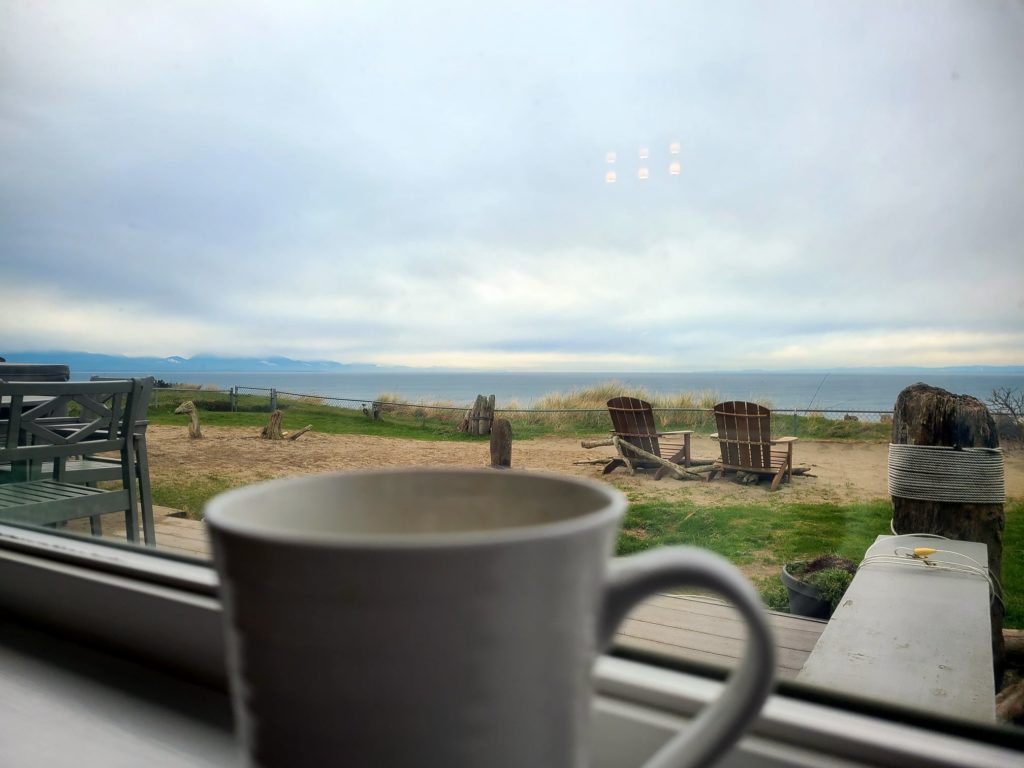 So grateful for the ability to have a relaxing getaway while staying covid safe. And that the snow cooperated and melted just in time. Also, it was fun driving around Oak Harbor in my sister's big Toyota Tundra. I fit right in with that part of Whidbey Island, as we're near the base. We took a leisurely drive back, exploring Deception Pass, wandering across the bridge, getting takeout from the shrimp shack there. While the snow is gone, the colder temperatures have returned. We really did just have that magical day of pleasant weather, allowing us to explore all over Whidbey Island. Stopped at Bay View State Park on the way home, getting the most out of Nichole's state park Discovery Pass.