October Birthday in Las Vegas
Providing caregiving for two family members is all encompassing and exhausting and hard. End of August, my sister mentions it'd be really nice if she and I could go on a getaway, but says there's no way we could, because who would be able to look after the folks. But I was sure we could get help and do a weekend getaway. So we started thinking about where to go that was a short travel distance, as it would need to be a shorter trip. We decide to go for my actual birthday weekend, too. And while I'm kind of convinced that Las Vegas is the worst place ever (or rather, full of some of the worst people behaving poorly), one can sure be a total princess and enjoy nicer hotels for less than other destinations, plus lots of great food and shows. That's how we ended up spending a long weekend at The Cosmpolitan hotel, which hadn't even existed last time I was in Vegas a decade ago. And then, after both of my parents passed in September, it was really wonderful to have this upcoming trip already scheduled. A bright spot, something to look forward to, and a break from reality (plus the fact that we were going together would be great, so if either of us was having feelings, we'd both get it. Safe space!)
Our flight was supposed to leave Saturday around 11:30am. It was so refreshing to go to the airport in the daylight and not have to get up at an ungodly hour. At the gate, Alaska was looking for volunteers to take a later flight. I ask Reagan if she's willing to hang out at the airport for 5 hours, as the later flight we would be upgraded to first class and get a credit for a future flight. We discuss and I mention we could read aloud to each other to help pass the time. Here's the thing: when mom was at the hospice facility, I grabbed three beloved novels from her shelf ("To Kill a Mockingbird," "A Tree Grows in Brooklyn," and "Captain from Castille") and brought those with me the 2nd night. Reagan picked Captain from Castille, a ridiculously fun historical epic swashbuckling novel by Shellabarger, starting with the Spanish inquisition and then sailing with Cortez. I found it in a used bookstore when I was 13 and devoured it. Mom loved it, too. Then the next summer, after failing to get Reagan to read it on her own, we would read it aloud to each other while the other played Nintendo games. We were super cool kids, obviously! I even wrote new lyrics to an Erasure song, that I would sing at her when trying to entice her to more story reading (I believe I already mentioned we were super cool?!?). In any case, we would spend our evenings at Hospice, after all the days visitors had left and we were running out of conversation topics, trading off reading two pages aloud (Reagan, myself, and our sister Terri Ann). It was a truly special thing. There was real grace and peace in it. And the story is super fun and ridiculous. And it was such a wonderful peaceful way to spend our evenings with mom at hospice. A few weeks after she passed, Reagan asked if I wanted to continue meeting up to read the novel to each other. I agreed immediately. And so we were anticipating we might spend some of our Vegas time in the hotel room, reading this novel aloud to each other. (Remember, we are super cool).
With novel reading as one of our possible "kill 5 hours at the airport" activities, we are both fine with taking the later flight (This trip was really about taking any trip, not the destination, so it doesn't matter if we have less Vegas time) so talk to the front desk. They explain the credit is $150 and I point out the email Alaska sent the night previously had said it would be $250 (it's kind of a cool thing, their automated system was asking for pre-volunteers to delay their flight the day before, but we didn't do it at that time). Without batting an eye, the employee said, "Oh, okay. $250 then" which made me think maybe I should've asked for more? *shrug* Now, here was the stressful part about this. The 4 of us agreeing to the later flight are not guaranteed that later flight. They don't want to have to pay out unless they absolutely have to. Which means that they load the entire plane, all groups, etc. (which means ALL THE OVERHEAD BIN SPACE will be gone). But we have to wait around, in case someone doesn't show up to the gate in time, they will instead send us on the original flight (now without overhead bin space).That is very stressful to me. However, everyone showed up, so we were issued our vouchers and excited about first class in several hours. As she hands us our new tickets and vouchers, she gives us directions to the First Class lounge. Oh that's right! We'd both forgot about such things. Suddenly our wait at the airport is going to be even better, having a quieter more comfortable place to relax.
We got to go to the NEW Alaska Air lounge (it just opened in July) and it is a really gorgeous space. They even have this adorable airplane art on their espresso drinks.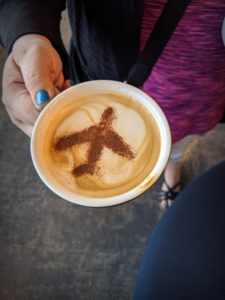 We sit in a cool sofa lounge for a bit, as we sip our coffee. But Reagan is too shy to read the novel here, it's too close to other people. But she found a corner near the bar that was relatively empty. And so we spend 2 hours reading to each other, pausing to watch planes take off and the grounds crew wash some airplanes, too. It was lovely. And the delay had us landing in Las Vegas at sunset, which was pretty striking.
The styling at The Cosmpolitan was very fun and a little unsettling. "it's like being a Black Mirror episode" Reagan observed. (Most upsetting was during our check in process. The lobby has these giant video screen columns. When we arrived, they were showing a foggy area with human shadows and shapes moving around (trapped?) and occasionally a palm would slam itself against the glass. Super creepy. During our three days we saw all kinds of different videos, and all the rest are super cool, from very cool bookshelves to cool electrical lights and starry skies, etc. So why do they have the trapped souls wasteland option?!?). The rooms were very nice. And location was great, being next door to Bellagio and Paris.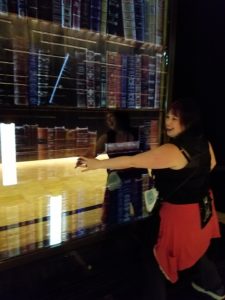 It's a weekend of wandering. The weather is perfectly pleasant (85* or less) so we walk along the strip the next day. Play lots of Pai Gow Poker. It's much fun. Sunday is my actual birthday, and we brunch at the fake French bistro at Paris across the street. It's surprisingly decent (and extra entertaining to me, as I was just in real Paris in June). Reagan hadn't been in town since the early 2000's, so we wander through fake Venice and the Wynn, etc.
Bellagio fountains. We headed to "old vegas" for birthday dinner at Andiamo Steakhouse. While it was quite nice, and a bit cheaper than some of the fancy steakhouses on the strip proper, that Fremont Street/old vegas just isn't my scene. It's so much smokier (how is that possible, as our lungs were hurting after being in town just a few hours) and full of more people gambling money that it looks like they shouldn't be gambling. I prefer the ridiculous fake fancy over the "Bro" spring break vibe. Still, the restaurant itself was nice. It's location inside "The D" casino made me chuckle, because I'm 12 yr old.
We took many selfies, and Reagan always accuses me of "just doing the same smile" in all my photos, so I tried to do different interesting faces this trip, to varying levels of success. And you'll notice she is often just making a regular nice smile herself. 
Reagan's friend had a pal working on the Absinthe show at Caesar's Palace and got us comp tickets for Monday night. Yay for a free show. "It's like cirque de soleil" we are told. After agreeing to the free tickets, we bother to look up details online. And we're suddenly both nervous. As this show proudly proclaims it is "not PC." Now, that could mean clever nuanced jokes that challenge expectations. But generally that means lazy hack jokes that punch down and are hateful towards others. I've never been a big fan of roasts or attack comics. Still, it's free and we agree we can just leave at intermission if it's too awful. And it wasn't too awful. It's more like "Teatro Zinzanni" in Seattle than cirque de soleil. It's inside a big circus tent, and they have a variety of 1-4 person circus acts happening in the center, with an MC throughout. The MC and assistant are "not PC" and very sexually explicit in their discussions. Occassionally it was funny, often it is very cringe inducing or just cheap/lazy and unfunny. I guess I appreciated that he began by "punching up," at least (making fun of old white guys for being rich republican assholes and young white dudes in suits for being Fraternity date rapists), so that when he started making racial jokes at least he was picking on those with power, too. But yeah, definitely not a show style i'd have paid for. Although the circus acts in between the "banter" were really amazing/impressive. And I was glad our seats were in the middle, so we didn't have to be interacted with. Ugh.
I finally broke down and had to play the giant X Files slot machine our final night. And it was so much fun. It played music and sound effects and Skinner said he was proud of me and Skully offered me encouragement, and the seat would buzz when I got a "Special" spin. Very silly, but they sure know how to create machines that provide enough feedback to keep one engaged.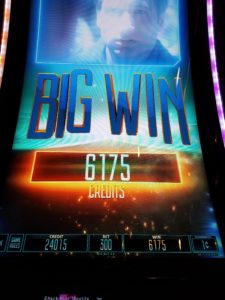 And then I actually won $140 on the penny slots, when all was said and done. Overall, while neither Reagan nor I made money on the trip, both of us spent less than our daily allocated gambling dollars, so that's pretty nice. Pai Gow Poker is the best. Game play is collegial (everyone is playing the dealer and your play won't affect your neighbors, so you can ask for guidance every time). Also game play is slower, and you push most games. So your $80 can last a long time. They had, only a few weeks before we arrived, starting offering open face pai gow, where the dealer's hand is known before you decide. But it's a total suckers bet. They change the rules so an Ace high lower hand is an automatic push (this hand is very common, so puts the odds in house's favor), and also the game play is much much faster, so you spend your money more quickly. They do not build these giant casinos by giving away money. In fact, in regular pai gow poker, your odds are close enough to 50/50 that the house takes a commission on your winnings. There's no commission on the face up pai gow, which should tell you that the odds must be much better in the house's favor for them to eliminate that. I sure hope they'll be offering regular pai gow poker in the future, still. Because it's great.
It was a nice escape. Reagan kept me out past my bedtime every night. We had restaurant breakfast (my favorite). And it was so good for our hearts to get to have a break from real life.