Back in January, at an Ovarian Cancer Research auction, I saw a package for the "Oasis Campground" and Avett Brothers. Now, I only knew one Avett Brothers song, but I was intrigued by this campground and did a bit of phone research. The photos looked pretty excellent, so I made the opening bid and ended up winning the item! So for $200 (which is comparable cost for 2 concert tickets and general admission camping) we'd get to GLAMP in these nice tents with two twin foam mattresses, and a fan, and access to flush toilets and showers! Sign me up! (I was still in my early 20's when I swore off general admission camping at The Gorge. No thank you! It's like MAD MAX over there. Partying all night, vomiting people, strangers trying to get into your tent, OVERLFOWING porta-potties! Yikes. Nope. I'd rather just drive home all night, which is what I've done. But 2 nights at this Oasis Campground thing seemed promising. And so my pal Nichole and I prepared for our August Glamping adventure.  (For a more artsy documentation of our adventures, see the bottom of this post for links to Nichole's instagram)
Then, a few months before the show, they emailed to say Mumford & Sons concert had been added to Fri night. Nichole and I grabbed some tickets to that show, too. So now we got to glamp, see a band we quite enjoy, and then next night see a band we kind of know.
Took Friday off work and had a leisurely drive east. Found the BEST new roadtrip diner along Hwy 2 in Gold Bar. The Wallace Fall Cafe. Big sign "under new management" which is often not a good indicator. But it was fantastic! As the toast option, you could get one giant pancake instead of toast! And they had homemade marionberry cobbler filling as a pancake topping. *drool* Legit great and we'll be back.
Stopped in Leavenworth to try to meet up with a pal, but she got called in to work. So we bought some pretzels (!!) and continued on our way. Now, I much prefer Hwy 2 to I-90 (it's a much prettier drive) but I've never gone past Leavenworth on it before. So it was a fun experience, chasing the river and seeing the basalt (?) cliffs and orchards.  And as we'd taken the day off work, it didn't matter that it's a bit longer.
Once there, the Oasis Campground was really nice. About 100 stand up tents, each with two outdoor chairs. And they provide one bag of ice each day for our coolers. It was hot hot hot, but still very nice. (Even if I had to hide under my sarong in the lack of shade areas).
Then off to the prettiest concert venue. Just check out that view!!
The campground included access to the Cliff House. What an overhyped WASTE OF MONEY AND TIME. The drink prices were drastically higher than the rest of the venue, it took over 90 minutes for our order of mini corndogs and tater tots. (We were extra glad we had our Leavenworth pretzels as a snack option when the wait became sooooo long). The food was expensive, the options limited, critically understaffed. Total nightmare. The view was pretty, but you can have a pretty view from general admission, too. And honestly, the view isn't unobstructed. There are big fences in the way, that photo was just from putting my camera between the fence railings. I can't believe that people pay money for this. The only decent part was that it had two flush toilets, so a long line, but you could avoid the porta potty. Because of the extreme wait for our food, we didn't get to see Portugal The Man, but we could hear them, at least.
Also, I hadn't been to The Gorge since Live Nation took over, and dang. They must have VERY good friends on the Washington State Liquor Control board, because I've never seen so many people over-served before. As you enter the ampitheatre, the walkway is literally lined with beer/hard alcohol shacks. At least 12 before you even reach the grass. And it is not cheap. $14 for tallboy cans with $5 to add a shot. Now most events in Washington are ridiculous about serving alcohol, requiring a small beer garden fence to separate people. But that's apparently not a concern at all here. I think those beer garden fences are silly, and that adults should be able to wander a festival with a beer. I'm just not sure how The Gorge can legally do this when everywhere else cannot. But I was irritated at the extremely high percentage of literally falling-down-drunk people there were. And when the guy who could not stand up was able to stumble over and buy another beer…woah.
The Mumford & Sons concert itself was great. Although I feel like I missed a memo somewhere. I quite like their music and own two albums, but it's not "rock your face off" vibe. Yet this audience was hyped to an 11. They were even throwing glowsticks around, and screaming their heads off. I kept thinking, "are they seeing the same show I'm seeing?" Still, it was a great show.
Back to spend the night in our cozy tents. Woke up around 2am to the heaviest rain ever. It sounded like someone had turned a fire house onto our tent. And then lightning flashes. Woah! My first sleep-induced thought was to take a Snapchat video. Ha. I'll try to post it here
.
Then someone pounds on our tent door, saying we all have to evacuate to our cars because of the lightning. Oh! Right! There's a giant metal pole going down the middle of our tents. So we sleepily stumble, put on shoes and jackets, grab a few things, and run into the pissing rain to the car. Once there, I was quite pleased to discover the items I'd randomly grabbed. My towel (for drying off and as a blanket), the decorative throw pillow from the tent (for a pillow) and the large bag of grapes (snacks!). How's that for survival instincts!! I worried for the poor bastards in regular camping. That campground is always a muddy terrible mess, and with drunken folks and self set up tents, etc, I'm sure lots of folks got washed out in those pouring rains. And I doubt they had any security telling them to evacuate due to lightning. And at 2am, that campground had only just passed out/gone to sleep when this all started. yikes! We then spent 1.5 hours sort of sleeping in the Prius. It was not as uncomfortable as I would've expected. Not great, but manageable. Finally we were given the all clear to return to our tents.
The next day, we're up sooner than we'd like, because the hot temperatures have returned. Lovely lazy morning at the campsite, eating the "flood pasta salad" (Nichole had made some great vinegar pasta salad for us, but turns out those disposable tupperware don't seal so tightly, so being in a cooler with melted ice, water got inside. But turned out to still be decently tasty, with fresh crunchy vegetables and pasta, just maybe not so much dressing anymore. Ha. Made friends with Liz and Ben in the tent nextdoor. Went over to nearby Cave B Winery for some wine tasting. They had live music too. Lovely. Back in the afternoon at the campground and we start seeing lightning flashes again. While no rain this time, everyone is ordered to evacuate to our cars again. We take a little more time, packing up wine and snacks and card games and Zombie dice. Everyone rolls down their windows and a strange sort of tailgate happens, with everyone inside their cars, passing bottles of whiskey from window to window.
Ben is playing songs through his portable speaker. It's kind of lovely, actually. And fun watching stragglers returning to the campground and their utter confusion. "Um, why is everyone in their cars?" Don't you know? This is the traditional Avett Brothers tradition!
Actually, this evacuation is a huge nightmare the concert venue. They had to evacuate the entire ampitheatre (we just hadn't headed over yet because we didn't care enough about the opening bands). As it's a giant hillside/general admission, people get in line hours before the event to claim their perfect spot, and get all set up with blankets etc. And then they all had to be kicked out. For another 90 minutes at least. Then in a huge technical snaffu, Livenations automated system sent out alerts saying the venue was re-opened BEFORE the staff on site were ready for the venue to be re-opened. Having made pals with one of the campground security guys, we got to listen in to the madness, as a very angry crowd (already pissed they'd been evacuated) were now being denied re-entry. Rough!
We did have a very dramatic sunset that evening. With TONS of lightning flashes and strikes still happening. So we are not exactly sure how it was deemed "safe" to return, as the lightning is still actively happening, while these dark clouds roam in. I think the venue just didnt' want to have to issue refunds so chose dollars over safety, but whatever.
At the ampitheatre, we saw Lake Street Dive and it started to rain. Ugh! But Nichole was willing to stick around because I did want to see at least SOME of the Avett Brothers show. And they were decently fun. Much less crowded than the night before, but I think all the storms and evacuations caused some folks to head home early, and if we hadn't had this lovely glamping Oasis, we probably would've left earlier, too. Getting into the Gorge was hilarious, as they still had all the metal fencing endless switchbacks, but no lines to justify it, so all that twisting and walking back and forth. You'd think someone would've just opened the path, but nope.
Sunday morning and leisurely breakfast of the rest of our camp snacks, and then a drive home along I-90 this time, to allow for the mandatory stop at Owen's Meats in Cle Elum (to get some Turkey Jerky and their gorgeous smoked porkchops). Stopped at the mexican place in Cle Elum for a late lunch, and found this magnificent painting of a man giving his rooster a drink of tequila. Just the perfect end to a wild but fun weekend.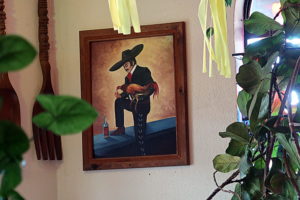 For a more artsy documenting of our trip, you can check out Nichole's instagram posts about it. I'll share the links here.
"What We Do When There Are No Shadows".