Hoo boy, I don't think it's ever taken me this long to post an update. Here it is, end of August, and I still haven't told y'all about most of my mid-June trip to Paris. And if I'm being honest, not sure life is gonna settle enough to allow for the long stream-of-consciousness recaps I prefer. These last 8 weeks have been a doozy, not really having me with the spare moments or proper headspace to share the fun adventures we had. Happily I did take little notes/observations on my phone while there. So I think I'll just share some of those and some photos. Here goes:
So, after my whirlwind 40 hours of travel and adventure, we awaken the next morning to take our food tour. This was one of two things I desperately requested we do, and the group willingly agreed. The walking food tour I'd taken in Athens last year was one of the highlights of the Greece trip, and decided me that I really want to include such things on future travels. And I found Paris By Mouth. I've never experienced the number 1 thing on a TripAdvisor category before. But the reviews were amazing. And I love that they keep it small group (no more than 8 people). It's pricey, but seemed a worthy indulgence. They suggested we pick based on timing, rather than neighborhood, as all tours will visit the same categories of shops: (chocolates, pastry, bakery, meat, cheese, wine). St Germain tour was nearby and still had space for our group of 6. I hadn't realized, until taking the tour, what a ritzy ritzy neighborhood this was. Which meant we were tasting at some of the fanciest world class shops around. Patrice Chapon chocolat (apparently he makes chocolate ice cream for the queen of England). Alexandre Polmard butcher.
"Des Gateaux et du Pain" Fancy pants pastry shop that has a strict "no photos" policy. The woman explained how it was turning in to a food museum, not a place to purchase and eat. And Instagram photo takers would block paying customers. Horror stories of people dropping their phones onto the delicates cakes and pastries. But our fancy group tour was allowed to take pics. Celebrating what's freshest/best that moment, it was strawberry season. And this gorgeous pastry with tiny wild strawberries and jasmine…so good. It was like the essence of strawberry distilled into a pastry, but remarkably different (more rugged and untamed) than the other one we had that was with traditional strawberries and orange blossom. And their croissants were out of this world!!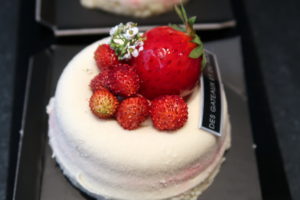 Tant Miche bakery for baguette. La Ferme d'Alexandre fromagerie was a celebration of all the cheeses! ALL OF THEM!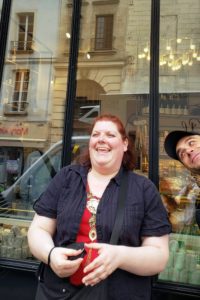 Our tour group was the 6 of us and a delightful couple from Australia. We were all getting along swimmingly, and seemed to have a similar sense of humor. Unlike many food tours where you eat as you walk, most of our eating was saved for the final hour, where we hunkered above a small table above a wine shop. (Although our wonderful guide Diane did give us snacks and small bites along the route). Diane wouldn't tell us what one of the beef dishes was until after we ate it (I HATE that. I'll totally still try it, but I like knowing). Turned out to be beef snout and it was delicious. Anyways, eating the wonderful bounty and drinking lots of wine, we were getting a bit punchy. One of the cheeses was called "Hercules" and the Australian woman started doing the "Hercules" chant from the nutty professor. That, along with all of our silliness, led Diane to pick out one particular bottle of wine. She confessed she hadn't tried it yet, but based on label and title, thought it was perfect for our group (Also fun to see that even highly trained food professionals also sometimes pick wine based on labels). Which is how we drank the "You Fuck My Wine?" bottle.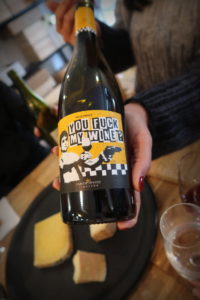 We had an unplanned afternoon, before our dinner reservations. And Melissa was good sport enough to let me drag her all over Les Halles in search of a World Cup scarf. We explored the Fifa fan village and found several fan experiences etc (had to skip the free face painting as we had dinner in a few hours). But no souvenir vendors. At all. Apparently that's only at the stadiums themselves. Walked through the four sporting goods stores too, but they only had a few generic country specific jerseys. No scarves or other merch. Darn. We did get this truly ridiculous free photo, though (We thought the photobooth would offer multiple poses, but it was just the one).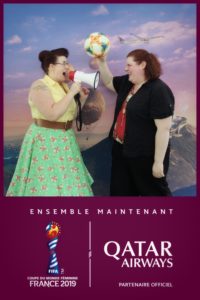 Back to the hotel to shower and change. Poor Melissa has been stricken by the horrible cold that her mom has had for the last few days. But dammit, eating at Le Train Bleu was the thing she was most excited about doing (once I saw photos online, I knew I had to tell her about it. I was right, and we made reservations right away). And so she rallied, and got all fancy dressed up, but wasn't feeling 100%. This is a ceiling being ALL that it can be, and more so. The food is decent and occasionally amazing. But mostly just decent. You're really paying for the setting and the history. They even have a staff member dressed in an old timey train bellhop kind of costume. Once every hour he sings a song to the restaurant and then shares an historical story about the place. He was kind enough to come over to our table each time and tell us the story in English as well. 
Melissa had the cheese plate for her dessert. They wheel over this giant cheese board. "How many can I get?" "Oh, Four, or Five, or Six…or Seven." Melissa says, "That sounds like a Dare!" And then she picked seven cheeses. Ha.
We were out LATE LATE LATE again, what with the fancy dining. So the next morning I was too tired for my original plan (of getting up early to see St Chapelle and it's stained glass windows). But my body needed the sleep. And Melissa stayed sleeping, because she was so sick. Judy and Marie joined me for a lovely kebab lunch. Then Marie and I went off to amble through le Marais neighborhood. Because of her foot problems (and being in her early 70's), she was concerned she'd be too slow for me. I assured her that it wouldn't be a problem. We didn't have any deadlines or places we had to be (until 5pm, back at the hotel, to get ready for our dinner reservations). And it was lovely. It was warm (a little too warm for our Seattle temperate selves) and sunny and gorgeous. And there are interesting things to see every which way we looked. When needed, we could stop on a bench by the Seine, or in the gorgeous Place des Vosges park, or resting in St Paul Cathedral. Or stopping to eat the most deliciously tart lemon tarts, while a man played French horn nearby. Victor Hugo's house was closed for renovations, but at least we saw the sign? The only "plan" (other than the aborted trip to Victor Hugo's house) was to get crepes at La Droguerie. But once there, we were full from our lemon tarts and we had our 7 course dinner happening in 2 hours, so decided against it. And now, I shall post many lovely photos from our explorations!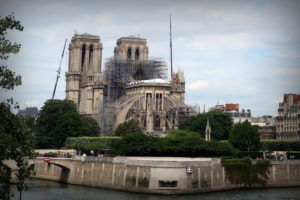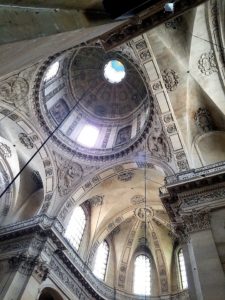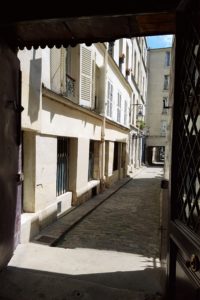 After getting dressed for dinner (Melissa appreciates it when people stand on ceremony) we had a harrowing Uber ride to Aspic.  Harrowing because of traffic (and it was already stressful as we couldn't find a taxi so had to settle for calling for an Uber and hoping they'd allow the four of us inside). Our driver was lovely and I used my extremely broken and limited French to try to communicate. He was a total sweetheart. With lots of mime and poor conjugation, I think we generally made ourselves understood. But yeah, there may have been several of those times when he or I would smile and shrug, abandoning hope of understanding the sentence the other had just said. ha! And if you've got to be stuck in terrible traffic, Paris sure affords some amazing views en route.
Chef Quentin Giroud is doing something truly special at Aspic. Having dinner here was my other request for the trip. Reservations only become available 30 days in advance, and I had all kinds of alarms and timers and calendar reminders set. It is a small place, serving a 7-course tasting menu each evening. Really trying to break down some of the "gate keeping" in fine dining, and removing some of the pretentiousness. This was still some of the fanciest food, with the fussiest and most interesting plating. But it's only 69 euro for the 7 courses. And adding wine flight was reasonably priced, too. The staff could not have been lovelier. It's an open line kitchen, which is always fun to watch. And the styling had me feeling very at home. There was a comforting industrial hipster ambience, with their chef "whites" being denim colored. And exposed brick. And the bill came in a battered metal tin (we had to Google, turns out it's a French sparkplug box). The meal was amazing. Chef Giroud delivered and explained most of the courses himself. Their sommelier was a total doll, very much playing around with our table. After our amazing meal, we stayed chatting and drinking, and they kept bringing us additional generous "tastes" of different wines. At one point, Marie leans over to stage whisper, "Okay. Just so you know, I've lost my shoe under the table. No one be alarmed!" The kitchen even sent out an additional bonus dessert to us. And with that very French approach to dining, with no interest in turning tables to seat new guests (even though the place is SMALL), our 7pm reservations guaranteed us this 6-person table for the entire night. Truly truly special. Hands down the number one thing to do in Paris. I want to go back!!!!
And so we returned to our hotel, full of smiles and great food and wine and friendship and joie de vivre, a little sad to be saying goodbye to Paris. But dang, I feel like I had so many amazing experiences in my 2.5 days, but it never felt rushed or crowded, which is a nice touch.