Well, goodness, I just didn't update this at all during my whirlwind 5 days in Paris. Partly a lack of Wi-Fi, but mostly because I stayed up way past my bedtime our first night and never really got caught up. So in those rare "downtime" moments, we were either having too good of conversations, or my eyes would be closing. But I did take note some anecdotes in my phone, so I can share those with you all now. The bonus of not doing this "in country" is that I've got my photos uploaded and edited, so I can add pictures as I post, rather than adding the media a few weeks later, once I'm back home. Let us begin:
Delta offers a direct flight from Seattle to Paris, so that was pretty great. And they must've been severely overbooked because they were offering the most generous compensation I've ever heard. $1,200 for skipping this light and departing 24 hr later. I was SORELY tempted, but as I only had 3 days in Paris before the group went to Disneyland, I just couldn't give up one of those days. But I really strongly considered it. If I'd had a few more days allotted I would've done it. I mean, heck! I sure hope that a family was able to delay their trip by a day…what a windfall that would be for them. The flight itself was fine, and we did get some truly amazing views flying over Greenland (previous flight patterns have been too cloudy or too dark to see anything).
I haven't done a daytime international flight in a longtime. Strange, but pleasant, to be leaving mid-day, but without that Red Eye sleepiness, adjusting to local time was harder. Landed 8am Parisian time, with my body thinking it's 11pm. A strong believer in the "NO NAPS" rule of avoiding jet lag, I intend to stay awake and active until something approaching a reasonable local bedtime. The immigration line at CDG airport was the worst I've ever encountered. It was 2 hours to get through. Dang. As I just kept emailing my pals at their Parisian hotel with my adjusted ETA. But on the ride into town, I did encounter some excellent graffitti. You'll need some backstory. My mom & sister were super into crossword puzzles when we were growing up. And it was my favorite thing to find one of my sister's puzzles, locate a 6-letter word, and fill it in with BOOGER. Sometimes she wouldn't notice for days. Still makes me laugh. So I totally had to send her this photo when I found this fancy French "booger" graffitti. Ha! 
When I finally made it to the hotel around 11am, Melissa and Judy were still getting ready for the day. And my brain was tired/a bit out of it, as I thought I was locked in the hotel's luggage storage room (the woman at the front desk had to walk over to let me out, and showed me that it was a push door. D'oh!) Marie was generous enough to lend me her hotel room so I could shower and change. Life changing after a long flight. Refreshed and ready to face the day. And so our group of 6 head off to lunch. My pal Melissa, her mom Judy, her mom's pal Marie, their pal Erik and his pal Alex (from Romania). It was a bit rainy, but super charming wandering the Latin Quarter. Spring rain in Paris, a bottle of rose with lunch, some excellent burrata. No complaints so far. And then we head off to Sacre Couer and to explore Montemarte. And on the Metro train, a man boarded with a large fuzzy dog riding in his backpack! Dog! On a subway! And then, they got off at our stop. Dog in a backpack, going down the sidewalk. It was hilarious watching some of the street dogs notice him up there and do canine double-takes. AND this dog in a backpack (as well as the man carrying him) got on the funicular with us, too! So already, Paris is the best! Such a fuzzy dog face!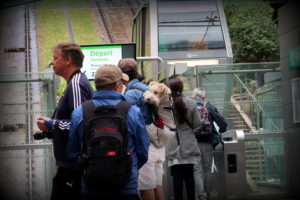 The view from the top of the hill is supposed to be legendary, overlooking Paris, but it's so cloudy and full of misting rain, that we can't really see that much. Still, the outside of Sacre Coeur cathedral is impressive and we get in line. After a few minutes, a torrential downpour starts up. Everyone starts shrieking. We try to huddle under our umbrellas.
And bless the security guards because they just start waving in the long entrance line, skipping bag checks and letting everyone make their way to cover. That is also how we saw someone in a tube top inside the Basilica, too. Normally they're pretty thorough about letting visitors know the dress code for this sacred space. Actually, the majority of crowd inside the Basilica was not behaving respectfully. There are signs everywhere asking people to be silent and to refrain from taking photos. Explaining that this is considered a holy place and asking people to be respectful. It was wild watching people taking tons of photos, notice a sign that says "no photos," look down for a moment, and then resume taking lots of photos. And people would be disruptive and talking loudly. One of the security guards started pacing the giant building, bellowing "Silence" (which is sort of counterproductive). Still, it was very cool to see. There are several really gorgeous chapels and different saints statues. And so many opportunities to light a prayer candle. (I saw Eddie Izzard perform in Seattle yesterday, and he talked about how he doesn't believe in God but he still believes in the candles! Ha!) I found myself quite moved a few times. And the ceiling is truly stunning. There is an amazing gigantic mosaic, truly beautiful. But what I found most wonderful was that different scenes and people from the mosaic would peek out and be visible from different arches and flying buttresses or whatever the architectural pieces are called. Walking around the Basilica, it was truly amazing to keep looking up at different moments, and finding new interestingly framed scenes and moments. Very powerful. They also had some commemorative coin vending machines, selling coins of Sacre Coeur itself, Pope Francis, and Pope John Paul II (but not the pope inbetween, because that guy was the worst. I doubt that's officially stated Church policy as to why there's no Ratzinger coin, but we all know why). And when we finished exploring the Basilica, the sun was shining with blue skies and that view overlooking Paris. Too cool.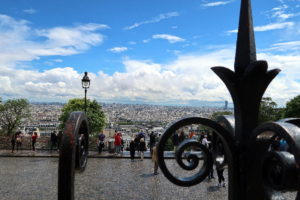 Our group parted, as everyone had different plans for the afternoon, and I went with Melissa to explore the Montmarte Museum. Housed in 17th century homes, it's a small but fascinating collection, representing a lot of the areas artists and history. Pierre-Auguste Renoir resided in these houses back in the day, as well as many associated with the Cabaret du Chat Noir.
So lots of really fun stuff. If you want a taste of cancan or impressionists from Montmarte, come here! And next door is the Clos Montmartre vineyard, the last vineyard within Paris. Very small and cute.
We then went to wander through Montmarte. The weather continued to have periodic rain showers, which we'd use as an opportunity to stop in the nearest cafe for a glass of wine or a coffee. It was a relaxing and lovely wander. While in "Le Cafe qui Parle," I see a man walking down the sidewalk, carrying a small stack of plates and cutlery. Walking beside him is a small french bulldog, no leash. The dog starts to cross teh busy street's crosswalk, causing the man to sort of hustle into the street, juggle the plates into one hand while holding up his other arm to stop traffic for the dog. As I'm chuckling and thinking this is weird/dangerous situation, the man with the plates and the dog ENTER our cafe. As many tour guides will tell you, in general the French don't really do "leftovers," but this is a pretty excellent way to do Take Out. Just carry the prepared and plated dish to your house, and then return the plates when finished. The dog was super cute and starts wandering throughout the entire place, exploring under tables and meeting all the patrons. The owner keeps calling the dog to come to him, but the dog ignores him entirely. Only after finishing his several minute long circuit of the place, having finished smelling all our smells, did he walk to his owner in the doorway. The man, wisely, picks up the dog to carry him for the return journey to their apartment.
It's a lot of dog stories, isn't it? Well, when I'm in a country without monkeys, dogs will totally do! I'm pleased to report that, since my previous visit in 2003, Paris has made great strides in addressing it's dog turds on the sidewalk problem. It was really bad back then. My poet's heart was pretty shocked to find the City of Lights littered with dog poo. These super fashionable women in their amazing shoes, having to carefully watch where they step everywhere. So the culture of picking up after your dog is getting better. Still, many owned dogs (with collars and everything) are allowed to roam the neighborhood freely, which does mean you still have to pay a bit of attention to where you step. Still, much better than it was!
We spent several lovely hours of wandering, looking at beautiful things, and escaping indoors for a beverage during yet another downpour, where our conversations try to parse and examine the world and all its wonders.
It's getting to be dinner time and we're searching our phones for where to dine. Oh, this place looks nice but it's very far away. The place across the street has amazing reviews but Melissa doesn't want to dine next to the "live girls" place. While not associated with the bistro, that just killed the ambience for her. And then suddenly, I hit HANGRY. Or more accurately, I hit super tired and needing to be done. We walk a few blocks to a great place, but they don't have any open tables for 2 more hours. So we just walk into the next place that has space: le Bistro des Deux Theatres. I'm a bit skeptical about this dining experience (the decor is all over the place!) but I don't care enough to keep searching. And then we see they offer this amazing set course deal, which includes a kir cocktail, bottle of wine, and three courses. So yeah, let's do that. The staff were amazing. Very playful and fun, alternatively scolding and praising our attempts at French. And the starter and main courses were quite good. It was also reassuring to me that the diners at tables around us were all speaking French.
So we're having a lovely meal, and great conversation. Melissa has some excellent escargot (and I have a few bites: I loves me that garlic sauce, but sometimes have issues with texture/concept of eating snails). And three cheers for french mayonaise and truffle oil because my deviled eggs were amazing. More chatting after our meal and suddenly it hits me. I've been awake and about for over 40 hr and I've just hit a WALL. I need to be in bed. But they haven't brought our desserts yet. So we ask for those, and they were pretty forgettable. Totally should've skipped them. As we're waiting for the bill, the boisterous older man at the table next to us (it was a large French dinner party, and they were having a good time) tries to get us to drink some of his wine. We politely decline, we still have some of our rose left, even (and I just want to get gone and get in to bed). He scolds us for ordering a wine that's served chilled as it "kills the taste." (Later Melissa tells me she'd been watching him trying to get his companions to help finish his bottle of red, and they weren't interested either). He says he's impressed that we know French. We explain, not really, just a little bit. "No, no. I've heard you speaking to the servers. It is very good for Americans to know this." What followed was a 15 minute conversation, and it just felt like the most French thing ever. It was entertaining enough, wearing my internal "Anthropologist Observer" hat, that it revived me and I was willing to stay seated to participate, even though we'd been about to walk out the door (to take the subway back to our hotel). After having started his interaction by negging us a bit, he's then slinging compliments and needs to tell us all about his time in Florida, the thesis of which is "Hey, just so you know, I totally fuck!". Bragging about how he spent two months in Florida, riding a motorbike, visiting the beaches, "and in all of that two months, I only had to pay for a hotel room on one night. Eh?" *insert very pointed eyebrow waggle here* It was such a wild brag/invitation. The conversation then moved on to sharing differences between French and American culture, favorite foods, interactions with the police in The States vs Paris. It actually proved to be a very entertaining conversation, and his very French braggadocio (I'm aware of the irony of using an Italian word here) was such an "only in France" kind of thing. It ended up being a very delightful end to the evening: we shared some interesting stories and had some good laughs. I do always appreciate the upfront/let's not play games approach to flirting, and even more appreciate the good natured way most French guys accept it when the woman declines. Instead of responding with anger or insults or something equally awful, there's a very cavalier gallic shrug and a "can't blame me for trying" attitude. And because it's not met with awful behavior, I really don't blame anyone. Because the most amazing part is that most French guys seem perfectly content to continue the conversation and interaction as two adult humans sharing a moment, instead of blowing up and blowing off as soon as it's become clear you won't be having sex with them. Sadly this is sometimes a novel concept back home. *dramatic sigh* And then it was finally time for us to say goodnight and head back to the hotel.
Finally, after 42 hours, it's time for me to get some sleep! Melissa explains she has a terrible time getting to sleep most nights. The only thing that seems to help is when her Alex reads to her at night. I pause, and then offer, "Well, I always read for at least 10-20 minutes before going to sleep myself. If it wouldn't be too weird, and if you want, I could do that reading aloud." I was reading
Circe" by Madeline Miller and I loved that novel so much! And guys, reading aloud to Melissa was like a frigging magic trick! After about 7 or 8 minutes, I heard her breathing change as she drifted off to sleep. And the novel was so good, I'd found myself highlighting so many passages. It was wonderful to have the words actually rolling around in my mouth, too.