(I have no idea why some photos are uploading upside down and sideways. Maybe my sister can edit that for me, as I can't figure it out on mobile. In any case, dear reader, you should still get the idea)
Oia, in Santorini, is beautiful. Full of iconic views and sweeping Vistas, and long winding Cliffside narrow passageways. 
It is also possibly the most crowded place I have ever been. Or at least, more crowded per square foot. In fact the crowds are getting so bad that this summer Grease had to cap the number of daily cruise ship visitors allowed to come to the island. Throughout most of the day three to four people across were jammed into the narrow walkways that only comfortably fit two people across. This has made pickpocketing a bigger problem, too. It did make for some amazing people watching, as folks from all over the world are trying to have their "Santorini experience." Particularly hilarious watching people trying to get the perfect Instagram pose and photo of them in front of a blue dome, or winding staircase, and every time someone stops to take a photo, it forces the 10,000 people behind them to also stop. And so much careful camera angles to give the illusion that you don't have 800 people frustrated all around you. As there are no vehicles in the Cliffside town of oia, and the winding passageways go up and down with irregular footing (and sometimes stairs), there are a number of porters and delivery men trying to move tourist luggage, cases of water, frozen seafood, and other supplies to the businesses in town. Watching them try to maneuver their loads makes one very grateful to not have to be doing the same.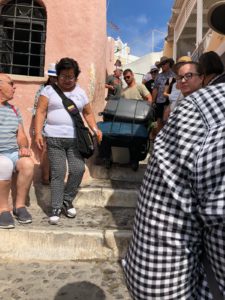 . It would be hard enough carrying these items up and down the roadways, but having to wind their way through thousands and thousands of people, it just looks very frustrating. One young man, carrying a dolly full of cases of water kept shouting, "Make way! No brakes!!" as he descended. We crammed ourselves into a doorway, and I told him "Kali Tihi" ("Good luck"). Thanks, he says with a laugh, I will need it!!
Still, the Airbnb Cliff House that we rented was truly gorgeous. It was amazing having this little patio space right above one of the main walkways. The people watching was great, especially one evening when a donkey took a crap right near our doorway, and because there is so much to see very few passerby ever looking down at their feet as they walk along. Most noticed in time, but watching them squeal and jump out of the way was hilarious. Schadenfreude at its best.
Also near our door was one of the food and water stations for the cats around town. Some seem to have specific owners, and some seemed more wild, but all roamed freely everywhere. Including the cheeky little bugger who jumped up to our patio and stole a piece of my cheese right off the plate. And then came back to lick some yogurt off my finger. He was very sweet, actually, and became our buddy for the evening.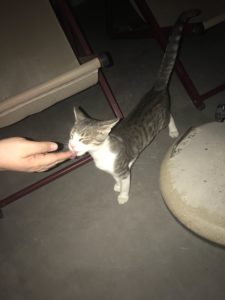 Our first afternoon when the long travel day and the hungry took over, we just stopped in the first available restaurant we found, and surprisingly it had quite decent food. And again, the views across the water are breathtaking. My roasted eggplant that was stuffed with cheese and tomatoes was divine. And with this many visitors and these Prime locations, these places would not have to be serving good food to stay in business. So it was nice to find that they mostly were.
We joined the crowds that first night to try to catch a glimpse of the famous sunset. Thousands line the tiny walkway waiting to watch the sun sink into the ocean. However there was some significant Haze on the horizon line, so we watched the Sun go down a bit and then disappear behind the clouds.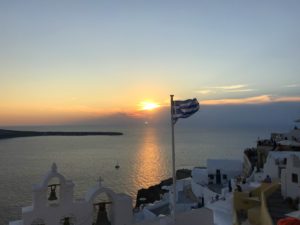 But it was still very pretty. And took on a reddish color, reminiscent of the Sun in Seattle during terrible forest fire season.
Having our own adorable little kitchen, we often chose to dine al Fresco on our patio a few times. Continuing our sampling of different Grecian Cheeses, along with yogurt and gorgeous fresh fruit, some digestive biscuits for good measure, as well as trying different unique flavors of potato chips. So far the oregano potato chips have been underwhelming, but I have quite enjoyed the paprika flavored. The Balsamic Vinegar chips we found were also lovely. And these little title lemon cookies. 
One morning we had breakfast at Melenio, and their baked goods are no joke. Lovely space, with a view out of the water, and the portion sizes are huge. And the chocolate brioche which was just part of the meal was the size of someone's head. And then the wait staff seemed the most concerned that Alix had only eaten a third of it. "Did you not like it? Should we bring you something else?" "No. No" we assured, it was just way too much food. So they insisted on getting a to-go container, and that leftover brioche joined our potluck breakfast the next morning. The baklava was lovely, dripping in honey yet still had a nice crispness to it. Their display of different cakes in their Bakery was beautiful, too. I had visions of making an early morning bakery run for the group, but those visions left at the same time I didn't get up early for Sunset. *laughs*
We learned another lesson about the importance of booking ahead in Greece, especially in a destination as insanely popular as this one. We tried to book a sunset catamaran Cruise. The company that we had wanted to use did not have any sailing availabilities for the next several days. Well, they had a cancellation so two people could have gone but not the four of us. There are many companies that offer this type of thing, so we went to try one of the other ones. We were able to find availability, which is great, but it was not the most ideal route for our location. The sale we were able to book departed and came back from the entire opposite end of the island. So it was over an hour on a shuttle bus to get to the boat.
Also the boat did not go to Amoudi Bay or a few of the other destinations we had wanted to check out. And then after the sail, it was another 1.5 hour ride back to our town. I was already a bit hesitant due to motion sickness concerns, but it was mostly all right. A nice older couple from California were celebrating their 35th wedding anniversary, and on our cruise. Anya was originally from Russia and not a fan of small boats. So she and I became Dramamine Buddies!!! And while I wasn't unbearably sick, I was consistently queasy enough that I never felt like climbing off the boat to go swimming at any of the three swimming spots. Aimee went once, and Liv went all three times (even to the volcanic hot springs that they warned could stain white swim suits). Alix didn't swim, but was very comfortable moving about on the boat, walking to the front and riding into the sea spray and climbing all over. I mostly just sat in one spot in the shade near the back. Ha. Still the Bay that we stopped in for dinner was calmer, so I was able to partake in the rather lovely meal the crew prepared. They barbecued the chicken and pork on a little Grill on the boat, and prepared a lovely Greek salad, rice with shrimp, tzatziki sauce, and stuffed Dolmas leaves. My favorite!!! They even supplied some yogurt mixed with sour cherries for dessert. Then we got to watch the sunset (with a carefully curated soundtrack, including Nina Simone), and the impressively red-colored sun. It was nice.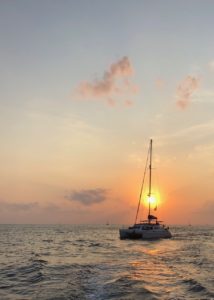 Also on our cruise was an adorable Chinese family with a young girl, and listening to her squeals as she went swimming was wonderful. And a young man from New York who had been working in Crete and decided to extend into a vacation. He was traveling solo today but his husband would be joining him in a day or two, to celebrate their honeymoon. He was great fun to chat with. During the sunset, he suddenly had the realization "Crap!! I should have waited to do this. My husband really would have wanted to go on this trip. Oh crap."
We spent a full day wandering through town, befriending all the island's dogs and cats.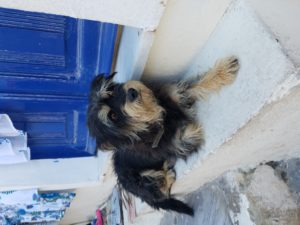 Went for a nicer dinner at Fino, a restaurant off the main strip. Found they didn't open until 6:45 (we were trying to dine unfashionably early). But this meant we found an adorable wine bar, which allowed us to taste test several of the "supposed to be a famous" volcanic wines of Santorini. I was underwhelmed but Liv quite liked hers. It was interesting to try, but none are bottles I'll need to take home. I did love the herbed goat cheese, though!!) And the waitstaff were super cute, too. And so personally offended when Alix confessed she doesn't like wine (she'd wanted the sparkling, but they were out of it). So she pretended to like the glass of white wine he picked out for her. 
Then to dinner at Fino. Fancier than we'd been expecting, but happily everyone was able to find a meal they liked (Alix and Aimee have several foods they don't like, so we have to use care in choosing restaurants). Alix' pork pasta dish with sweet sesame sauce was unexpected on a menu in Greece, but amazing. My sea bass was delicate and gorgeous. Aimee's chicken was fine, but the star of her dish was an Avocado Salad (kind of like a twice baked potato, only not baked). And Liv's burger was decadent with truffle oil and goat cheese. And their cocktails were super fancy. It was also fun watching the wait staff interact with each other and diners. While we were off a bit outside of town, apparently you could see a tiny strip of the sunset through the parking lot, and all three of them had to go get their phones to take a photo. And then when some Street Cats started a fight, they had to get their cameras and take a picture of that too. Charming. It was a very pleasant dining experience.
So, winding our way through the crowds on these tiny walkways atop the volcanic Cliffside, there is NO escaping that Mediterranean Sun!! And after a day watching people in all types of outfits, I decided to absorb the "when in Rome" philosophy, and spent a day in my sun dress (with big floppy sun hat, & with my sarong wrapped around me so that none of me was exposed to the sun). It actually worked surprisingly well, and I might end up wearing the dress again this trip. Please enjoy this shot of me at the post office. *smile*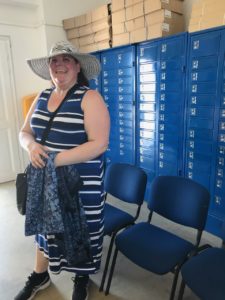 My favorite part of asking someone in Greek "miláte angliká?" (do you speak English?) is that they've all responded "ligo," (which means "a little"), but it entertains me greatly that they don't say "a little" in English. Ha. And it allows me to respond in Greek that I only know "ligo ellinikí" (a little Greek). Then a shared smile and with a good attitude, we're able to make ourselves understood. Bonding!! And in truth, as we've mostly been in tourist areas, most everyone speaks very good English.
It's truly hard to take a bad picture in Santorini, but the extreme overcrowding was just NOT for me. Also, as everything is mostly atop the volcanic cliffs, there's no easy beach access. And seeing all that gorgeous turquoise water and not being able to easily take a dip was torturous. (Happily our next island, Paros, will have many beaches, and a more laid back vibe). It does feel magical and unreal, and getting to wander in the early morning was perfect!!! (Before all the cruise ships disgorge their thousands upon the island). As a few locals and shopkeeps start to open up, and the street cats and dogs wander over for a pet (the dogs mostly had collars, but were definitely allowed to roam freely, even if they had a home-base).
I was told the sunrises were spectacular, too, but sleeping past 7am was on my agenda, so I left the sunrise to the others. Sure makes a great picture, doesn't it? 
And while this was never a dream destination of mine, and I often found it easy too crowded and way too hot and way too fake, still there were some truly lovely moments, and I'm glad to have seen it, and I did make friends with some of the locals!