So, end of last year, my pal Aimee says she wants to take an epic trip for her 40th. I'm all in as a travel "plus 1," always. Then two of her other pals are coming too. Woo-hoo! And as there's been a lot of trials and tribulations in my life these last 3 months, it's been so amazing having this to look forward to. I've never really done a relaxing based trip before. I mean, we'll do stuff, but it's all maybe more leisurely. There's less of an itinerary of daily things to do. Instead we'll spend a few nights on 3 Islands. Should be great.
Crete is a truly special place, and we've barely scratched the surface. When planning this trip, Teh Internet and travel forums kept saying, "if you can't spend at least two weeks on Crete, don't bother." To which we said, "you're not the boss of me!" I mean, come on! I get that it's relatively large, and it's full of many many many amazing things. But we decided we'd still like to visit, and we'll just focus on our time in Chania, with one day in Heraklion. This does leave lots left to explore, but one can't do all the things all the time!!! But I do understand where the internet was coming from. Trying to decide what things to do is overwhelming. It's a very nice problem to have!!
Also, I want to state, for the record, that I love being different places. I don't always love the actual GOING part of getting to other places. (& I know I'm a butt for complaining when I'm lucky enough to get to go on this trip!!) This was a particularly brutal flight plan. Our original departure from SeaTac was 7:30am (which is already too early) but 2 months ago they switched it to 6am. Which makes 3 hr early to airport 3am!!!! But looking online, United counter doesn't even open until 3:45am. So that's when we planned to arrive at airport. Which meant leaving the house by 3am, so that 2:15am alarm was brutal! Wasn't even sure it was worth going to sleep beforehand. Ugh. But our driver Arman from Aces Town Car was a delight. A wonderful story teller, he's from Armenia and had so much folklore and tips to share about the region. He's got me convinced to come back and check out Cyprus and Georgia next time. *smile*
Had several bumps and last minute problems all around for this trip. Aimee's dog was throwing up and had to go to emergency vet the night before our flight. I got an infection and had to go to the doctor before. Alix has come down with a bad cold. And Liv somehow avoided a last minute problem!! Other than her flight being delayed (&she already had a tighter connection time for our final flight from Athens to Chania in Crete). We all were sweating it, but they managed to get their bags, clear customs immigration, check in to new flight and clear security in 1 hr 10 min. Phew!!! The travel path for Aimee and I just had so much waiting!! Happily we both managed to sleep for a few hours on that early red eye from Seattle to Newark. Then we had 4.5 hr to kill there. I will say, the newly remodeled United concourse at Newark was very impressive!!! Had no idea it was even a thing. But it's bright, and full of interesting food stations, and lots of self serve mini marts with snacks from around the globe, and lots of nicely designed seating areas (with nice fake plants, or fake French bistro, or whatever). Definitely the most pleasant visit I've had to Newark (the tiny concourse where they stick Alaska Air flights is the worst!!!). We spent 1.5 hr at a Cafe that happened to be near the Tel Aviv boarding gate. It has its own second security gate screening area. Made for some great and interesting people watching. Especially all the folks on other flights who didn't read the signs and were super pissed they had to walk around because they weren't allowed to go through the special security section. Also, apparently the golf cart airport transport don't have horns anymore. So the poor airport employees are making "beep beep" noises with their mouths to try to get people to move out of the way. Ha.
Then the almost ten hr flight to Greece. We synchronized our movie start time so could both wach "Love, Simon" together and cry together. But Aimee's screen had a slightly longer delay every time it came back from pausing during air crew announcements, so by the end she was a significant portion behind. Sweet little film, though. Continuing my tradition of crying at airplane movies. Dinner was super uninspired spinach ravioli for me and the general tso chicken for Aimee. Then we both tried to sleep. Managed to get 2 hr (Aimee got three) but that's not nearly enough when we've been up for basically a full day. Landed in Athens. 7 hr layover so we considered leaving airport. But getting our bags took a long time, customs was quick, then checking in for our evening flight to Chania took a long time!! So with only 5 hr to wait, we decided to just hang in the airport. We were so tired and starting to get loopy. The airport did have some nicer shopping options and a super tiny archeology museum (which took up ten min of our wait time). We even played MASH, in which the holy goddess of sleepovers predicted Aimee will live in a Shack in Paris work as a garbageman and have a pet tarantula. Ha. Aimee decided that wasn't going to be able to fill the remaining 2.5 hr so bought a deck of cards (I'd packed two decks but they were in checked luggage). Our brains were so tired and disoriented, all we could play was "War." it was pretty pathetic, in that "so tired we can't see straight" phase. Then worrying as Liv and Alix' flight was delayed. But it all worked out. They made it to the gate with 20 min to spare. Then we boarded the bus to the tarmac, where we climbed to stairs to our Olympic Air flight. I do always enjoy getting to walk outside to a plane. Here's a photo of us, being super exhausted but excited for this final short flight.
I'd really been expecting a tiny propeller plane for such a small regional airline. But it was a very nice Airbus, with cute employee uniforms, and they even gave us beverage service and a small sesame seed honey cake as a snack… On a 50 min flight!!! Apparently Liv and Alex didn't even get complimentary beverage service on their 5 hr flight from London to Athens.
And now, no more airplanes for many days. Just ferry boats and busses. Our taxi driver from Chania Airport was listening Weird Al, which was strange but hilarious. I thought it must be his own music, but turns out that was just regular programming on Chania Radio. Wild.
The last 8 hr, all I could dream about was showering and getting out of the airplane clothes. And it was marvelous, even if our corner shower is so tiny I almost don't fit through the door, and the floor drain doesn't work well so the water is quickly up to ones ankles. Still, it was glorious! And then we wandered a bit jet lagged and fuzzy headed through the Venetia harbor area. PICTURESQUE AS F*CK!!!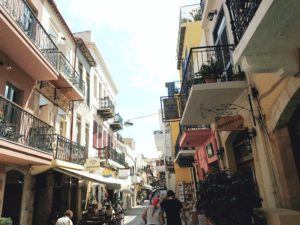 We ended up stopping at a super tourist centric outdoor table situation, in which we had charming personable service and mediocre food. But we didn't care. So happy to be off of airplanes and getting food in our system. We each placed a drink order and then Alex asked about sparkling wine options. Waiter told us it was €10 for small bottle with one glass worth or €20 for large bottle with four glass worth. She said she'd take the small but he cajoled into getting the large because it was better value. We asked to cancel our individual glasses of wine and beer, and we'd all share the prosecco. Whelp, instead, we were each served our original drink plus the bottle. Which he shook up and opened table side so that it sprayed a good third of the prosecco on the sidewalk. Huh. But the waiter was so proud of himself and his "showmanship" that we went along with it. 🙂
This morning we learned we'll basically be getting up at 7:25am as that's when the Greek Orthodox church next door starts blasting I s bells. Ha. Wandering around town, everything is lovely and charming. So much to look at.
Mid-day, I did find myself scurrying from shade patch to shade patch, as this sun is NOT messing around. But it was a fun low key wander. Discovered the Saturday outdoor market, a chaotic and overwhelming scene, full of locals trying to do their shopping and a few clueless tourists like us. My extremely limited Greek language skills did help a bit. Happily there are four of us, as "tesseract" is one of the only numbers I can remember. So "good day. How are you? we would like to buy four oranges, please." (for our picnic tomorrow.) The older gentleman seemed tickled at my terrible language attempts and gave us a 5th orange for free. Only 80 cents for all the citrus! Which I guess means we were hugely overcharged (rather than a little overcharged) in our other purchases. Which were still only a few euro. And our beach trip tomorrow will feature some delicious cheese and bread and olives and grapes and oranges!!! Our room has a mini fridge, too, so storing the cheese is easy.
Looking online I'd become quite enamored of this day trip to visit several of the small villages in the mountains nearby, and the monastery, and an old fort, and a bread making course. It sounded like an amazing day of cultural stuff. Until I saw it's not available on Sunday, darn it. So instead we're going to visit one of the famous beaches. It's over 2 hr away, but our driver has two other sites to show us on the trip, and it'll be super cool.
We're taking a siesta rest in our room (I am ever so grateful the other women convinced me we should stay in a place with AC!! It's 89* all days). And then we'll have ad out for dinner later.
The coffee has been amazing, and the food pretty great, too. Except when stopping at an obviously super tourist trap spot, and even then, mediocre Greek food is still pretty great.
The next 11 days are gonna be amazing!