Exploring Chania and Heraklion.
When we last left out intrepid travelers, they were going to head out for dinner on Sat night. Feeling confident, having used the combined wisdom of Google maps and TripAdvisor, there was a lovely local Taverna only a half mile away, serving amazing local Cretan dishes at reasonable prices. Once found, Tracy semi-confidently used her Greek language skills to ask for a table for four. And the kindly woman informed us they were all booked up for the next two days, but they had some availability on Monday. D'oh!! Hadn't even occurred to us that reservations might be required (or that others might also be able to use TripAdvisor reviews). Ha. Wandered down a few more charming twisting alleys in the lovely twilight and Aimee's Google skills told us that the picturesque outdoor seating nearby had good reviews. And so Noone starved that night. Actually, we dined very well. Feeling a need for greens, we decided to order the two different starter salads to share (pomegranate, and rocket, which is arugula, apparently). Turns out they were more entree sized!! And we got the baked feta appetizer. And an entree each, with amazing lamb meat pie, and a zucchini layered dish, and some grilled shrimp (except for Alix, who wasn't feeling well, but valiantly kept us company at the table). And some local beer. And a bottle of wine. Our table was overflowing, and we didn't manage to eat everything. Took some of the leftovers with us to add to our beach picnic meal supplies.
Up early the next morning, to meet the Taxi2Crete driver we'd hired. Michalis was very nice, and we were grateful to not be on the giant coach busses trying to wind their way through the tiny mountain roads. Zipping along the often one lane along the cliffs in his Mercedes taxi, I only had to close my eyes a few times. Seemed a very competent driver. "And here we are approaching the famous town of Topolio." Oh really, what is it famous for? He laughs, "nothing. It is very tiny. But they have this one lane tunnel we must use. That is why it is famous."
The countryside and mountains and gorges of Southwestern Crete were really impressive.
Then we stopped at Agia Sofia. A tiny church built inside a cave way up the Cliffside. It's something like 250 steps up. My calves were FEELING IT. But the views were amazing!!
 And as a giant coach bus would pull up and disgorge another 80 people, I'd find myself even more pleased we'd hired a private transfer for the day. It was only $25 more per person. On the climb up/down, we passed some goats tied up by the small Cafe. And we smelled those goats and goat droppings. And they disturbingly smelled of goat cheese (something I normally love) but learning how much of the olfactory experience is shared between animal and the cheese it makes, well, Liv admitted its put her off goat cheese for a little bit. *laughs* I can see that.
Next we stopped at Chrysoskalitissa Monastery, overlooking the Libyan Sea. Legend has it that a farmer had a vision of the Virgin Mary in the 700's and the spot has been holy ever since. This Eastern Orthodox monastery dates from the 1700's and is still used by monks now. We walked past one of their dining rooms and enjoyed the mouth watering cooking smells coming out the window. We sooooo wanted to join them for their meal. But didn't. (later I had the chance to be horrified at another tourist who took some of the holy bread pieces from the church and started just munching on it. Walking outside the chapel, tearing off pieces of bread to eat. Then went back for a second slice. Yikes. That clearly seemed set out for ritual purposes, not casual snacks). Lovely potted succulents along the ramparts (probably not called ramparts when in monostaries) as well as some giant pots of fragrant basil. And the turquoise color of the Libyan Sea was truly awe-inspiring. Felt like an Instagram filter but this was real life!!! And it was an amazing scent memory when we walked through a waft of incense. Turns out Greek Orthodox uses the same incense scent (flavor?) as Catholic mass. Instantly transported me. Oh, also the Greek Orthodox churches we've been in here (other than the one inside a cave!!!) all have multiple elaborate chandeliers suspended from the ceiling. All the gilding and iconography I expected, but not many chandeliers. It's very cool. (But it's not okay to take pictures inside the church). 
Then to Elafonisi Beach, which was lovely. Although the "pink sand" was over-sold/hyped in the descriptions. While we did end up finding a few spots and it was truly striking against the turquoise waters, most of the beach just looked like regular sand. *smile* But that didn't matter because the water is the true star here. 
Happily there were still some rentable beach chairs and umbrellas available, so we set up "base camp" and then into the water. It was amazing, gorgeous, and super salty. So floating was even easier, but certain swim strokes more difficult, as ones legs kept floating up. Although most of the area is so shallow (calves to waist deep) actual swimming wasn't really a possibility. Still, I spent most of my time floating along. Lovely!! I'd purchased an umbrella in town, and was wearing my long sleeves rash guard, so had envisioned "a goth's day at the beach" with me seated in the water, in my black long sleeves, holding a black umbrella above my head. All this sun and me, a little black cloud. However it was too windy to even try opening the umbrella. The wind was pretty intense but refreshing, and we got to watch some amazing kite surfing. ( talking to locals later about the wind, we learned on "actually windy days" one can't even go to the beach. It's like being sand blasted the whole time and really unpleasant. Happy to have missed that.
Then it was time for our picnic and it was great. Grapes and oranges and some amazing local cheese and this delicious sesame bread and olives. Yum! And amazingly, we didn't end up with a lot of sand in our food (which is a normal beach problem, on the Pacific Coast). So that was even better. Wandered through the waist deep water to the island/nature preserve to explore some more. The shades of turquoise and azure and cerulean and other blues… Just unbelievable. Eventually our 3 hours were up and it was time to head back to find our driver. Who we found in swim trunks and a Tshirt (he'd been in a suit when he picked us up that morning). Turns out there's nothing to do really in the area other than the beach, so he enjoyed some beach time too. And he said he could tell that we wouldn't care if he'd changed clothes. We agreed, said it was too bad we hadn't known he was around because we'd have shared lunch with him. He complained he was on his phone the whole time, the trials of being a business owner and running a small transport /taxi company.
Then we began our 2.5 hr drive back across the mountains of Crete. Lovely again. We saw goats!! Including the impressively horned local wild goats. And many road side stands in the tiny villages, all selling local honey and olive oil. As Michalis explained, it is bad luck if each family isn't producing at least its own wine and olive oil. So you must have a few trees. The drive and stories were great. And then, in possibly one of the MOST GREEK THINGS ever, there was a unique road rage incident. Most of the roads are only two lanes (one each direction) & some only one lane for both ways!!! Most of the drivers tend to drive half on the shoulder and half in the lane, so cars can use the center for passing. As we had a professional taxi driver, you can bet we were passing most people. But at one point, another driver took exception, started honking, and then pulled alongside us. This was on a larger paved highway and everyone is going quite fast. And our driver rolled down his window and the angry car rolled down its window, and they proceeded to have an extended back and forth shouted argument, while both driving side by side along the highway. I'd expected a short "you're a bum!" kind of thing but this was a lengthy verbal fight. When the other car finally drove away, our driver says, all exasperated, "The worst part is, he still thinks he's right!!!" Ha. And then there was a tense energy for a few minutes, because Michalis was clearly frustrated and in a bad mood, and we all felt awkward. Happily in a few minutes, some bit of local flavor came by and he gave us a small anecdote and the energy was restored to an easy going vibe. I asked about the small church shaped shrines along the highway, whether they were maintained by an individual or a town. "Shrines?" I explain more. "Oh. This is a problem," he says, and goes on to explain that they are roadside memorials for car crash deaths. "Sometimes it is happy and someone puts one up when they walk away from what should've been a fatal accident, but mostly, the driving is a problem." Yikes! And again, we were grateful we hadn't tried to rent our own car. Ha.
After showering and de-beaching ourselves (un-beaching?), we wandered off for dinner. Alix had done a previous cruise to Greece and remembered there were some great crepe places. We found a trendy 24 hr place (Salt and Sugar) that was actually in town (not the ancient marina area), so that was some interesting new stuff to look at and great local people watching.
 And tasty crepes at a dang reasonable price. Cheap beer and hard cider, too. Rather than take the direct route back, we wandered until we hit water and followed the shoreline. Saw the end of sunset and several old timers fishing. And the same little kid street musicians, banging a hand drum and singing "Despacito" while asking for cash. I got some postcards (as my list of pals, and pals' kiddos, is growing). The man was a bit derisive while ringing me up, "you like donkeys and cats?!?" "Well, the little ones who are getting the cards sure do." Then he smiled and asked if they had cats at home. I agreed that some of them did. "But not a donkey?" he chuckled. "No, but I'm sure they'd love to have one." And he said he could arrange that. Ha. (Also, I wish I had had the cajones to say, "yes, as a matter of fact, I DO like donkeys and cats!" And it's pretty judgy of the dude who is stocking/selling these postcards, which also were next to the naked sexual postcards, too. Harumph!)
Our final morning in Chania, wandering down to the marina for breakfast with a view. Went to restaurant "Aroma" and it was really really delicious (our previous marina breakfast was mediocre at best, all about location, so I hadn't had high hopes). I had a common Cretan breakfast of tomatoes and feta atop bread, that they also served with a fried egg. Yum! And Greek coffee. Which I didn't know anything about. And I'm so glad Aimee told me you're supposed to wait to drink it because all the coffee grinds have to settle first) because my first sip was gritty and terrible. Oops. And it came with a small rose flavored Turkish Delight. Well, the Greek version (Crete is still pretty irritated with their former Turkish colonizers so I can't see them calling it that). Some of you, my friends, will have heard my RANTS over the years about how crap Turkish Delight candy is, and why it enrages me even more that, in The Lion, The Witch, and the Wardrobe, Edmund sells out his siblings for such an absolute crap candy. Gross!!!! Although some pals have told me that the real genuine stuff is better than the mass produced version I've had. And I will say this was pleasant. Still not going to go out of my way for it, nor would I SELL OUT ASLAN AND MY SIBLINGS TO THE ICE QUEEN OVER THIS STUFF…But it was tasty and delicate. (The Bushwick Book Club in Seattle included a man who wrote a song about how crap a candy it is, but I can't seem to find that link right now. So please enjoy this other song from that show that's still related, and hilarious!! https://youtu.be/mKIUFoabJoQ)
We also ordered this pita stuffed with myzithra, lightly grilled, and topped with honey, and OMG!!!!!! So yeah, definitely going to eat that all the time now, and shall try to make it at home, too.
We checked out and trekked through town with our luggage to the bus station. Caught the bus to Heraklion. So another 2.5 hr through a different part of Crete. Most of it very lovely, and the bus was rather pleasant with decent enough temperature control.
Arriving in Heraklion was interesting, seeing the outskirts of a large port city, and the large functional but not pretty or nice housing. A reminder that it's not all picturesque villages and Venetian harbors. The bus station is right in the middle of the chaos, as Heraklion is the major port for cruise ships and the airport, too. After a much needed lunch stop, off to the Heraklion Archeology Musuem to see all the Minoan treasures that were found at Knossos (& elsewhere). It was super cool. Always been one of my favorite ancient civilizations, and there's still so much mystery around them (as we can't yet translate their writings, and because they basically were wiped out/faded away after the devastating volcano that sank half of Santorini (it used to be round, and now is crescent) and the tsunamis that took out their sailing fleet and resulting climate change, etc). Super super cool. Oh! Also, the security at the Musuem was intense!!! Their was a bag screening machine that was very thorough, and I was required to "coat check" my sunscreen bottle. Huh. The frescoes were particularly arresting. And…. MONKEYS!!! In a small carving and in two of the frescoes. Presumed to have been gifts from Egypt (the monkeys, not the frescoes). So that was fun, and unexpected, and a nice way to fulfill the title of this blog!!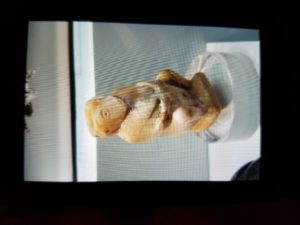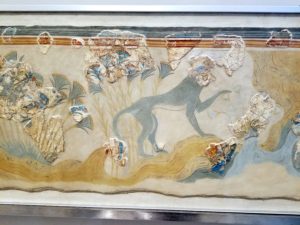 Then we found a taxi to take us to the Knossos site, where we eventually agreed upon a price for the tour guide (the internet suggested €27 & she was trying to tell us €40. We settled on €30 with a request we not tell the other people the price she gave us. Ha!) So we joined a couple from New Orleans. Partway through the tour she ended up adding more visitors to her tour, too. Very good hustler, she was. The site was interesting, and the landscape particularly lovely at 6pm as the sun was hitting golden hour. Also it wasn't crowded at all… Apparently all the cruise ship groups leave by 5pm. Online had told us the site was open until 8pm, but they hustled us put of there at 7 on the dot. So extra glad for the one hour tour, so we got to see everything. Including the over 4,000 yr old clay drainage pipes they had at the palace.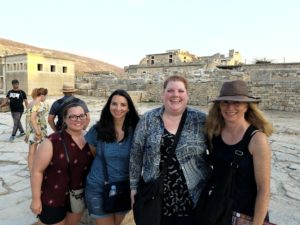 That evening we wandered a bit around Heraklion. It has a very happening city center. Lots of trendy outdoor bars and cool little juice shops and ice cream places and shopping and rooftop bars projecting the soccer match on the wall. A very cool vibe.
Back to our hotel Olive Green. An eco friendly chic place, with actual olive trees in the lobby. And the most comfortable beds. And a free loaner cell phone (with local data, maps, etc, you can use aprund town). And did I mention the beds were great? This was extra appreciated because our beds in Chania were rock hard!!! The hotel also provided a free bottle of Raki (local Cretan spirit) and some bread with olive oil and salt. Huzzah! They won't murder us in our sleep, now that they've fed us bread and salt!! And Aimee and Alix do not enjoy the burning Raki, so Liv & I had a hotel room party in our room.
It was great, actually. Especially as she and I only met a few times before this trip, we stayed up way too late, sharing stories and anecdotes. Serious topics and silly, we managed to solve most of the world's ills. Now if only everyone would just do what we say, we've got this. Ha.
Today was a travel day. Up for breakfast, then off to the Port to catch the "Super Ferry" 3 hr ride to Santorini. I was able to start my blogging there, but quickly the boat movement became too much for my motion sick prone self to be staring at my phone. So I've typed the majority of this from our awesome rented cave house in Santorini. We get to stay here for the next three nights. Yay!