Woo-hoo for creating new traditions. After last year's overnight on Orcas Island, we've decided the three of us should do an annual overnight. This year, the Bavarian Wonderland that is Leavenworth. I'm always so impressed that this tiny dying logging town was able to reinvent itself into a super popular tourist destination by going ALL IN on a theme. The "Bavarian" signage on big chains (76 gas station, McDonalds, etc) always entertain me. And the bonus is some dear pals own a place out there, and graciously share their home (and pool!!) with their pals. Thanks again, Erika & Marcin! We were also blessed with a small break in the weather and forest fires. While mostly having heat over 100*, it was a more pleasant 87* while we were there. And the forest fire smoke/haze was only just starting to enter the town.
Our morning started by meeting in the north end around 9am (Courtney had to get up the earliest, as she was driving down from Bellingham). We pile into one car and head off, stopping for gas and at an ATM. And thank goodness we did, because as Reagan gets out of car to get some cash, she realizes SHE"S NOT WEARING ANY SHOES! Apparently managed to walk outside barefoot and not notice. Ha! So we make the 20 minute drive back to the parents' house (our meeting spot) to grab her footwear. So we're finally on the road around 10:30am. Stopped for Restaurant Breakfast in Monroe at a cute Main Street Cafe, where breakfasts come with choice of toast or TWO FLUFFY PANCAKES!! Genius!! Also, two pancakes as a side to breakfast is too much pancake, but the girls were happy to help. Then back on the road, with only minor squabbling over music choices. The drive along Highway 2 is much prettier than I-90 (and made more sense as we had someone coming from Bellingham, but I was a little sad we wouldn't be going through Cle Elum for Owen's Meats to get some amazing turkey jerky and dilled green beans).
Afternoon arrival, in the sunshine, to our friends' home and swimming pool. Task one, put on swimsuits. Task two, inflate this silly Snap Chat beach ball we'd brought as a Thank You gift for our hosts. Only, as we start blowing into it, it quickly becomes apparent that this beach ball is UNREASONABLY HUGE. For real. See the photo! So instead of gifting a small cute pool toy, we've now gifted a CHORE. Here, have fun storing this huge thing. Oops! It was extra hilarious, though. Especially because apparently Reagan has super moist breath (or it had something to do with inflating it in the cool basement) because there was all this condensation inside the beach ball, which was super gross, and had us laughing to hard to keep inflating it.
Pool time! Laughter and fun was had. Reagan wore her Snap Chat glasses in the pool, which stressed me out, because if they went underwater, we'd lose all those photos! But it worked out.
Then changing and heading into town, as we're hungry! I detour us first to the yellow Bavarian Bakery (my favorite in town, although it's across the street from the main shops) to get a pretzel. Which is how we discover that Blue Spirits Distillery has opened a new fancy space. Like, brand new space. It's lovely. So we do our spirits tasting, always fun here, as they mix tiny cocktails to enhance your tasting experience.  (Apparently if you go to their old spot in town, you get a discount coupon for the new space. But if you wander into the new space first, no coupon. Aw well). Then off to bakery and into town. It's definitely "mad dogs and Englishmen" mid-day sun time. Ugh! The insane christmas store is more insane in summer time, with their $6,000 animatronic singing reindeer. Woah. Wine tasting! Including wine slusshies at Kestrel (which were too sweet and weird, but we managed to drink all of them). Got chocolates at SChocolat, which also led to us being silly and adding the letter S to the front of all of our words for awhile. Great fun. Wandered the random outdoor art market. And a full on Bavarian dinner at Andreas Keller, where large beers on top of our wine tasting led to several giggles.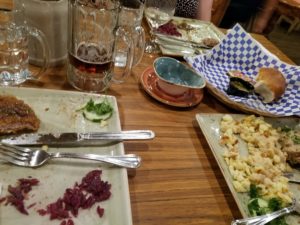 Then a lovely post-dinner ramble along the river. Signage informed us of bear sightings (mother and cub) in the area. Courtney had actual bear knowledge, having lived in Alaska for some many years. But what she says to us, after reading the sign, is, "If a black bear is ever charging at you, Punch it in the face!!" Blank stares from Reagan and I, and I ask for clarification/context. Apparently while a Grizzly will do feint charging, Black bears only charge when they're planning to attack for real. Not sure how good I'd be at punching a bear, and I never hope to find out, but yeah, okay, guess at the point of being charged, throwing a terrible punch is better than nothing. But really, this signage means we just need to keep talking and making our presence known ahead of time, so we don't surprise any ursine neighbors. Which meant, during conversation lulls, we'd sing Disney songs. So that was lovely.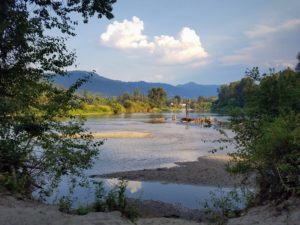 Back to Erika and Marcin's house, for a relaxing evening of conversation, chocolates (some from Poland, courtsey of M's sister), and board games.
Sunday morning was about waiting 40 minutes for a table (stupid Sunday brunch people!) but then a tasty egg dish to start off the day. Reagan announces she'd prefer to leave town after lunch (rather than staying through dinner) which is reasonable. We wander through the other half of town, checking out newer fancy-pants expensive winery tasting from Boudreaux Cellars, and then ending at my favorite in town Stemilt Creek. Their wines are approachable and lovely, and their staff is always great. Plus, it's a little less crowded as it's at the end of town. And almost always, the strangers sharing wine tastings there share conversations and laughter, too. I think this is because their staff is great and the design of the long curved counter encourages interaction. (last Christmas, ended up exchanging emails with a couple for grad school/law school advice and planning). This was no exception. As we walk inside, there's a couple tasting with this adorable 40-pound squat dog (with blue heeler coloring) lying on his side. Dog immediately lifts his top leg, to show off his belly for scratches. I'm happy to oblige. I learn his name is Jackson, and his owners are pretty great, too. Jackson is my new best friend. Anytime someone stops scractching his belly, he quickly stands up and quietly rests against your leg to implore you. As soon as anyone looks down and makes eye contact, he flops back down and raises his leg for more belly scratches. Adorable. Then another couple join us, and they're originally from the South, been at Lewis-McChord for a few years and will be relocated to Fairbanks in a few weeks. Courtney's decade in Alaska coming in handy once again, she's able to give them some pointers and recommendations. It was just lovely, and I picked up two bottles of their Rose, which is often sold out during my annual christmas visit.
We're wandering back into town to hit the Cheesemonger's shop before heading home (Mom had given us a cheese shopping list before we left, and I'll always need to pick up some fancy gouda-style cheeses. Midmight Moon and Ewephoria for sure, and some of the wonderful Steve's Hot Smoked Cheese. Get the "hot" kind. The regular smoked cheese is decent, but the one with peppers is amazing! His smoked salmon is also some of the best ever. Yum!). Also, why aren't more things called Monger? Cheesemonger. Warmonger. I feel like there's a huge range in between that we're not utilizing linguistically. Similar with the ending -atrix. From Aviatrix to Dominatrix, there are so many other professions that would be awesome to add an -atrix at the end.
En route to cheese, Reagan's eye catches the "old timey bavarian photo studio" sign and she wants to go inside. I remind her it's a little after 1pm and she'd wanted to leave. Nope, now full of wine and good times, she wants MORE BAVARIA!! We wander in, learn it's $39, and are asked to return at 2pm for the photo shoot. Yay! Wander a bit more, and stop in at the awesome brand new Whistlepunk Ice Cream place. Get to chatting with the owner, and he's delightful. Also impressed to see a commitment to compostable and reusable products out here. (Their tasting spoons are small metal spoons!!). I really think this designer ice cream shop will be a success in town. I sure hope so. We've still got time and want something a little more substantial than ice cream for late lunch, so we get sausages at the Leavenworth Sausage Garten (featuring the tasty sausages made at Cured). Their outdoor misting system from the ceiling is on FULL BLAST. It's a bit ridiculous/insane (maybe on a 100* day, I'd have wanted it this strong). I mean, refreshing, but coming so strongly, you're actually getting wet (not just misted). And the line is long enough/crowded enough it takes awhile to get our sausages, so we end up taking them to go, eating them slowly on the short walk back to the photo studio.
And then we do the most tourist-y thing ever. And it's a delight. And the young women working there seemed to find us delightful too. The one teenager with Goth sensibilities (although they're both dressed up in the uniform of Bavarian costumes) is sooooo enamored of Reagan's home-made Punk inspired Furiosa shirt (with a laced corset top and some stylistic rips, etc. Reagan's giving her tips on how to make her own goth/emo clothes, but she basically just wants to buy Reagan's shirt. But my sister loves her shirt too much to part with it. Our "old timey" photos are wonderful, too.
Throughout our trip, the timing just seemed to work in our favor. We've often enter relatively empty stores and find a LONG line as we depart (because we are trend setters!!). When we did our 2pm photo shoot, prospective old timey photo buyers were told the wait time was now 3.5 hours!! And even in the cheese shop, we were able to avoid long lines, too. Some yummy cheese tasting and then buying ALL THE THINGS, including the landjaeger sausage. Then it's time to finally begin the drive back home. It was a really great overnight adventure. Cousins!!