My goodness, what a trip. Typing this on the long flight back home. Tired but satisfied, with loads of memories made. Pilot informs us we'll face lots of turbulence over the Great Lakes, but otherwise smooth sailing. While I appreciate the info, as this isn't an international flight with screens in the seatbacks in front of us offering flight path maps, I'm not sure how we're supposed to know when we're approaching the Great Lakes. A compass and a foldout map of the USA? Hmmm, that's a thought. Do compasses work the same at 35,000 feet, or will that change the magnetic forces? I mean, presumably we'll know because the flight will start getting super bumpy. Ha.
Have I mentioned how sweet the housekeeping at HY36 Crowne Plaza have been? Super nice, brand new hotel, convenient location. 
Although strangely the room doesn't have a closet. (There's a small cupboard with room to hang up 5 items (after we removed the ironing board and shoved it under the bed). But your suitcase and coats just have to sit beside your bed. I mean, it was fine, just a bit surprising.
Fri morning we headed off to get brunch in Brooklyn. After looking at tons of options on our phones, decided to try Polish diner Teresa's. But on our walk there, the kid says to me, "I'm just thinking something light and fresh for breakfast. With vegetables." Me: *blank stare* So, NOT the polish diner, then. Ha. But as we were walking through the Dumbo neighborhood, we had many options! Found a cute place that even offered a market vegetable platter (choose 4 veggie side dishes from a long list of veggies for $15). She chose the cherry tomatoes and brussel sprouts, and I added the cauliflower and plantains!! So that was very tasty to go along with our sandwiches. (I tried not to let my sadness over missed eggs and potatoes show. In truth, it was a very nice meal, we just haven't yet had a traditional breakfast).
We were so spoiled with the weather!!! Ended up being 80* on Friday!! So we dined on the patio. Then wandered the Fleuvog shoe store, and all kinds of funky art stores and trendy things. Berl's Brooklyn Poetry Shop was a cool find, too. And I ended up having to pay way too much to buy sunscreen at the super hipster "Modern Chemist" pharmacy (only option around). I was wearing one of those peek-a-boo shoulder shirts, too. So not only is a sunburn a bummer, but I'd have had super weird tan lines, too. After exploring the area, we walked along the Brooklyn Bridge back to Manhattan. Gorgeous weather with a refreshing breeze along the way.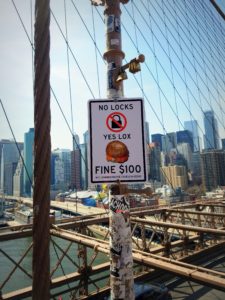 Wonderful views. Lots of crowds and great people watching, too. And many of these folks had very little situational awareness, so it was simultaneously entertaining and terrifying as people are stopping/standing in the bike lane. Then wandering through the city, knowing we were seeing a show in Soho that evening.
Gisele suggested we find a Gelato place (told you the girl was a genius!). A quick Google search found one a mile away. But when we arrived, crushing disappointment. It was a clothing store that had Gelato in its name. Shame on them! Boo! Also shame on Google! But by this point we were in Nolita ("northern little Italy", I think) so actual Gelato places existed. Visited il laboratorio del gelato which had several really insane flavors. The woman at the counter was generous in letting us try several (it was only after ordering that we saw the "strictly two taste limit!" sign, but glad that wasn't enforced). Gisele got a sesame flavor, and I quite enjoyed the orange hibiscus.
It's now 80*, our feets are sore, and it's 4pm (show is at 7:30 & we're not hungry for dinner yet). Sort of "done" with museums at the moment, and we've already logged over 7 miles of wandering around (after two days of 11 miles each). So we're off in search of a coffee shop or someplace where we can sit and linger and rest our feet and hopefully avoid the heat. But the dream of an air conditioned spot with big padded chairs proved unrealistic for the neighborhood. So Gisele suggested Bluestockings, and this all volunteer radical bookstore and cafe was exactly what we needed. Nice selection of teas, chairs near the windows for a breeze, a "free to borrow books" while in the store policy. Great selection of feminist, queer, and other empowering books. And it gave us a chance to research some Soho dinner options (realizing it's Fri night and many places will need reservations). Happily we were looking for an early dinner, so lots of places still had space at that time. Plus we got to overhear the first date happening at the table next to us. Entertainment!
After reading/relaxing for an hour, we headed off to wander through some of the super fashionable clothing stores in Soho. Some very strange stuff. Some cool stuff, too. But definitely not my scene. Then a decent enough Italian dinner. And off to see Hannah Gadsby's show "Nanette" at Soho Playhouse. 

Holy crap, this was an amazing, hilarious, and intense show!! Gotta send all the thanks to Neil Gaiman, actually. Saw a random tweet of his last week promoting the show. Realized we'd be in town during those 3 weeks so did a small bit of research. Won awards at Edinburgh, great reviews, and learned Hannah Gadsby is quite a popular comic in her native Australia and in Europe. And with good reason. This is her first time performing in the states, and I sure hope it won't be her last. Her stand up writing is so sharp and clever, I found myself wanting to write down/quote the entire thing to people. The show starts off with hilarious jokes and then turns in to so much more. She then provides some clever dissection of how standup works, thoughtful and fascinating and funny. Then some really intense serious stuff, discussions we need to be having in society, questioning whether she can even continue with comedy. Here. I'm just going to quote a few paragraphs from the New York Times Review:
Her self-mocking nebbish is a familiar persona, but there comes a moment when she drops and deconstructs it, and that turning point makes you re-evaluate everything you saw before. "Do you know what self-deprecation means coming from somebody who exists on the margins?" she asks. "It is not humility; it is humiliation."
Then she goes on the attack, cheerfully smashing pieties like the one about comedy being the best medicine. "I reckon penicillin might give it a nudge," she says. "Your baby is sick? Just give it a tickle."
Breaking down comedy with mathematical precision, she explains that good stories have three parts (beginning, middle and end) while jokes require two (setup and punch line), which means that to end on a laugh, comics often need to cut off the most important and constructive element, where hindsight, perspective and catharsis exist.
"A joke is a question, artificially inseminated with tension," she says, before explaining the mechanics of her job. "I make you all tense and then I cure it with a laugh. And you say: 'Thanks for that, I was feeling a bit tense.'" Then in one of many tonal shifts, she raises her voice, irritated at the audience's hypothetic gratitude: "But I made you tense!" Then she points to the audience and back at her and quips, darkly: "This is an abusive relationship."
Justified rage and sadness and pointed commentary, still with lots of laughs and bringing the audience along, and offering some concrete steps for how we can and must move forward as a society. Just amazing stuff. And clearly demonstrating how good she is at her craft, as she's shown in the early jokes, and then explained how she controls the crowd in the deconstruction, and then bringing down the tension (or intentionally NOT) throughout the more meaningful final 3rd. A master class, so much to think about, great fun and powerful and inspiring. (But dang, those seats had so little leg room. My poor knees were being crushed against the seats in front of us. I had indents in them for hours after. Worth it, but not super comfortable). Word is that this show was filmed in Australia and should be released on Netflix, so you all should definitely watch it!!!
Also, turns out NEIL GAIMAN re-tweeted me, when I gushed about how great the show was. So, there's that!
Saturday morning and our final day. The plan had been to get up around 8am again to get a start on the day. We'd be seeing Hamilton at 2pm, so if we wanted to leave midtown, needed to do that earlier. But then, neither of us really wanted to get up when the alarm went off. So we spent 1.5 hr just lounging in the hotel room, reading in bed. It was nice. And as I've been devouring KB Wager's "Behind the Throne" series, I appreciated the time to read more of this page turning political science fiction thriller with some great "heist movie" plots in the 2nd book. Then off to find breakfast near Bryant Park. The place we'd planned to eat apparently stops serving breakfast at 11am and we were there at 11:10am (it was a Saturday so I'd assumed brunch would be available until at least 1pm). Darn. But wanting eggs at least once this trip, we searched for options nearby. Ended up at a thoroughly mediocre and kind of expensive diner. Location location location. But the food was warm, and we were seated at the counter so got to chat with the bartenders, which was fun. Then a sunshine-y walk through Bryant Park, and off to explore the New York Public Library. Iconic lion statues created a strong emotional response I hadn't expected. Just a nostalgic feeling for a place I'd never been before.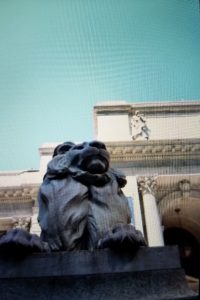 The library is huge and gorgeous and I love that folks use it for actual library purposes, as well as for tourists to look around. They also have small informational exhibits, too! So that was cool to see, and kind of the perfect way to spend the hour before it was time to walk over to Richard Rodgers Theater for Hamilton!!!!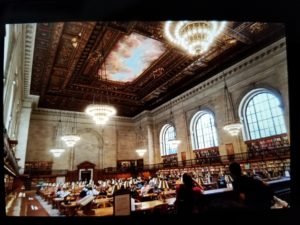 The show was, of course, very very good. We were seated towards the very back of the balcony, but Broadway houses are much smaller than our big theaters in Seattle, so we could still see faces, etc. Gisele got a big kick out of the "adult sippy cups" they give you to take drinks into the theater. $7 for a soda isn't cheap, but at least one gets a free Hamilton souvenir cup out of the deal. Daniel Breaker was fantastic as Aaron Burr. (I've been a fan since "Passing Strange," which y'all can watch on DVD because Spike Lee filmed this musical in 2009. Might be streaming some places, too). At intermission, Gisele spoke about how live show more clearly frames it as Burr's story/journey. When she'd listened to cast recording, only really focused on Hamilton (and Laurens/Phillip *smile*). James Monroe Iglehart (who I knew as the Genie from Aladdin) offered a really fun new take on Lafayette/Jefferson. And boy can Michael Luwoye SING! His performance as Hamilton was wonderful and gorgeous. Good times. Exiting the theatre to a lineup of 12 peddle cabs all ringing their bicycle bells to entice departing patrons was an unexpected but hilarious sight.
We'd planned to grab a slice or two of pizza at Patzeria across the street. I knew it was tasty from my previous trip (and Lin Manuel Miranda has shared photo of the guy holding his Tony Award after we ate there in 2016, so it was obviously Hamilton crew approved, too). But they were closed. Online said they were open all day, and there was a guy inside making pizza, but the door was locked and he shook his head when we indicated we wanted to come in. Maybe they'd run out of pizza and closed until they cooked more? *shrug*
We ended up going to Joe's, reliably tasty and great value. And I greatly enjoy all the fuzzy and often unflattering photos of different celebrities who've had their pizza. Afterwards, I'd thought maybe we'd head down to Chelsea to explore and walk through Highline Park (old elevated train tracks that were converted to green space. It was pouring down rain my last trip, so I haven't been there yet). But Gisele wasn't really interested. Instead she wanted to explore Times Square some more and do some shopping. Not really my scene at all, but as fine a way to spend our last night as any. Being early evening on a Saturday, it was insanely crowded. Which is probably "part of the experience." Full of amazing people watching, at least, even if these types of crowds irritate me. And overwhelming for the senses. About 7pm, we started to make our way back to the hotel. She was in favor of an early night in, relaxing and reading in hotel room (as we had to leave at 6am to catch our flight home). I had "a moment" as we walked past the Hello Dolly theater (Bernadette Peters is only 100 feet away from me!!!!!). Then she had "a moment" seeing the "Lobby Hero" theatre across the street (Chris Evans is only 100 feet away from me!!!!). Hilarious.
We then walk past the Anastasia theater, and she's gushing about how much she loved that movie. And how I have to be sure to tell her when the tour comes to Seattle because she so desperately wants to see it. "Do you want to see how much tickets are for tonight?" Lots of nodding. So we go ask about tickets for their 8pm show. They have an amazing pair, main floor center, 6th row. But they're not cheap. (cheaper than Hamilton and Dear Evan Hansen, but I'd been hoping they'd have a cheaper option). So we start to walk away. Gisele says she'd be willing to contribute $100 towards the cost of her seat. Are you sure? *emphatic nodding* Also, "that means we won't be back to hotel until after 11pm, we have to pack up and the alarm is set for 5:30am." But again, she's all smiles. So we walked back and bought the tickets. And it was great. The seats were gorgeous, and definitely THIS was the show to be up close. Those turn of the century Romanov costumes, and Russian nobility, and then 1920's Parisian fashion. So much beading and intricate costumes. It was very cool. And a cute little show. With an audience who was 100% HERE FOR THIS! The cast seemed genuinely surprised, in a great way, at the insane amount of hooting and hollering during curtain call. Gotta love a Sat night crowd. 🙂
So that was an excellent last minute adventure. And meant we saw 4 shows in our last 3 days. Ha!! My kind of NYC trip! Just hadn't been sure she'd want to do that much performance stuff. Overall, just a really lovely adventure. We ate well. Explored much. Experienced great theatre and standup. Met some cool people. And were so lucky in our weather (as we just dodged the snowstorms happening right before our trip).
Oh, we're about to land, so I'll have to upload this later.