So, my pal Aimee calls to tell me she's got a spare dog-friendly hotel room reservation coming up in Cannon Beach (one of my favorite places ever!!!). Now, I'm going to spend a few days in a cabin near Steven's Pass mid-August (and I just took my epic vacation to Indonesia), so I've really got no business squeezing in another trip. But being offered an August Cannon Beach dog-friendly hotel room is like being given a golden ticket. **insert Willy Wonka song** Folks reserve that crap months and months in advance. Aimee and her pal Alix and their respective pups are going, but their other dog pals had to cancel. And before she cancels the 2nd room reservation, she reached out to me. And I said yes!! And then I spent all of July worrying about my poor senior dog and her old bones. Every time she'd be extra crotchety and old, I'd tell her to please hang in there at least through early August, so she can go play at the ocean! With a nod towards responsibility, I did only agree to spend Fri and Sat night (rather than coming home Tues). It's a long drive for just two nights, but worth it!!
My coworker was able to come in on her day off to cover the office Fri, so I could leave first thing in the morning and get a jump start on vacation! But with the TERRIBLE traffic I encountered the entire time, maybe I should've just driven down after work. Sheesh! It should only be 5 hours to get there…maybe 6 hr with stops to stretch dog legs (and my still tender/recovering back). But I left Shoreline at 9am and didn't arrive in Cannon Beach until almost 6pm. WTF!! I passed so many traffic crashes on the way and consistently slow traffic. It took 3.5 hours to just reach Olympia (that's ridiculous!!). At least I had some great podcasts for listening, and my best dog pal for company. Plus, roadtrip tradition of grabbing a burger at Pick Quick in Fife. And the traditional stretch your legs/smell all the smells dog stop at the John Day boat launch before Astoria. This year the blackberries were ripe early, so bonus "snacks" at the boat launch.
It my first time staying at the Inn at Cannon Beach (south end of town, near Tolovana). It was super nice. The grounds are a lovely landscaped area to explore, with TONS of wild bunnies hopping around. It felt very magical and special. Our rooms were on the 2nd floor, which meant a lot of stairs for my Shasta dog with her bad leg, but she managed okay.
And the balcony/view was lovely.
The Lumberyard restaurant is closed/changed into a brew pub. Still has the best dog-friendly patio. But it's seat yourself and then "order at the counter inside and they'll bring it to you" instead of waiter service. This worked in our favor, however, because they have a "happy hour" where you get a burger and a beer for just $10 after 8pm (considering the burgers are almost $14 alone, a great deal). We were seated at 7:40pm but decided to just wait 20 minutes until going inside to order. With Alix's pitbull Kelso, Aimee's goldendoodle Riley, and my mutt, we had a LOT of dog at our table. And two of the waitstaff kept coming out to play with our dogs. It was very sweet (and the dogs loved it).
The next morning we explored the beach with the pups. So much fun.
Shasta, as the senior lady with a bad leg, isn't up for as much running or rough-housing as the young dogs. So they ran around like crazy, while we sedately wandered and smelled smells. Fun was had by all.
The Inn at Cannon Beach not only includes a very impressive breakfast spread each morning (with ample outdoor seating for guests with dogs), but they throw a mighty fine BBQ on Saturdays, so we had some tasty burgers and fruit and sheet cake (!!!). Then into town for a bit of shopping/exploring and dinner at The Driftwood Inn for fish and chips and clam chowder.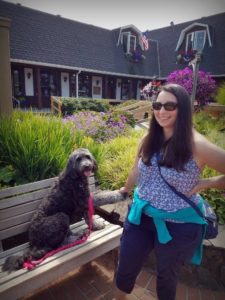 I had one very exhausted dog by the end of the day, but she had so much fun. Breakfast and a final jaunt on the beach before driving back Sunday morning. It was short. It was sweet. It was wonderful to get to take my dog to Cannon Beach again. No regrets!! (Well, I think the dog regrets all the stairs to our room, and my not allowing her to hunt the wild bunny rabbits. But, on balance, worth it!).