So my sister'd been working on a project, scanning boxes of old family photos. This inevitably led to her viewing many many photos of family trips to the ocean. Growing up we were lucky enough to spend a week or two every summer at the coast.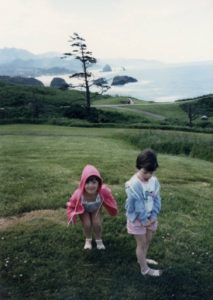 And so Reagan spent the end of August pining and wistfully sighing about how much she needed some Oregon Coast in her life. I didn't really have the time or the finances for another trip, but I also loves me some ocean-time. Poking around online we discovered the lovely Surf Sand Resort had a stay 2 nights, get 1 free deal. I started begging coworkers to cover my time off at work, and looking for a dog sitter. Then we were off! (PS. Nobody tell my dog I'm going to her favorite place without her. There's still some guilt! The seagulls remained un-chased and the smells remained un-smelled. Or rather, not smelled to their full potential).
And it was lovely. Unexpectedly unseasonably gorgeous mid-September, with 74* sunshine. Singing along to showtunes on the drive there. A lovely room with a balcony and a view of Haystack Rock (I mean, that view is through the parking lot, but still, there's a beach and Haystack rock at the other end of the asphalt!!!!!). Reagan just kept repeating, "ocean ocean ocean" the whole time. Which could've gotten annoying except she was just so happy.
And we had no itinerary. Nothing to do except relax. We each packed 4 books and an e-reader for our 3 days. Priorities! We also packed her laptop and my recording equipment because we were supposed to record another episode of our fledgling podcast Everything That's Wrong with Tracy and Reagan. And we began our days of vacation!
Wandered the beach. She didn't believe me identification of some of the seabirds, having apparently never heard of cormorants before ("They're the dark one with the cool swoopey necks and they divebomb into the water beautifully," I said), so we had to march over to the Naturalists Station by Haystack Rock to seek bird confirmation. Trust Issues! Siblings!
We read our books on the beach, with me having to keep re-positioning our tiny shade umbrella so I could avoid the mid-day sun (feels like I'm part vampire sometimes).  Eventually I just made a tent of two beach towels. Went swimming/playing in the hotel pool. Had the entire pool to ourselves for over an hour, which was wonderful, because they had complimentary pool noodles/toys and we'd maybe have felt silly using them if there were actual children in the pool, too. At the very least, we'd have felt obligated to let the kiddos use the toys before we did. Ha!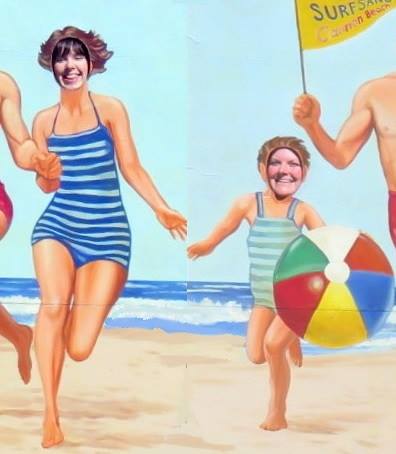 The entire town had a late afternoon power failure. This caused several stores and restaurants to have to close, and others to be serving only salads that evening. We had reservations at Newmans (the fancy place in town) for a celebratory dinner for Reagan's graduation and impending job start. Walked over the restaurant to see about rescheduling to learn they were still serving the full menu. Three cheers for gas stoves, flashlights, and candles! Reagan looked over the menu, to decide whether she wanted to order a la carte, or was up for the 4-course option. After considering, she announces, "We came here to have gross food and be fancy so we might as well go all out." Bwahahaha. Most menu items had either mushrooms of "fuzzy cheese" involved (she defines "fuzzy cheese" as anything in the blue cheese/gorgonzola family. Blue cheese dressing was actually her favorite growing up, but in middle school she learned to associate the "fuzzy" blue parts with mold, and she's been wary of the stuff ever since). So we went tasting menu with the wine pairing (hotel was only a few block walk home!!). I loved the meal, and she liked most of it, too! Success! The wine flight probably helped. Celery soup with pancetta was great. "It's just fancy bacon." She bravely ate some bites of her scallops (after scraping fois gras to the side) until chewing on a "weird bit." Filet mignon was great, even with a mushroom sauce (as the mushroom flavor is fine with her, just not the concept or texture of mushrooms). And amaretto creme Brule was, of course, delicious. Around the dessert course the power was restored and everyone cheered!
The next day we slept in! Got coffee at the lovely Sleepy Monk Coffee Roasters. Their blue cheese and bacon scone is amazing!! (Again, the "fuzzy cheese" is a deal-breaker for Reagan). Wandered the farmer's market and put together a picnic lunch of goat cheese, "ground cherries," home-made sourdough bread, and a local Puffin Winery Pinot Gris. Off to Hug Point for more beach exploring and nostalgia stop at the antique stores in Nehalem/Wheeler (a thing our folks had always done on family vacations of yore). At this point, my introverted sister's hermit qualities needed some time, so she took off for the afternoon while I relaxed and finished reading the wonderful "Ancillary Justice" by Ann Leckie. When Reagan came back that evening, we played a strange but delightful interactive fiction game "80 Days." We won! And my manservant even successfully led a mutiny of the cruise ship to keep us on pace to complete our around-the-world task. We couldn't record our podcast because Reagan hadn't finished the reading, which was a bummer. Instead we decided to wander the beach some more and watch the sunset into the ocean.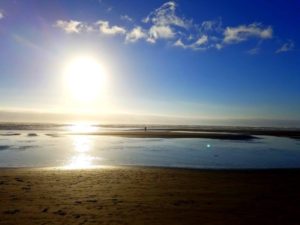 At a certain point realized we'd walked to the far end of town and decided to head over for dinner. I didn't have my purse with me, but Reagan had her wallet so we'd be okay. The waitress at the restaurant was concerned that I didn't have my ID to seat us (available table was in the bar area). I started laughing, explained that I was 36 years old, and offered to wait longer for a table in the main restaurant if it was a problem. She squinted up at my face for a few moments and then seated us. Ha! I mean, I was wearing a hoodie and had my hair in a ponytail, but sheesh! We had a nice time at dinner. The food was overpriced and mediocre, but the conversation was lovely.
As we're preparing to wander the mile or so back along the beach, Reagan announces she has to use the restroom. I suggest we walk the one block back to the restaurant but she doesn't want to. And so, during our completely dark shamble along the soft sands (having not planned to be out past sunset, we hadn't brought flashlights or phones), Reagan keeps chanting that she has to pee. Again I suggest going back to the restaurant, as it's still much closer than the hotel. But she views that as a defeat. And so to distract herself from her needs, she begins singing Disney songs as we stumble along. The moon occasionally partially peeks out behind clouds, but it's a mostly magically dark atmosphere, speckled with the occasional bonfire. Great fun.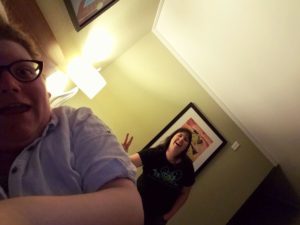 And then it's our final morning. Truly delicious breakfast at Lazy Susan's Cafe. Reagan had the gingerbread pancakes (with thinly sliced granny smith apples) and loved them. My eggs benedict were also great. Then it was time to say goodbye to Cannon Beach and start the drive back home. And along Hwy 101, a MAGICAL THING happened. South of Astoria, a truck with small trailer hauling a gigantic pig pulled in front of us. And we got to follow this pig, which I named "PIG!!!!!!," for over an hour.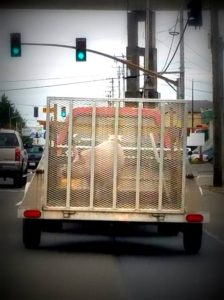 It was amazing. I don't know why this random barnyard animal filled me with such joy, but it totally did. I guess just the randomness of it, and the fact that the truck continued on the same route as us. Eventually they pulled into a Safeway parking lot and we did not. Goodbye Pig!!! Then we continued our journey back to Seattle.