---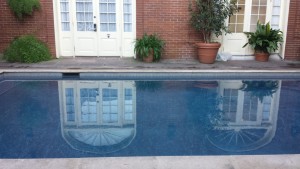 Frick do our feet hurt. We walked over 10 Miles yesterday and danced another 2 with the second line. Today's been over 6 miles and it's only 5pm. Stopped at our hotel pool to soak our barking dogs in the freezing courtyard pool. Then a group of drunk guys came out to push each other in. Kind of hilarious antics. Kind of irritating. They did have one really sweet moment. The exceptionally cold water had them making Titanic jokes. "Man, I've watched that movie at least 30 times." "Bro, why?!? It's like 3 hours long!!" "My grandma liked it." Awww.
Thoughts from Saturday: Sure hope this rain stops (it did). Beignets. Nom nom nom. Hope Nichole's having good time with her sister at the Black Lunch Table event (She was). I'm glad to see most of these horse drawn carriages are actually mule drawn, cuz while you can work a horse to death, a mule will just stop if you aren't resting them adequately. I don't want to ride in one of the carriages but Nichole and i wonder if we could rent a mule for 20 minutes and give it hugs and pets?
Oh my freaking god. Every menu item on Besh' Luke restaurant sounds amazing. While my stomach may not be ready for real food yet, I'm going for it! Happily, food poisoning was over! The famous onion bacon tart thing was ridiculously delish…and huge! Followed with shrimp "etouffe" served on homemade pasta, and gumbo and cheesy jalapeno grits that were transformative.
Rejoin Nichole for dinner. Fried pickles and hushpuppies, "Guys. Why don't we fry all the foods all the tine?!?"
Who the Frick is telling all the tourists about Frenchmen street. This is way too many people and the frat house party kind of people. Also, apparently Sat night is not the night to go. Music was sparse and not the best. Apple Barrel was empty and had no band at all. The night time art markets were very cool. Met a tshirt designer who did grad school in Tacoma. And a guy who makes little brass monster sculptures with the most appealing faces ever. So wonderful. But at $150 they couldn't come home with me.
Guy selling street jambalaya. Deciding if we're brave enough (smells heavenly), when homeless man comes up and puts beads on us. We explain we have no dollars and go to give the beads back. He tells us to keep them and have a lovely night.
Beautifully talented slide guitar street musician. Super cool cat just playing his tunes. Appreciative crowd gathers. (I wish he had cds for sale in his guitar case). Woman asks his name. "Chris." "Chris what?" "Christie." "No, really, where can I find you and your music?" "Right here," as he gestures at the street corner. I do wish he'd had an online presence, but gotta respect a guy whose just gotta get the music out and isn't interested in any of the rest of it. Definitely one of the better guitar players I've ever seen. Cool moment.
Johnny Po Boys & biscuits for breakfast on Sun. Ordered to go and ate them on the banks of the Mississippi, watching the paddle boat load up tourists. Then wandering through the already blazing sunshine into Treme to try to find that afternoon's second line. I'm melting! Then Italian ices in the park and suddenly I'm restored. The power of a slushie. 🙂
About two blocks from listed start of second line and Jen hears the whisper of a brass band. We hurry in the direction of the music (not of the published route) and find lively community second line and a group of the "Indians," too. We join in. Using umbrella as a parasol I'm better able to survive the heat and sun.
Some of the dancers are little kiddos, and the mood is vibrant. Guys pulling wheeled coolers, selling beer. We break off at the park. The Indians do a performance there as brass band and others continue on. It's beyond hot now at mid-afternoon.
Cocktails at super cute Tonique. "Do you serve food" "No" "Okay we'll be back." "Or y'all could order and take your drinks with you." "Oh yeah!" Raised with WA state's puritanical liquor laws, I can't quite wrap my brain around this. $5 Mai tais are strong. I get two to go. And they hit me quick!!! Must've been way dehydrated. Off to a late lunch. Wandering through the flea market . Alligator parts for sale make me sad.
Man, of all the soap box crazies, those in old timey political garb are generally my favorite. I was initially feeling fond of crazy guy in Uncle Sam outfit, ranting his black helicopter conspiracies. But then saw and overhead some horrifying racist crap and it was way less charming. Pleasantly surprised when a few frat-looking white guys rightly called him a racist p.o.s. Lesson in not pre-judging a person, even if they look super douche-y. Because there they were, trying to explain white privilege and inherent racism to this guy. 🙂
Resting up at hotel room. Off to get dinner. 2nd time this trip Port of Call has 1.5 hr wait. No delicious burgers and baked potatoes for us. Off to Coop's Place. Another line, of course. Sarah really doesn't want to wait but I really do. Happily she agrees (Jen and Nichole were fine either way). Line moved pretty fast. And dinner was fricking delicious. Fried chicken. Rabbit jambalaya. One of the best bloody Mary I've ever had. No frills place, still patronized by tons of locals, seriously great food and very reasonable prices. Waitress hollers for entire restaurant's attention, "This couple is celebrating their 34th. Wedding anniversary!!" We all applaud. End up chatting with that woman afterwards. She's from Mobile and they go to Nola once a year. Her son spent a year working on Mount Rainier restoring trails. I tell her Mazel Tov on her anniversary. "Oh honey, I'm not Jewish. I'm Italian." Ha. That's not what/how I meant my general comment.
Meet up with Seattle pals Teresa and Lindsey for music on Frenchmen street (They're in town for a family event for Lindsey). Fun zydeco band. Lovely conversation. Go to sleep.
Mon morning. Sarah and jen get up early to go for a run, bless their souls. I get up early to make the pilgrimage to Croissant D'Or. I get 9 pastries to go (I'd collected orders from everyone last night). Nom nom nom. So many buttery flakes. Nichole sleeps in, like a sane person. Then we get ready for the day.
@tracynoreen: Impromptu "Golden Girls" theme song sing-a-long as we got ready this morning. Kind of my favorite thing ever. #NOLA
Out the door 10am to meet our tour guide Judy for a group cemetery tour. (Private tour booked with Strange True Tours fell through, but Jeffrey recommended Judy, and she was beyond wonderful).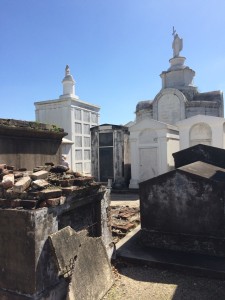 The 7 of us (Lindsey's sister Maria also joined us) off to explore St Luis Cemetery #1. Judy is a a wonderful storyteller and a great soul and an obvious lover of history (She was a history teacher for many years). And she speaks so quickly we got about 5 hours of information out of our 2 hour tour.
The sun was once again punishing, and the cemetery close quarters and crowds made using my umbrella for shade less possible. Very cool stories to learn and Judy is fricking hilarious, too.
When discussing a famous area archbishop, "You may be familiar with his work. JFK'S funeral. RFK funeral…" As an 8 yr old tennis player, she knocked on his door and asked if she could use his courts. He said, "baby, you can play here any time you like. No need to knock, just go on back." She ended up going to college on a tennis scholarship. And says she'd have to hug that archbishop every time she saw him. 🙂
After the tour, she stayed chatting with our group for another 10 minutes. Took my phone number and asked me to call her in a few days (we'd asked for some book recommendations). She runs a Plessy v Ferguson tour and a free people of color tour. Also a literary tour that sounds great too. Fun story, the descendants of Plessy & Ferguson are friends and work together in New Orleans . Also I'd not realized Ferguson just happened to be the judge who got the case, not someone actively fighting for segregation and separate treatment.
Walking around later we passed Brennan's. On Judy's recommendation we asked if we could see the Morphy Chess room. Hostess was sorry they didn't have anyone to take us upstairs. Then said we could go up by ourselves. So that was pretty cool, seeing room in honor of late 1800s chess champion.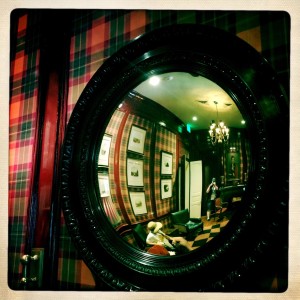 Someone's bright idea (Jen) was for us to walk all the way to Cochon for our late lunch reservation. So that was a trek in this heat again. But so worth it. Dammit this place is delicious. Smothered greens. All things pork. Lovely bright and spicy cucumber herb salad. Crawfish pie (it is "pi day" afterall). Catfish. Gorgeous yeasty rolls. Even Jen's Lima beans were amazing. Offered a variety of bourbon flights, too.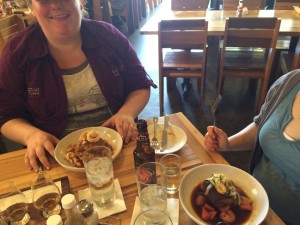 Nichole says, "Guys. We're REALLY good at Vacation" as we toast over lunch.
And met a guy on the sidewalk also wearing a Seahawks hat. Sea-HAWKS! But I said it quietly back. We are in Saints territory (Judy and I'd commiserated over years of not good teams. The Ain'ts took a long time, "But we finally won a super bowl and they can't take that back. Oh, you're from Seattle" (as she sees my hat) "y'all have that super cute quarterback. You've got a really fun team to watch." And somehow I'm filled with civic and personal pride, as if I'm somehow a part of the team. *smile*
Then we finally sprang for a rideshare back to our hotel. Our driver was super hot and charming, too. Bonus of being the tall one in the group, I got the front seat.
Not sure how we'll spend our last night in town, but I'm sure it will continue to have great friends, good conversation, and ample laughter.