Man, I need to get better about timely updates to this blog. In July, I took my dog and my pal Nichole for 3 nights on the Oregon Coast. It was lovely and relaxing, an adjective not often used on my travels (the relaxing part, I mean. The lovely part happens often). Our only itinerary item was to eat meals as necessary.

I'd been quite looking forward to this. It was booked months ago. And, as Seattle continues to have record breaking heat waves, I was thinking the one bonus of 90*+ days in Seattle would be 75* or more at the Pacific Ocean. No such luck. Weather predictions were for a weekend of 63* and clouds. But that's okay. I grew up in the Pacific Northwest, so a temperate cloudy time at the Ocean is pretty much the only way I know to experience the beach. We pack the car in the morning and head off for adventure (forgetting to bring any CDs or ipods). Too reliant on streaming media sources, spotty cellular service forced us to rely on local radio. A lot of country, conservative talk, and Christian music options. Happily we found Clammy 99.7 FM "All the music you dig!" Get it?!? But it was actually rather entertaining mix as they played a pretty wide variety. In today's focus-grouped massive media conglomerates, this felt like local folks just playing the music they like. I would have preferred my own tunes, but Clammy (TERRIBLE name!) was at least listenable.
<p>
Arrived at the very nice and super dog friendly SurfSand Resort late afternoon. Just steps from the beach, with very friendly staff and lots of adorable touches (freshly baked cookies in the lobby each day, a weenie roast on Sundays, and a warm water wash off station for dogs (and human feet) returning from the beach). The rooms have been recently updated and the beds are super comfortable. Unfortunately there is no AC and some of their rooms become unbearably hot and stuffy. There is absolutely no temperature control unit in each room, and when we called the front desk they informed us that they store a large box fan in the closet of each room to help offset this. Keep in mind, it had only been 63* that day, so the fact that the room was sweltering seemed unreasonable. Having a ground floor unit meant we couldn't sleep with the balcony door open as we had no balcony, just the door to our room. When in the room in the evening, we'd open the door, build a gate with the side table so the dog couldn't run outside, and it would only minimally help cool things off. It would be actually COLD outside at night, but still sweaty and sticky inside the room. The fan made it kind of possible to sleep, but those foam mattresses just absorb and hold the heat. Ugh. A check of tripadvisor shows that this is a known issue, but only affects some of the rooms. I can say for sure avoid the rooms right next to the lobby if you don't want to be overheated and stuffy. Still, the staff and the location were great. And aside from the fact that our room temperature was very uncomfortable, the rest of our trip was just what I wanted.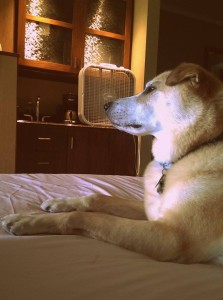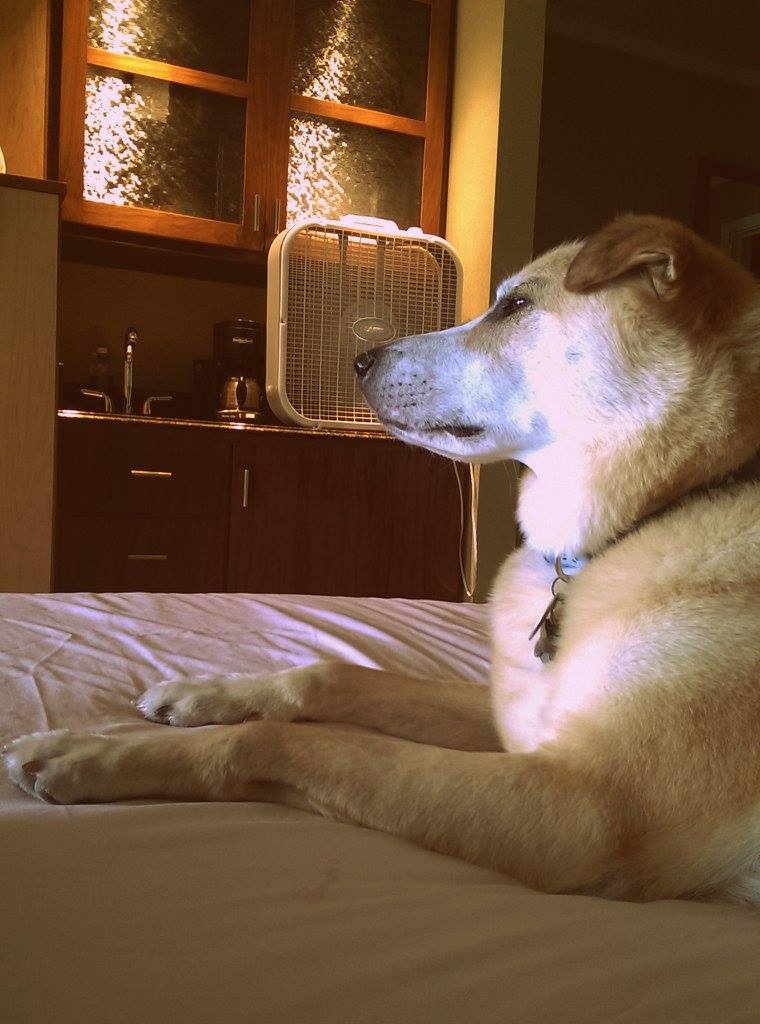 Had a windy, chilly, and fun exploration of the beach, followed by a nice dinner in town. Then an early evening of reading in our room. The next day, we explored several of the area beaches. Haystack Rock, of course. Then through Hug Point, which is always fun things to explore. The sun came out and it actually got hot, which was an unexpected surprise. Went and read our books on the beach near Haystack Rock. Into town for a late lunch at Driftwood Inn. Their patio is dog friendly (and a few tables had dogs with them) but is fenced all the way around with no gate or door. So we entered the door of the restaurant, hung a left into the bar and walked onto the patio. Apparently that's not the way to do it. Our waiter tells us they normally have people pass the dogs over the fence. I look at my 65 pound mutt and say she's not exactly easy to lift over a fence. But we did see there is one area of fencing that only has a top rail, so larger dogs can walk through there, I guess. Feeling badly because we'd been scolded, I didn't cause a fuss when we were seated in direct sun. I should have. I know this. And after our hour long meal, I could tell my face was so so sunburned, that we stopped at the small market to buy some Aloe Vera. And two different strangers in the market told me "oh boy. You better buy some aloe," so you know it was bad. Here's hoping I'll speak up next time. The meal itself was great. The lunch prices are much more attainable than dinner menu. Their Bloody Mary is delicious (although you only get one sad celery stick). And their clam chowder remains one of my favorites with a pat of butter melted on the top of your cup. We made friends with the group at the next table (who also were yelled at for bringing their Black Lab through the only door available (which happens to be the restaurant door). Dear Driftwood Inn. If you're not going to install a gate in the fenced patio, then please PUT UP A SIGN telling customers how to get dogs into the dog-friendly seating area. None of us are trying to break your rules, but it is not intuitive to look for a gap in the fencing and to have one person in the group go through the restaurant door and into the patio and then you pass your dog under the fence to that person and then you go through the restaurant door and into the patio. Just a thought. We saw three people (including us) do it incorrectly in a one hour period.
<p>
By the end of the first full day in which we explored 2 beaches and one state park, Shasta excitedly hopped on the bed (she's only allowed to sleep atop human beds on vacations), and then pretty much passed out. After an hour long nap, I tried to rouse her to go to our hotel's beachside weenie roast. She managed to sit up and she looked happy, but was absolutely uninterested in moving or getting off the bed. Even when I put on my shoes (an activity that causes paroxysms of joy at home because shoes equal potential adventure), she couldn't be encouraged to get off the bed. And so Nichole kindly volunteered to go out while I stayed in the room with the dog. When Nichole returned with two hot dogs after less than ten minutes, the dog was already snoring. We saved her a bite of hot dog for when she awoke. And then watched terrible movies that night, which led to this interaction: Me: Hey Nichole, this 'Scorpion King' flick is only 92 min. Nichole: SHUT UP! We've clearly been watching this garbage for 2.5 hours & it's still not over yet.

The next morning we journeyed to the Tillamook Cheese factory. It's only 30 miles or so south of Cannon Beach, but at Hwy 101 speeds, it's a leisurely and beautiful hour or so drive. There are some good tunnels for holding your breath and making a wish, too. It was another beautiful hot day, so we each had to do the self guided tour solo, while the other stayed outside with the dog. Which was fine. There's a decent area of lawn for her to explore and smell smells. And then we made all kinds of new friends, as families eating their ice cream outside would ask if they could pet Shasta, and we (that'd be me and the dog) would agree. The place was JAM-PACKED! And it was a Monday morning. Weekends must be a zoo. There's an extensive field for RV parking that had over 20 RVs in it, as well. Seeing the factory itself was total Mister Rogers magic. Loved seeing how the cheese is made. (I'm sure if I'd ever worked a job on an assembly line, it wouldn't seem so special). The cheese sampling section was super disappointing.; just 5 of their very generic cheese flavors. I'd thought that, like touring a winery, you'd get to try some of their more limited lines. They didn't even offer samples of the truly delicious aged white cheddar (the one in the black wrapper at the grocery store. Yum!). If I wasn't already a fan of Tillamook's cheeses, this sample selection would NOT have impressed me. But their ice cream flavor game was legit. There were over 40 flavors (suck it, baskin n robbins), and some really exotic stuff. The huckleberry ice cream was so flavorful and lovely. And the mango sorbet was super refreshing.

On the drive back we stopped to explore this cool jetty beach area. Back at hotel, I changed into my swimsuit, packed up our books and supplies, and back to the beach. Relaxed. Did some reading. While it was nice and very warm, the wind was brutal, carrying a constant scouring layer of fine sand into our faces. The dog was NOT amused. So we left the mini-sand-storm of the dry sand area, and went to play in the ocean. It was lovely. Shasta's never been much of a water dog. But she'll generally go in if it's warm outside. She even had fun for part of it. But after about 20 minutes, and after a wave went up past her belly, she was ready to go back to shore. Nichole kindly took the dog so I could go deeper into the waves. While the water was still Pacific Ocean freezing, the 80*+ weather made it refreshing. But then I started noticing jelly fish and decided I was done, right quick.

That evening, we had a late dinner on the dog friendly patio of the Lumberyard. Apparently they're owned by SurfSand Resort folks, so we could charge the meal to our room. Also, their patio has a gate and clear entrance for guests with dogs. Plus our table had a whole 'war zone' of spilled food underneath it (folks told us two toddlers had been seated there previously) so Shasta got some free snacks. And a staff member actually brought over a giant milkbone for her later, which was a sweet touch. Also, they serve margaritas in plastic sand buckets that are yours to keep. So… that happened. They even salt the rim of the bucket, which is hysterical, because anyone picking this thing up and trying to drink from the bucket rather than use a straw…well, that person has a problem. Even brought us each a small plastic shovel to go with our buckets, which is adorable but we didn't really need to take these home. Happily there were two families also still dining in the patio, each with a 4 year old girl with them. After our meal, I offered a bucket to each table, unsure if the parents would be interested or creeped out. They were both very appreciative and told us that their kiddos would be thrilled. There was a particularly lovely sunset that evening, as well. Don't think I'll ever get tired of watching the sun set into the ocean. Grateful for a chance to have a restful vacation, a fantastic low-key travel companion, and the ability to give my older dog such a fun trip.