I only learned that the Women's World Cup was in Canada one month before the games. And then I found that there were still LOTS of tickets available in Vancouver, a mere 3 hour roadtrip from Seattle. The final match was sold out, so we snagged tickets to the quarterfinal on Saturday, June 27th. Wooo! As the tournament progressed, we learned we'd be seeing Canada vs England, and were super stoked. Not only was world class football (that's right, I said it, because it's a ballgame played with your foot!!) a stone's throw away, but seeing Canada defend on their home turf would be amazing! Plus, how fun to have a roadtrip with my folks, as a grown up? Didn't have my sister in the backseat, because she's doing an out-of-state internship this summer. That felt strange, not having a person to pester and taunt for the drive, purely for nostalgic reasons. But it was nice to get the whole backseat to myself.
Border crossing wait times weren't too bad. Dad tells us, after we've crossed, that the only reason we avoided a stripsearch is because he told the Canadian agent we were going to watch Canada beat England in the world cup. Ha! Also, are border stripsearches generally a problem for you? Yikes. Then we were off to find the "Fan Experience Zone," an entire block converted into FIFA approved celebrations. The website touted the fact that the Vancouver Fan Zone was the biggest of all the Canadian host cities. But the actual experience was super sad and disappointing. They had two nice sized screens which would broadcast the match for those without tickets. One beer garden. Two food trucks. Five sponsor booths (trying to sell you a car, or allowing you to kick a soccerball, or play a small portion of a video game. And about 12 porta-potties. All laid out in a parking lot. Glamorous! Nobody seemed excited or even interested in anything, because the sponsor booths were pretty lame (except the one offering free airbrushed face "tattoos." This was the only line in the whole place). Really sad commentary on the undervalued nature of women's sports. (The pre-game festivities for local Seattle sports teams are WAY better than this. Seahawks Touchdown City has been a huge deal since even before the team was good *smile*).
All was not lost. The weather was gorgeous (and too hot! Because we're temperate zone people). Still, the sun was out, which is always nice. And I did find THE MOST CANADIAN GRAFFITI EVER! It's so dang polite and adorable.
After a restorative lunch at a nearby restaurant, we made our way to BC Place for the match. The stadium is really lovely. (It has inspired me to roadtrip for a future Sounders/White Caps game.) Once outside the stadium, we finally encountered the excitement and pageantry we'd been expecting. The fans attending the match were super pumped! (The fact that England's colors are also red and white made immediately identifying a person's team of choice a bit difficult). Maple leaves and St George's Crosses everywhere. Stood in the ridiculous cashier line to buy some swag. Well, my dad didn't, obviously. Pretty sure he's allergic to any type of queue. But he placed an order with me, and I stood in line to get scarves for myself and the folks. There was even poutine available from the stadium concessions stands. And it was as mediocre as you'd expect from a stadium. Still, we felt very Canadian while munching on it. Afterwards someone told me that Vij's has a concession stand in the stadium, for a mediocre but faster (and cheaper) version of some of their famous Indian food. Ah well. Maybe next time I'll track it down. Genius thing in their concessions: they provide plastic LIDS to all of their plastic glasses of beer. Yes! Finally! The amount of beer splashed everywhere at stadiums in Seattle is ridiculous, so wasteful, and so messy.
The stadium people-watching was fantastic. Lots of amazing face paintings and headband antennae bobbles. I wanted some ridiculous hat or headband, but none for sale inside the stadium (guess we should have planned ahead for that part). My mom, concerned about the extreme heat, had ordered these bandanas filled with silica gel, that you soak and then wrap around your neck to help stay cool. I was a bit worried about bag search security giving me a hard time about these weird squishy tubes of fabric, so just tucked them at the bottom of the purse and it was never an issue. It's not that they'd be illegal, only that it would require lots of explaining. They actually worked remarkably well for helping keep us cooler in the extreme heat, plus we looked ridiculously jaunty with bandanas tied around our necks. See?
Sadly my camera battery died before the match, so I wasn't able to play paparazzi during all of our people watching. Just take my word for it that the sold out crowd looked amazing. And that BC Place is lovely. And they have a water zamboni machine that drives up and down the pitch with hoses spraying the field. Never seen that before a soccer match (I'm used to actual humans holding actual hoses). Also note that a quarterfinal match between Canada and England might be the most polite thing ever. Seriously, these folks needed to get LOUD!!! Not that I really wanted hooliganism or fights, but lots of loud cheers, songs, and trash talk would've been appreciated. Canada sacrificed their homefield advantage by politely watching the match. In truth, it was probably England's two goals in four minutes that stifled the crowd, rather than an innate national predilection for politeness. (I can personally attest to the fact that some of the WhiteCaps fans who come down for Sounders games are real loud assholes. ha). The Lionesses simply outplayed Canada the enitre match and deserved their victory. Plus, they have a much cooler team nickname. The stadium which was 80%+ for Canada did liven up when Canada finally scored a goal. But the team just didn't gel and couldn't find their confidence. As a fan of the sport in general but without any strong leanings (although a part of me would have preferred to see the home town/country team win), it was still an amazing experience. Felt very lucky to have been there. So I guess, paradoxically, I'm a bit grateful that women's soccer doesn't garner the respect and following it should, as it allowed me to get tickets to a friggin QUARTER FINAL match only 4 weeks before the game. And I'll type it once more, the interior of BC Place is really lovely. Here's a photo of the suspended screen showing a photo of the stadium which also features the suspended screen. Meta!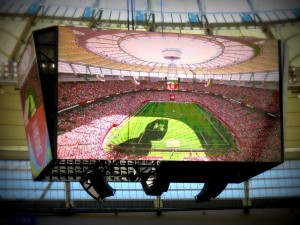 On the way home, mom and I convinced dad to stop at a Tim Horton's so we could buy the obligatory Tim Bits (doughnut holes). They're not particularly amazing, just generic doughnut holes. But they're a Canada tradition. And it was delightful that dad kept embarrassingly chuckling every time we talked about Tim's Bits. "I'm not sure I want to eat those. heh heh." At the border back into the states, we're asked to declare our purchases. He says we bought some soccer scarves and I proudly hold up the Tim Horton's box, adding "AND TIM BITS!!" Dad looks a little horrified at me and quickly explains "they're doughnuts," to which the border agent replies, "Oh yes. I'm very aware. The Maple-glazed ones are the best!" Dude. MAPLE Tim Hortons?!? That might be the most Canadian thing ever.